One of the more serious crimes alleged against former Donald Trump campaign manager Paul Manafort and his business associate Rick Gates is money laundering conspiracy. For that one count alone, they face a maximum of 20 years in prison.
"It's a very strong case, of course it's not about last year's election, but they have a long list of transactions and they have a lot of facts to support the indictment," said Jennifer Rodgers, a former assistant U.S. attorney in the Southern District of New York who now is executive director at the Center for the Advancement of Public Integrity at Columbia Law School.
Joyce Vance, former U.S. Attorney for the Northern District of Alabama, described the case as "a paper case" — one based on records.
"It doesn't appear to rely on witness testimony, it's made on the basis of documents — it's a question of did the defendants file registration statements, what is in their bank accounts and who did they work with and when?"
William Steinman, a Washington, D.C.,-based attorney who specializes in international financial crimes, said he believes that prosecutors charged Manafort and Gates with money laundering because it is a relatively easy crime to prove.
"With a lot of crimes, intent or what the parties had in mind is hard to prove," Steinman told NBC News. "But with money laundering, the facts, and particularly the paper trail, often unambiguously show the intent."
Anti-money laundering statutes define money laundering as the process of making illegally-gained proceeds, or "dirty money," appear "clean."
In this case, the complaint alleges the washing of illegal money from unregistered lobbying activities for Ukrainian officials with ties to Moscow for the purpose of evading income taxes and engaging in other criminal activity. The complaint alleges that to hide payments from their consulting work in the Ukraine, Manafort and Gates laundered money through dozens of United States and foreign corporations, partnerships and bank accounts.
Steinman says he does not believe their alleged money-laundering scheme was very sophisticated.
"What I find remarkable is that this is so unbelievably amateurish," Steinman said. "I'm a little surprised at the lack of sophistication and how frequently they were paying for houses, cars and other luxuries domestically using offshore money."
The government also alleges Manafort and Gates violated the Foreign Agents Registration Act. The Department of Justice has rarely prosecuted those types of cases. A 2016 audit by the DOJ's Office of Inspector General found that between 1966 and 2015, only seven criminal FARA cases were filed.
But that's not a valid defense against the charges. Rodgers likens it to being the only one on the road who is pulled over for a traffic offense.
"If you get pulled over for speeding in traffic, and you say, 'Why are you picking on me ?' to the cop, he'll say you were the one I pulled over and too bad," Rodgers said.
The federal government doesn't like to lose cases, and it doesn't lose them very often. In a case like this one, Mueller's team is likely certain that they have enough evidence to convict beyond a reasonable doubt — even with a lay jury that might be confused by complicated financial evidence. The indictment doesn't reveal all the evidence that the prosecution might use; it's just the tip of the iceberg.
Will they flip?
George Papadopoulos, a former policy adviser to Donald Trump's presidential campaign, has indicated he is willing to cooperate.
He's charged with false statements, a crime that punishes conduct that impedes an investigation. It's a favorite of prosecutors because they don't have to prove the underlying crime, like actual money laundering or tax fraud. Instead, they can convict a defendant for falsifying, concealing or covering up. The statute even covers half-truths, if the defendant had a duty to disclose.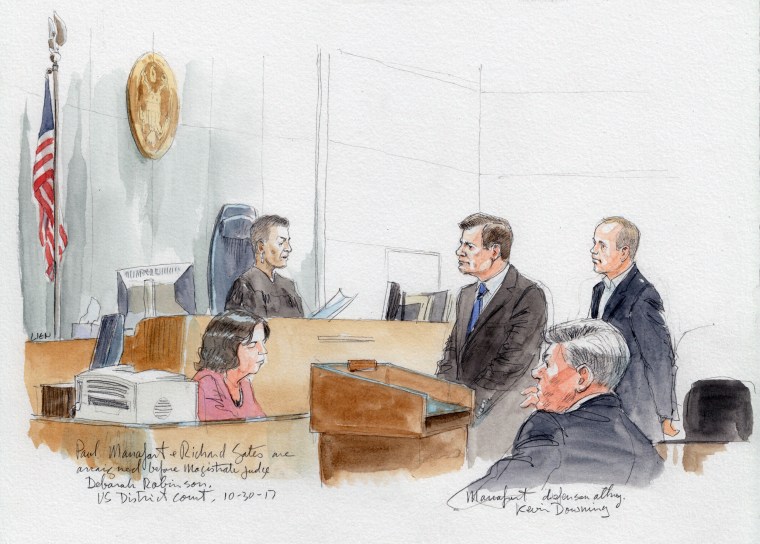 In a typical case, prosecutors will indict someone for lying to FBI agents, and will then pressure the person into incriminating cohorts up the chain of command.
As for Manafort and Gates, whether that would happen is hard to say. The news of the indictment might quickly bring them to the plea negotiation table, if it hasn't already. They are potentially looking at decades in prison; if they are going to cooperate, it's now or never.
"I would expect all the force of the DOJ is going to be brought down on them," said Joseph DiRuzzo, a white collar criminal defense attorney in Florida. "If you are Manafort, do you really want to spend the next 20 years of your life in the federal pen?"
Another consideration in the minds of defense attorneys will be the prospect of a federal pardon or commutation.
"A pardon is a huge leverage," said Jesse Gessin, a white collar defense attorney in Irvine, California. "If I was their attorneys, I would say let's hold off, we can always cooperate later, let's see how things play out a bit."
But a federal pardon would not remove the threat of state prosecutions and, if Trump were to grant a pardon, it could be a risky move for a president already under fire — a move that could potentially be construed as obstructing Mueller's investigation.