Anthony Scaramucci, the new White House communications director, is a Wall Street hedge fund manager and a top Republican fundraiser who's known as "The Mooch."
The 53-year-old businessman and author joined Donald Trump's campaign in February 2016 after the South Carolina Republican primary. He'd previously supported Republicans Jeb Bush and Scott Walker. After Trump won the White House, he joined the transition team.
Scaramucci founded SkyBridge Capital, a billion-dollar investment firm, in 2005. The company had nearly $12 billion assets before he announced he was selling it to a Chinese firm earlier this year.
Prior to founding SkyBridge, Scaramucci was the co-founder of Oscar Capital Management and a vice president at Goldman Sachs.
He hasn't previously served in government and dodged questions Friday on how he plans to work with Trump, who often usurps his own communications team. The president, Scaramucci said, is "the best communicator" in the White House.
"I love the president and the president is a very, very effective communicator," Scaramucci said. He praised Trump's use of social media to get his message out, saying, "To me, it's been a very effective use to reach the American people effectively, and I welcome him to continue to do that."
Scaramucci first met Trump briefly when he was 31 and working at Goldman Sachs. "We got closer," he said, during the Romney campaign, where they did fundraisers together in Trump's Manhattan penthouse.
He and Trump, who have known each other many years, share a kinship of middle-class roots, a rise to wealth and a penchant for brashness.
Scaramucci was raised in a working-class Italian family in Long Island, New York — not too far from Trump's childhood stomping grounds in Queens, where Scaramucci's father was a construction worker, according to his book, "Hopping over the Rabbit Hole: How Entrepreneurs Turn Failure into Success."
In the book, Scaramucci recalls working odd jobs to help fund his college education — with his father also pitching in for his schooling — and struggling to balance his working-class roots with big-city dreams.
"Coming from a middle-class Italian American family on Long Island, you were always fighting for people to take you seriously. When someone slighted you, you remembered it," he wrote. "Embarrassment and shame were the worst feelings of all."
Scaramucci eventually worked his way through Tufts University outside Boston, where he received a degree in economics. He then went on to earn a law degree from Harvard.
Soon after law school, he took at an investment banking job at Goldman Sachs in 1989. A year later he was fired, he told New York Magazine.
"I owe thousands of dollars in student loan debt, and I just got fired from Goldman Sachs," he wrote in his book. "My fancy degrees felt more like marks of shame than accomplishments."
"In my mind, I was canned because I was different, a middle-class kid from Long Island who didn't have the right connections or aptitude. They ought to have recognized just how smart I was," he added.
But Scaramucci said he turned his failure into success and was eventually re-hired in the sales department at Goldman before getting the itch to start his own firm.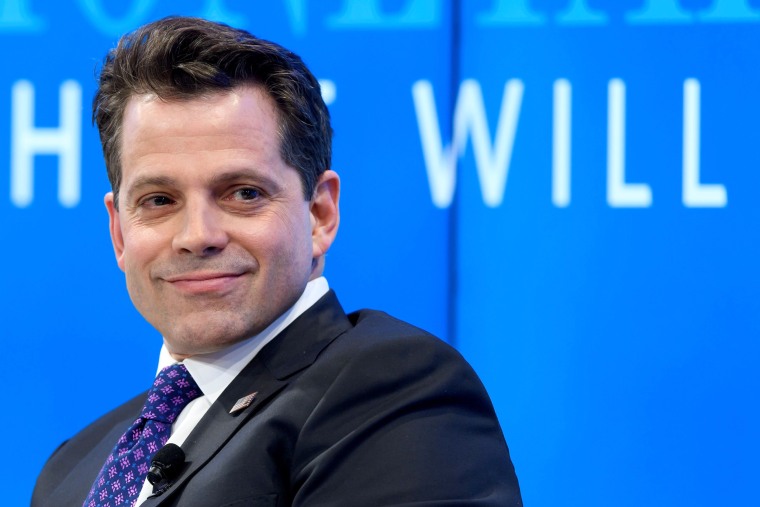 After building a profile on Wall Street, he served as a fundraiser for former President Barack Obama in 2008 and has described Bill Clinton as one of his "personal heroes." He also served on Mitt Romney's 2012 campaign for the White House.
As he made his way into political circles, Scaramucci became a critic of Trump as a presidential candidate. In 2015, he delivered a blistering critique of Trump, calling him a "hack politician" on the Fox Business Network, where he served as a contributor, for criticizing hedge fund managers.
Scaramucci said at a press briefing Friday that he regrets the remark, which Trump won't let him forget. "He always brings it up," Scaramucci said. "One of the biggest mistakes I made."
On his first day at the White House lectern, he told reporters that when he joined the campaign he noticed Trump's appeal to blue-collar voters and was captivated by the adoration those voters had for the candidate.
He said those moments resonated with him because of his upbringing on Long Island. "There's a struggle out there and he saw it," he said at the briefing.
In his book, he described the bond he formed with Trump, who gave him a pep talk following a negative news story about the financier.
"You are gaining a high profile, which means it's time for people to start shooting at you," Trump told him, according to the book. "Buck up!…the sooner you build up your resistance the better."