Since attending her husband's inauguration, Melania Trump has stayed out of the spotlight — and largely out of the White House.
On more than one occasion, her absence has been conspicuous, raising questions about how she'll help shape the tone and tenor of life in her husband's new and busy administration. A delay in naming key staffers to her office has in turn delayed the carrying out of duties that typically fall to the first lady.
On Friday, the first lady of Japan, Akie Abe, found herself making her scheduled stops in Washington, D.C., alone. Traditionally, the first lady of the United States accompanies the spouse of visiting foreign leaders visiting local sites. Trump instead greeted her Japanese counterpart at Joint Base Andrews in Maryland before they traveled down to the Trump family's private Mar-a-Lago resort in Florida.
In recent weeks, however, there are signs that Melania Trump's office is beginning to come together.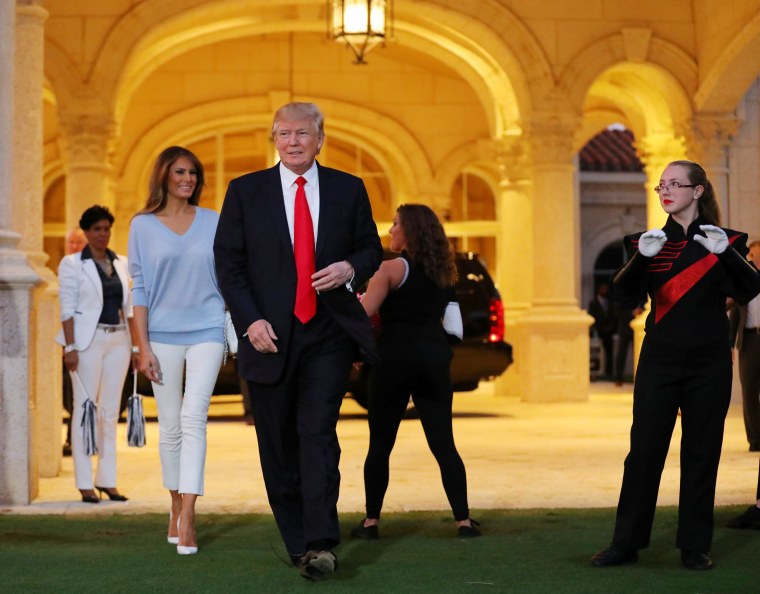 The White House announced the first lady's second official hire Wednesday evening: Social Secretary Anna Cristina Niceta Lloyd, who will oversee events planning. In a statement about the appointment, the first lady said she was "looking forward to sharing my ideas and traditions of entertaining and social hospitality to America's house, my new home as well."
One week earlier, the first lady tapped Lindsay Reynolds as her chief of staff. The filling of that key role came at a time when the largely unmanned first lady's office has thousands of White House tour requests piling up, according to the New York Times, something that typically falls under the first lady's purview along with the planning of state dinners.
The White House did not immediately respond to NBC News questions about the timing of hiring for such positions as schedulers and press secretary staff. Nor did the White House answer questions about what plans are underway for marquee events in which first ladies traditionally take a leadership role, such as the Easter Egg Roll which takes place in the spring and draws thousands.
Critics have noted that her decision to stay in New York until her son, Barron, 10, finishes the school year is costing taxpayers a significant amount of money. Meanwhile, Ivanka Trump, Trump's adult daughter who recently dismissed "inappropriate" speculation that she would effectively act as first lady while Melania Trump remains away, has fulfilled certain duties that might otherwise fall to the president's spouse.
Still, one White House official told NBC News that the first lady's office is "staffing up and eager to get things moving," noting that there is much happening behind the scenes.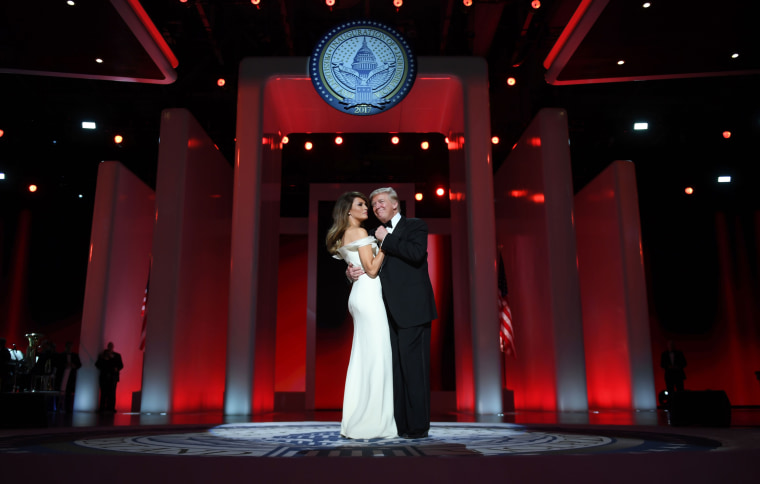 Melania Trump's thinly staffed office should come as little surprise, Anita McBride, former chief of staff to First Lady Laura Bush and executive-in-residence at American University, told NBC News.
Each first lady can set the pace of her office "in the way that suits them best" and when it comes to Melania Trump, "she laid down the marker early that she'd be taking her time," McBride said.
McBride surmises that "even if they were fully staffed as of today," it's not clear that things would be all that different. While Trump has moved quickly on executive actions intended at fulfilling campaign promises, the office of the first lady isn't subject to the same expectations.
"The president is doing so much, but he's elected to do that," McBride said. "She's not the elected official. She gets to rewrite that position's description."
By comparison, Michelle Obama has been described as "reluctant" in the role at first, and Laura Bush had less time to prepare for the mantle due to the Bush v. Gore Supreme Court case that effectively decided the election in December 2000.
However, each first lady developed her own signature platform and made her mark.
Michelle Obama made healthy eating and physical exercise her cause célèbre as part of her "Let's Move" campaign. Laura Bush was an advocate for literacy. And both first ladies pushed for the rights of women and girls globally.
"Each of them have evolved into the role on their timetable, and each has made a difference," McBride said. "Mrs. Trump will find her footing in her own way to have an impact as well."
Melania Trump has said she, too, would advocate for the rights of women and children and would also make cyberbullying awareness one of her causes, though her office has not yet announced her official causes.
She will have to work to overcome low approval ratings compared to her counterparts.
Just before their respective husbands' inaugurations, Michelle Obama enjoyed an approval rating of 68 percent, Laura Bush 56 percent and Hillary Clinton 59 percent, according to Gallup.
Melania Trump's rating was at 37 percent.
And though she has been away from D.C., the former model has still made headlines. The first lady just settled a court battle with a British tabloid reporter for The Daily Mail over allegations made by the outlet about her time as a model, and in late January, she appeared on the cover of Vanity Fair Mexico clad in white and dishing up a forkful of jewels.
But on Saturday, Melania Trump accompanied Akie Abe, Japanese Prime Minister Shinzo Abe's wife, on a tour of a Japanese garden in Florida, signaling her appreciation for at least one aspect of White House life — its gardens. As first lady, her office said in a statement reported by CNN, she will preserve the Rose Garden along with Michelle Obama's vegetable garden.