White House communications director Mike Dubke is stepping down from his post after just three months on the job, NBC News confirmed Tuesday.
The veteran Republican strategist tendered his resignation on May 18, but offered to stay on through President Donald Trump's first foreign trip, which ended Saturday. Trump accepted Dubke's offer, but his official last day has not been set and he was still expected to be at the White House on Tuesday.
Dubke's resignation was first reported by Axios.
"I did not know Mike Dubke before he came on as communications director, I did not know him well," White House counselor Kellyanne Conway told Fox News. "I know he's worked very hard here, but people in administrations tend to leave on their own volition as well. "
Dubke, 47, helped found Crossroads Media, a Republican advertising firm in Virginia. His impending departure comes as the administration remains mired in political turmoil involving the Russian hacking scandal — and questions of whether other communications team members could see their roles in the White House shift significantly.
Multiple sources told NBC News earlier this month that the president is weighing changes, and had asked people close to him their take on press secretary Sean Spicer's handling of press briefings in comparison to his deputy, Sarah Huckabee Sanders, who occasionally fills in for him.
Spicer has been criticized repeatedly for his handling of questions during press briefings, although Trump told Fox News that he is "doing a good job, but he gets beat up."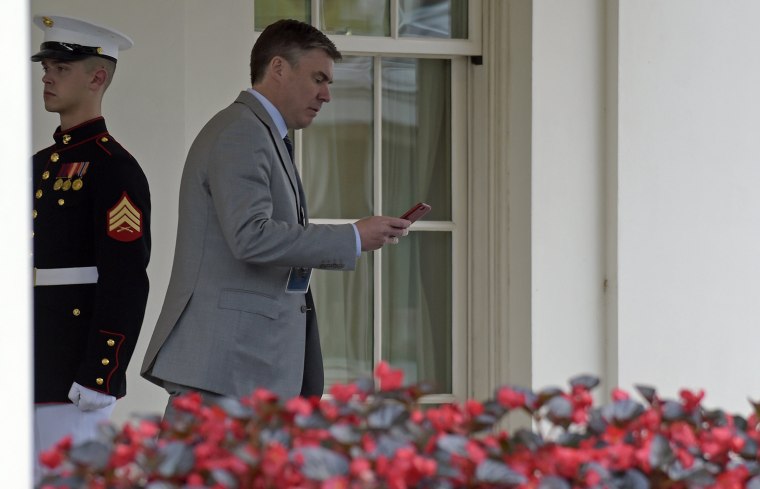 The communications team has also been forced to respond to the latest reports that Trump's son-in-law and senior adviser, Jared Kushner, has come under FBI scrutiny in the Russia investigation after multiple officials told NBC News that investigators believe he has significant information relevant to their inquiry.
The Washington Post said Kushner sought to set up a secret back-channel with Russia, during a conversation with Russian Ambassador Sergey Kislyak in December.
Meanwhile, former campaign aides Corey Lewandowski and David Bossie have been brought back into Trump's orbit, sources confirmed to NBC News, as the president looks to reassemble the team that helped him win the election.