Former Republican presidential nominee Mitt Romney offered effusive praise for President-elect Donald Trump's "impressive" transition effort and "message of inclusion" following their dinner together Tuesday night — a striking change of heart by a man who once called Donald Trump "a phony, a fraud."
The dinner was Romney's second meeting with Trump as part of the president-elect's interview process for deciding who to nominate as Secretary of State. Romney remains a top contender, along with longtime Trump adviser Rudy Giuliani, Sen. Bob Corker and several others. Trump also met with Corker on Tuesday at Trump Tower.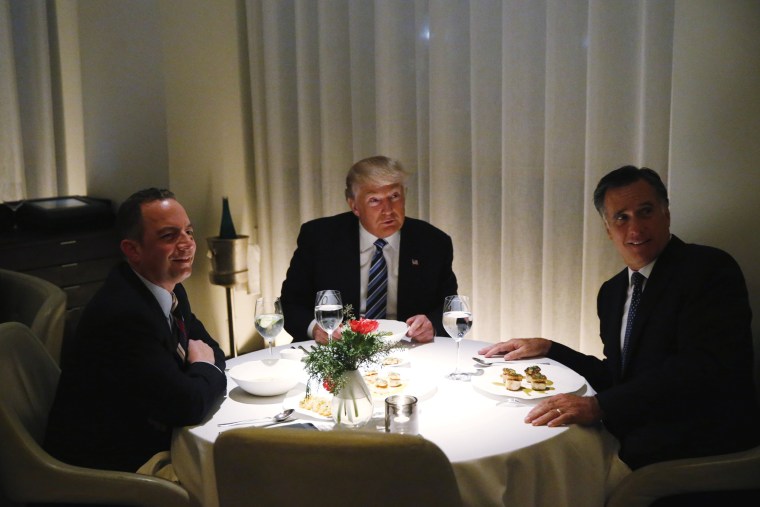 Speaking to reporters gathered at the Trump International Hotel and Tower in Manhattan, Romney gushed about the "wonderful" evening he had with the president-elect, where they were joined by incoming Trump Chief of Staff Reince Priebus as they dined on steak, frog legs and scallops.
Romney described the dinner's conversation as "enlightening and interesting and engaging," before going on to praise the president-elect for besting him in the race for the White House.
"It's not easy winning. I know that myself. He did something I tried to do and was unsuccessful in accomplishing. He won the general election," Romney said.
And he continues with a message of inclusion and bringing people together and his vision is something which obviously connected with the American people in a very powerful way."
Romney said he has been "impressed by what I have seen in the transition effort," praising his selections as "solid, effective, capable people."
Romney added that America's "best days are ahead of us," that their meetings, the president-elect's comments during his victory night speech and his Cabinet and adviser picks "give me increasing hope that President-elect Trump is the very man who can lead us to that better future."
Romey's name on Trump's secretary of state shortlist has sparked controversy because the former Massachusetts governor was one of Trump's most prominent and harshest critics. He delivered an unprecedented speech in March where he warned that "if we Republicans choose Donald Trump as our nominee, the prospects for a safe and prosperous future are greatly diminished."
Romney said Trump is "not smart" on foreign policy and "not of the temperament of the kind of stable, thoughtful person we need as a leader."
He later added: "He's playing the members of the American public for suckers. He gets a free ride to the White House and all we get is a lousy hat."
But despite Romney's change of heart — and Trump's apparent openness to burying the hatchet — he still faces fierce opposition from at least one of Trump's top aides. Kellyanne Conway, his campaign manager, publicly opposed Romney's role in a Trump administration in multiple television interviews over the weekend. She pointed to Romney's criticism of Trump and wondered aloud whether he'd be a "loyal" secretary of state.
Conway said she was speaking on behalf of "grassroots supporters" who would feel "betrayed" if Trump chose Romney. The next day, sources told MSNBC that Trump was angry with Conway for her outspoken criticism, which Conway publicly denied.