The personal papers of one of Hillary Clinton's closest friends reveal a complex picture of the former first lady and her husband as a couple who struggled with a "hellacious" introduction to the White House and became convinced that the press was "anxious to destroy them."
Political science professor Diane Blair, a friend of the family for three decades, advised Bill and Hillary Clinton on everything from the failure of their health care law to the management of the Monica Lewinsky scandal, an archive of Blair's personal correspondence shows.
Blair's notes from an April 1994 call with Hillary shows the level of frustration Clinton had with the media. "Mostly she can't figure out why these people out there are so anxious to destroy them," Blair wrote, adding that Hillary believed her successes "heightened their antagonism."
"Mostly she can't figure out why these people out there are so anxious to destroy them."
She listed the Wall Street Journal and Len Downey -- then the executive editor of the Washington Post -- as enemies of the Clintons and charged that journalist Howell Raines of the New York Times "viscerally hates them; wants to destroy."
NBC News conducted an extensive independent review of the Blair archive at the University of Arkansas. The content of the documents was first reported on by the conservative Washington Free Beacon this week.
The accounts also show that Clinton pushed aides to keep personal records during some of the Clinton presidency's darkest moments but that she avoided recording her own personal thoughts out of fear that they could be subject to investigation.
After the Clinton health care reform effort failed in 1994, Blair wrote that Clinton was deeply concerned that no one would "tell their side" of the story in books being written about the policy's collapse.
Clinton asked Blair and other close aides like Maggie Williams to archive thoughts about the health care failure for use in a future book. But Clinton herself "thinks it best" not to keep a diary of her own, Blair said.
The following year, in January 1995, Blair noted that Hillary Clinton said there is "hardly a news story that she couldn't totally refute." But, she added, Clinton "dare not, because of fear of subpoenas, etc."
While Blair's most intimate conversations were with the then-first lady, the former University of Arkansas professor had a close relationship with Bill Clinton as well, whom she referred to as "President Bill" in all correspondence to him despite their decades-long friendship. (Bill Clinton, clad in top hat and tails, presided over Diane Blair's wedding to her husband Jim in 1979; Hillary stood as her "best person.")
In one letter to the president, written in the days after Bill Clinton's deposition in the Lewinsky investigation in 1998, Blair offers advice on how to handle the crisis.
"We realize you have the world's best legal talent and political advice at your disposal, but few of them either know you or love you as much as we do."
"Jim and I have talked of little else for days, but your situation," she wrote to Bill Clinton. "We realize you have the world's best legal talent and political advice at your disposal, but few of them either know you or love you as much as we do."
Blair suggested that Clinton make a "public statement" acknowledging he had "strayed" and had lied about it.
"No elaboration or details is wanted by anybody (except the fanatical press, which can be handled,)" she wrote. "You should explain with the heart and eloquence you possess in abundance, that you did so to protect the two people you love most in the world, Hillary and Chelsea."
In fact, Bill Clinton did just that. On August 17 of that year, Bill Clinton admitted in an address to the nation that his relationship with Lewinsky was "wrong" and that he misled the nation about it part because he was "very concerned about protecting my family."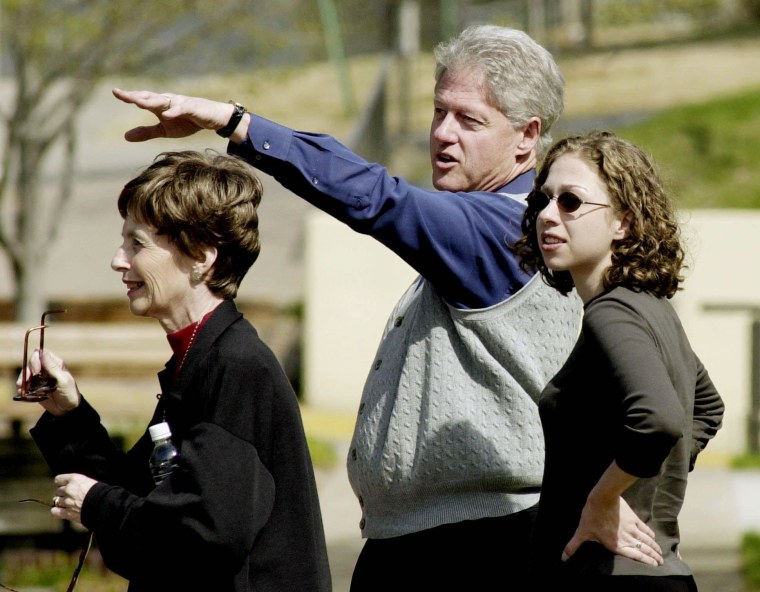 Even long before the scandal that threatened Clinton's presidency and strained the couple's marriage, Hillary Clinton described her transition to the white House as "hellacious," Blair wrote.
"Both Bill and Chelsea getting allergic reactions from everything," she noted. "New school problems for Chelsea. What to serve for meals, and to whom, and when and where. Decorating decisions of private quarters. Making sure everyone from campaign thanked."
And problems with the organizational structure of the Clinton organization plagued the White House in its early days as well.
Blair, who had been tasked with putting together an oral history of the 1992 presidential campaign, wrote a memo to the president and first lady to suggest that the same problems plagued Bill Clinton during his candidacy.
"The major and most frequently repeated criticism was that the organization made it too difficult to reach and hold decisions," she wrote in the 1993 memo. "Too many people reported directly to the candidate" and "too many relatively minor decisions got sent up" for Bill Clinton to decide personally, she added.
After Diane Blair's sudden death from cancer in 2000, the extensive collection of her memos, diary notes, clippings and other materials were donated to the University of Arkansas special collections department by her husband Jim Blair in 2005. They were open to the public in March of 2010 during a dedication ceremony at the Library.
Hillary Clinton was unable to attend the event but in a video message the former first Lady spoke warmly of her late friend and her contribution to history "I know this collection will provide inspiration and motivation to anyone who looks through the notes, the letters, the papers, the research it contains."
NBC's Carrie Dann contributed.