The sanctions imposed by the U.S. against the Russian government on Thursday were both the culmination of U.S.-Russia relations that are at perhaps their lowest point since the end of the Cold War and an assertive act by President Obama to punish Russia before he leaves office.
Obama's move, while chiefly aimed at Russian President Vladimir Putin, also challenged his successor Donald Trump, who has downplayed the findings of the U.S. intelligence community that Russia hacked the Democratic National Committee as part of an effort to interfere in the 2016 election. It was not clear Trump would sanction Russia once he took office, so Obama did it himself.
Trump, in a statement after the sanctions were announced, again did not join the broad consensus that includes Obama and key figures in both parties on Capitol Hill who feel that Russia inappropriately interfered in the American election. At the same time, Trump did not say would reverse the sanctions once he takes office.
"It's time for our country to move on to bigger and better things," he said. "Nevertheless, in the interest of our country and its great people, I will meet with leaders of the intelligence community next week in order to be updated on the facts of this situation."
Obama will leave office with Russia having aggressively defied the United States throughout his second term, a time when Vladimir Putin reasserted his control over Russia's government and then sought to reestablish his nation as a rival power to the U.S.
"All Americans should be alarmed by Russia's actions," President Obama said in a statement on Thursday, blaming the "highest levels" of the Russian government for orchestrating hacking attacks aimed at upending the U.S. presidential election.
And such actions required a response, foreign policy experts said.
"We did have to respond," said Michael O'Hanlon, a senior fellow in foreign policy at the Brookings Institution.
The tension between the U.S. and Russia has been building for years.
In March 2009, then-Secretary of State Hillary Clinton presented Russian Foreign Minister Sergei Lavrov a physical red button with the word reset written in English on it, intending to symbolize a new relationship between Russia and the U.S. A year later, the two nations reached a deal on a new "START" treaty, agreeing to new limits on their long-range nuclear warheads.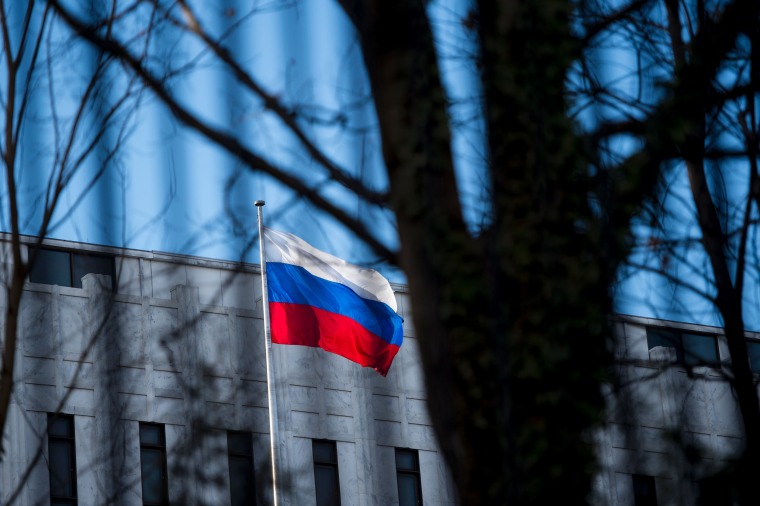 But on the heels of that seemingly auspicious reboot, the Russians retook Crimea over Obama's objections, strongly backed the Bashar al-Assad regime in Syria and helped him maintain power even as Obama demanded he leave office. Assad leads a regime that has used chemical weapons against its political opponents, which Obama strongly opposes.
"The world, as we speak, is united in horror at the savage assault by the Syrian regime and its Russian and Iranian allies on the city of Aleppo," Obama said in a December 16 press conference, his last public comments on Russia.
Russia, the Obama administration asserts, also hacked the Democratic National Committee and top Hillary Clinton adviser John Podesta, weakening the campaign of Clinton, Obama's preferred successor.
Russia on Thursday slammed the White House's actions as a futile move from a "lame duck" presidency. Russian officials have denied any connection to the hacking.
Relations between the two nations are deeply strained, with Obama and Putin openly dismissive of one another.
"We already have enormous numbers of sanctions against the Russians," Obama said at that press conference on Dec. 16. "The relationship between us and Russia has deteriorated, sadly, significantly over the last several years."
The sanctions announced on Thursday by the U.S. follow punishments adopted by both the American government and the European Union in 2014, after Russia took control of Crimea. Obama's actions on Thursday included imposing sanctions against Russia's intelligence apparatus and expelling 35 diplomats.
Key officials in both parties on Capitol Hill backed the new sanctions, although some Republicans said they did not happen soon enough and were too weak.
"The retaliatory measures announced by the Obama Administration today are long overdue. But ultimately, they are a small price for Russia to pay for its brazen attack on American democracy. We intend to lead the effort in the new Congress to impose stronger sanctions on Russia," Republican U.S. senators Lindsey Graham of South Carolina and John McCain of Arizona said in a joint statement.
Their promises of new sanctions could collide with the agenda of the new president.
The president-elect has suggested that the U.S. can have a less tense relationship with Russia, even as both Obama and President George W. Bush sought closer ties with Russia but found themselves deeply frustrated with by Putin by the end of their presidencies.
Obama, in his final month in office, could be trying to push Trump towards a more confrontational approach towards Russia.
"That should be a bipartisan issue; that shouldn't be a partisan issue. And my hope is that the President-elect is going to similarly be concerned with making sure that we don't have potential foreign influence in our election process," the president said a few weeks ago.
On Wednesday, a day before the sanctions were announced, Trump seemed unmoved.
"I think we ought to get on with our lives," he told reporters, similar to the language he used in his statement the day.
But by imposing sanctions now, Obama has shifted Trump's calculus.
Trump may not have imposed these sanctions on his own. But it's also not clear if Trump will reverse sanctions already in place once he takes office, with officials in both parties strongly supporting them.
O'Hanlon argued that Obama did Trump a "favor" by taking action now.
"This way, Mr. Trump doesn't have to be the guy who does it, it's already achieved," O'Hanlon said.