Over 1 million people chose insurance through the federal health care exchange last week as open enrollment approaches its Dec. 15 deadline. But the total number is likely to fall short of last year, which featured both a longer enrollment period and a far more robust outreach campaign from the White House.
"Even though demand is high and people are signing up in bigger numbers than last year, at this point it looks like the clock is just going to run out with the enrollment period cut in half," Larry Levitt, senior vice president for special initiatives at the Kaiser Family Foundation, told NBC News.
According to the latest figures, released Wednesday by the federal Centers for Medicaid and Medicare Services (CMS), 388,984 new customers signed up between Dec. 3 and Dec. 9 while an additional 684,937 renewed existing coverage. The numbers are likely to surge again in the home stretch as customers finalize selections and others who have existing coverage, but have not chosen plans, are auto-enrolled.
Just under 4.7 million people have signed up since open enrollment began Nov. 1, up from 4 million at a comparable point last year. But the previous enrollment period was longer and continued through Jan. 31, reaching a total of 9.2 million. The figures include people who signed up through HealthCare.gov, which covers 39 states, but not state exchanges, some of which have later deadlines to sign up.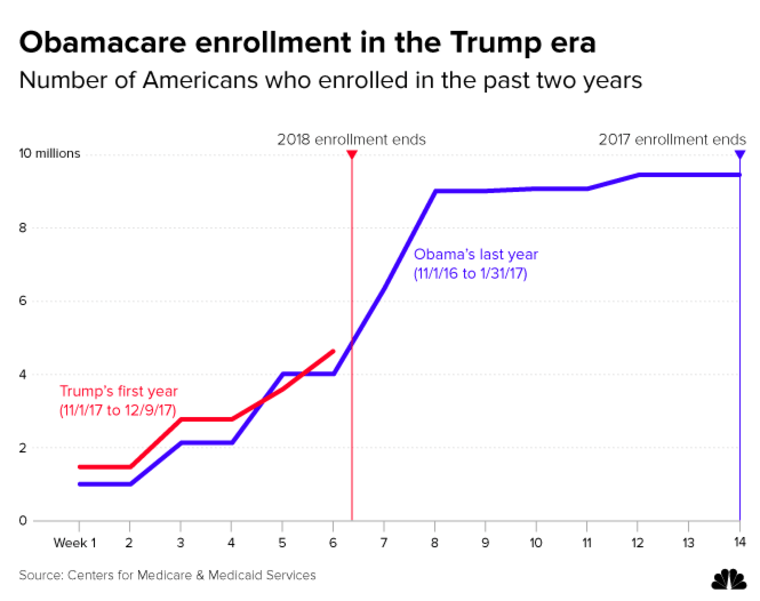 The Trump administration cut ad spending for the enrollment period by 90 percent and reduced funding for navigators, who assist customers, by 41 percent. Top administration officials have made little public mention of the enrollment period in contrast to the previous White House, where President Barack Obama participated in interviews and events to encourage signups.
"The latest enrollment report from CMS shows that despite the shortened enrollment period, the lack of outreach and other efforts by the Trump administration to undermine Open Enrollment, enrollments this year continue to defy expectations," Lori Lodes, a former Obama health official and co-founder of Get America Covered, a campaign to enroll customers in plans, wrote in an analysis of the latest figures.
The Obama administration had already planned to switch to a shorter enrollment period in 2019, and it's difficult to say for sure how a more concerted effort to attract customers might have affected the numbers.
"It's entirely possible that a shorter open enrollment period would have worked out OK if not for the lack of outreach," he said.
The Wesleyan Media Project, which tracks and analyzes political ads, also released a report on Wednesday that found that private insurers were stepping in more to fill the advertising gap and that there were more total TV ads running than last year for the same period. But its authors cautioned against viewing private companies as a substitute for government outreach.
"Insurance company advertising is not a replacement for federal advertising, which in the past drove enrollees explicitly to the HealthCare.gov," Erika Franklin Fowler, the project's co-director, said in the report. "However, more ads in a shorter window make it more likely that consumers will encounter health insurance messaging on television, which may help to boost awareness and encourage enrollment generally, complimenting other efforts to spread the word."