WASHINGTON — Former President Barack Obama and former first lady Michelle Obama returned to the White House on Wednesday for the unveiling of their official portraits, reviving the bipartisan tradition that stalled under the Trump administration.
"Barack and Michelle, welcome home," President Joe Biden said at a ceremony in the East Room celebrating the former first couple.
The White House Historical Association has facilitated acquiring portraits of presidents and first ladies since 1965. Most presidents and first ladies select artists before they leave office, according to the association. Once completed, the portraits are displayed in the White House.
Regardless of party affiliation, sitting presidents typically host their immediate predecessors for the unveiling of their official portraits — which then-President Bill Clinton did for George H.W. Bush, George W. Bush did for Clinton, and Obama did for the younger Bush.
Former President Donald Trump did not host an unveiling ceremony during his time in office. There was no official explanation for his lack of such a ceremony for the Obamas.
The event, which is typically held indoors, was further delayed after Biden entered office last year due to the Covid pandemic.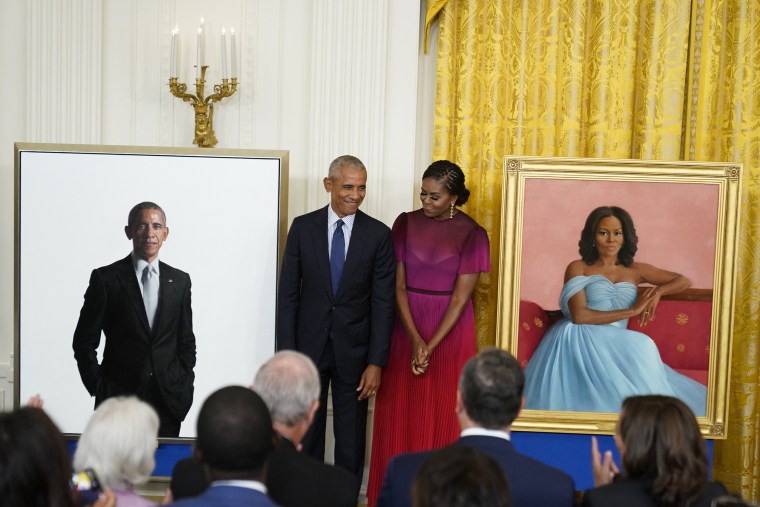 The portraits, along with the artists commissioned, were kept secret until Wednesday. Obama selected the artist Robert McCurdy to do his portrait, and Michelle Obama commissioned Sharon Sprung.
The former president said that he was drawn to McCurdy's work for his lifelike depictions. "His work is so precise that a glance it looks like a photograph," Obama said.
"Presidents so often get airbrushed, even take on a mythical status," he said. "What I want people to remember about Michelle and me, is presidents and first ladies are human beings like everyone else. We have our gifts and we have our flaws."
Although Trump was not mentioned by name, Michelle Obama spoke to the importance of tradition and the peaceful transition of power.
"You see, the people they make their voices heard with their vote. We hold an inauguration to ensure a peaceful transition of power," she said. "And once our time is up, we move on. And all that remains in this hallowed place are our good efforts. And these portraits, portraits that connect our history to the present day, portraits that hang here as history continues to be made."
First lady Jill Biden, Vice President Kamala Harris and second gentleman Doug Emhoff also attended the event, as well as former staffers from the Obama administration.
Asked during a news briefing Tuesday whether Biden would hold the same ceremony for Trump should a portrait of him be done, White House press secretary Karine Jean-Pierre deferred questions to the White House Historical Association.