WASHINGTON — The former State Department inspector general fired by President Donald Trump told lawmakers that two top officials tried to discourage his investigation into a U.S. arms sale to Saudi Arabia, according to congressional testimony released Wednesday.
The ousted inspector general, Steve Linick, said Under Secretary of State for Management Brian Bulatao told him "that we shouldn't be doing the work because it was a policy matter not within the IG's jurisdiction," according to a transcript of his June 3 testimony.
The State Department's acting legal advisor, Marik String, also questioned the probe, arguing it was outside the scope of the inspector general and purely a policy matter, Linick said.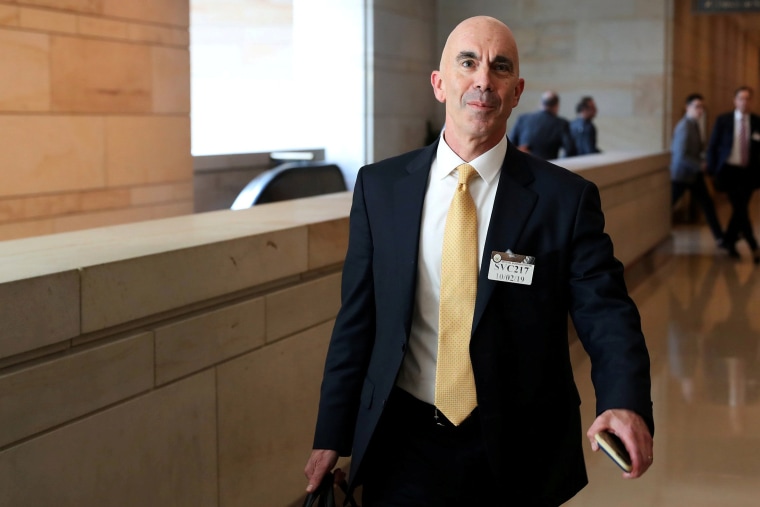 But according to Linick, he refused to drop the investigation, saying his office's mission was to evaluate whether policies are being implemented effectively and in accordance with the law.
"We don't assess whether a policy is good or bad, but we assess how a policy — whether it's efficiently and effectively implemented and whether rules are followed. And we continued to do that," Linick said.
Bulatao, who graduated in the same West Point class as Secretary of State Mike Pompeo, is a long-time confidant of the secretary. The two were in business together and when Pompeo was CIA director, he named Bulatao as chief operating officer at the agency.
Pompeo invoked a rarely used provision in federal law in May 2019 to declare an emergency and push through the $7 billion arms sale to Saudi Arabia and the United Arab Emirates without having to secure congressional approval. Democrats in Congress questioned the legality of the move and requested the inspector general's office look into the decision.
The inspector general's office had opened the investigation into the controversial arms sale last November.
Linick's testimony comes amid accusations from Democrats that Pompeo sought to have the inspector general fired in retaliation for investigations of his role in the Saudi arms sale and over the possible misuse of public resources by the secretary and his wife.
Linick told lawmakers that he informed two senior officials, Bulatao, Deputy Secretary of State Steve Biegun and Pompeo's executive assistant about the investigations. "I wanted to make sure everybody was aware so that they wouldn't be surprised," Linick said.
Despite the ex-inspector general's account, Pompeo has said Linick's firing couldn't have been retaliation because he had "no sense of what investigations were taking place inside the inspector general's office."
A few hours after the transcript of Linick's testimony was released on Wednesday, Pompeo renewed his defense of how he handled the issue, saying Linick should have been fired earlier.
"Steve Linick was a bad actor," Pompeo told a news conference. "[Inspectors General] work for the agency head, that's me, and they're supposed to deliver and help make that organization better. That's not what Mr. Linick did."
He added: "My mistake was letting Mr Linick stay here as long as he did."
Pompeo was not asked, nor did he address, Linick's account that three senior officials in his office were aware of the IG investigations before he recommended the watchdog's dismissal.
In his interview with lawmakers, Linick said at one point the State Department's legal adviser appeared open to arranging a one-on-one interview with Pompeo on the Saudi arms sale decision. But when Linick proposed bringing an additional colleague with him as a witness, the legal adviser dropped the idea. Pompeo later provided written answers to the inspector general's office.
More recently, Linick said he again requested an interview with Pompeo on the Saudi arms sale once the COVID-19 crisis passed. The inspector general said he never heard back either way, according to the transcript.
Linick also said there were disagreements with Bulatao over other issues.
"I would say that sometimes the relationship was professional; at other times, he tried to bully me," Linick said.
Apart from other probes into the Saudi arms deal and Pompeo's use of government resources, Linick told lawmakers about other previously undisclosed investigations pending before he was sacked. Linick said his office had been conducting a review of the State Department's protocol office, how special visas were being handled for former Afghan and Iraqi interpreters who served with U.S. troops, and the circumstances surrounding a Global Women of Courage award that was scrapped.
NBC News first reported that before he was fired, Linick had been looking at whether Pompeo made a State Department staffer walk his dog, pick up his dry cleaning and make dinner reservations for Pompeo and his wife, among other personal errands.
Linick, who was abruptly sacked late on May 15, is one of five internal watchdogs that President Trump fired in April and May. The inspector general offices are meant to conduct independent investigations of federal agencies and hold the executive branch accountable.
Linick told lawmakers that he had no advance warning about his firing, that had not been told previously about any problems with his performance, and that no reason was given when he was informed he would be sacked.
"I was in a state of shock because I had no advance notice of anything like that," Linick said.
Pompeo and his allies have said Linick was removed partly because of the alleged leak of a report by his office into accusations that Trump's political appointees retaliated against career officials at the State Department.
Linick has denied his office was the source of the leak reported in The Daily Beast. He said an investigation into the alleged leak by the Defense Department inspector general cleared him and his office.
Linick told lawmakers in his interview that he shared his findings on political reprisals with State Department officials before the article appeared in The Daily Beast, so the source of the leak could have been outside the inspector general's office, according to the transcript of his testimony.
But at the State Department press briefing on Wednesday, Pompeo said Linick failed to properly investigate the leak of the report.
"We asked him to investigate in a certain way, he refused to do that. And that's inappropriate. And we still don't as a result of that know the answer for precisely how that information got out," Pompeo said.
The leak involved a report from Linick's office that was later released publicly. The report faulted the department's top diplomat on Iran, Brian Hook, for sidelining a career employee after her loyalty was questioned by officials who cited her Iranian-American heritage and her work under the previous administration.
The inspector general's report recommended that Pompeo consider disciplinary action against Hook or others who failed to comply with rules that require career civil servants to be assessed only on merit. Pompeo did not take any punitive measures against Hook, who strongly rejected the inspector general's findings.
Linick was appointed as State Department inspector general in 2013 by President Barack Obama. He came under fire in 2016 from some Democrats over his critical report on former Hillary Clinton's use of a private server during her tenure as secretary of state.