After years of post-recession skepticism, Americans increasingly see international trade pacts as beneficial to the U.S. economy, fueled in part by a jump in support from Democratic voters.
According to a new NBC/WSJ poll, 37 percent of Americans now say that free trade with foreign countries has helped the United States, while 31 percent disagree.
It is the first time since 1999 that a plurality of Americans have shown support for international trade. The support comes as the Obama administration is working to pass the Trans-Pacific Partnership (TPP), a bipartisan trade deal including 11 other countries bordering the Pacific that make up 40 percent of the world's economy.
Democratic support has jumped significantly in the past five years. In the latest poll, 43 percent said free trade has helped the U.S. economy, compared to just 27 percent who said the same in 2010. African Americans and Latinos have also registered huge gains in the past five years. Specifically, African American support has doubled since 2010 from 14 percent to 31 percent last month.
Meanwhile, only 33 percent of Republicans say international trade has helped the United States, compared to 36 percent who disagree. But conservative support has risen compared to 2010, when just 21 percent of the party believed that trade pacts boost the U.S. economy.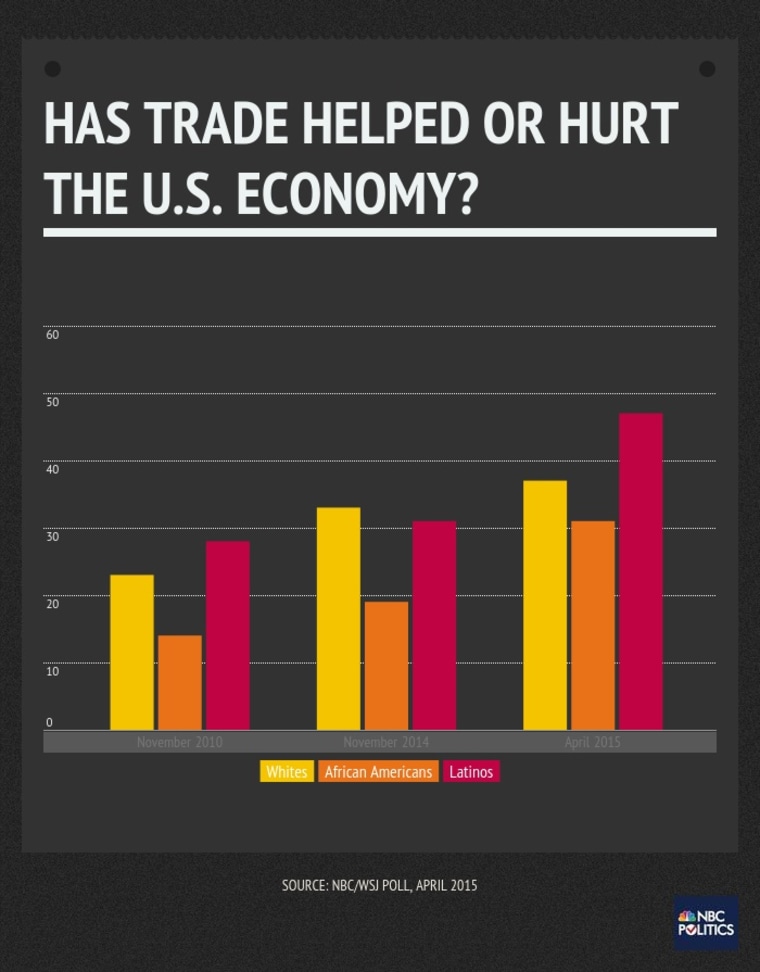 If passed by Congress, TPP will be the country's largest trade agreement since NAFTA, a free trade agreement with Mexico and Canada passed roughly twenty years ago. Americans increasingly approve of NAFTA, with 29 percent now saying the deal has done more to help than hurt the U.S. economy, compared to 18 percent who said the same in 2003.
While President Obama works to streamline the trade agreement process and eventually pass TPP through Congress, Hillary Clinton still hasn't taken a definitive stance throughout the trade deal discussions.
"Any trade deal has to produce jobs and raise wages and increase prosperity and protect our security," Clinton told reporters in New Hampshire. "And we need to do our part to make sure we have the capacity and the skills to be competitive."
Possible Democratic challengers Sen. Bernie Sanders and former Maryland Gov. Martin O'Malley have already expressed concern regarding future trade deals.On NBC's "Meet the Press," House Speaker John Boehner said Clinton needs to help the president with trade promotion authority, which passed tax committees in both chambers of Congress last month.
"She can't sit on the sidelines and let the president swing in the wind here," Boehner said in the interview that aired Sunday.