President Barack Obama, focusing on a message of religious tolerance and unity, called for all Americans to stamp out anti-Muslim prejudice during his first presidential visit Wednesday to an American mosque.
"An attack on one faith is an attack on all our faiths," Obama said, adding that "we have to be consistent in condemning hateful rhetoric ... none of us can be bystanders to bigotry."
The president thanked the packed auditorium at the Islamic Society of Baltimore for standing up against extremist acts by ISIS and other terror groups who have given a "hugely distorted impression" of their faith, he said.
He also acknowledged how Muslim Americans must routinely swear off the actions of one extremist, while other ethnic and religious groups don't have to answer for what one person in their community does — such as when white South Carolina man Dylann Roof killed nine black parishioners at a church last June.
"You're not Muslim or American — you're Muslim and American. Don't grow cynical," Obama urged. "Don't respond to ignorance by a world view saying you must choose between your faith and your patriotism. Don't believe you must choose between your best impulses."
Obama started his tour of the suburban Baltimore mosque, one of the largest in the mid-Atlantic region, with a round-table discussion involving Muslim community leaders.
He then segued into a talk before community members to denounce the rise in "extremist elements" who twist Islamic text into violent ideology — and, in turn, allow innocent Muslims to get attacked because of the "radical tiny minority."
The Islamic Society of Baltimore in Catonsville received threats twice last year, Obama said.
Related:Obama to Visit Mosque, Hold Talks With Muslims in Baltimore
"We're one American family, and when any part of our family starts to feel second class or separate or targeted, it tears at the very fabric of our nation," the president said.
Muslims, he added, are "some of the most resilient and patriotic Americans you'll ever meet."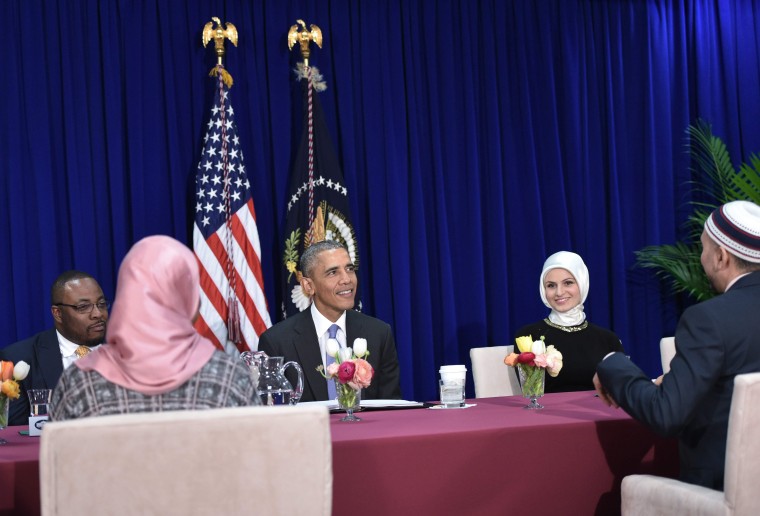 His meeting comes at a tense time for Muslim Americans in the wake of terror attacks by religious extremists in the U.S. and abroad, and as anti-Islam rhetoric flares on the campaign trail.
A study by a California State University, San Bernardino, professor found hate crimes targeting Muslim businesses and mosques tripled in 2015. The number of incidents grew after the deadly siege in Paris in November and then again after the December massacre of 14 people in San Bernardino by husband and wife shooters who had apparently pledged allegiance to ISIS online.
On Tuesday, White House spokesman Josh Earnest also condemned the heated rhetoric used by "some Republicans to try to marginalize law-abiding, patriotic Muslim Americans."
"It's just offensive to a lot of Americans who recognize that those kinds of cynical political tactics run directly contrary to the values that we hold dear in this country," Earnest told reporters. "And I think the president is looking forward to the opportunity to make that point."
Earnest didn't specifically mention Republican candidate Donald Trump, who said in November he "would certainly implement" a database to track Muslims in America and then suggested in December a full ban on Muslims entering the country as a way to prevent extremist activity.
During his State of the Union address in January, Obama struck back at the message of intolerance that seems to have animated some of the presidential race.
"Muslim Americans are our friends and our neighbors; our co-workers, our sports heroes — and, yes, they are our men and women in uniform," Obama said.
While the president has visited mosques during his official trips to the Middle East and Southeast Asia, he had not accepted previous invites made by Muslims here. Muslims make up about 1 percent of the U.S. population.
In December, the White House held a meeting with prominent Muslim and Sikh Americans over tensions in their communities, and leaders then suggested that Obama visit a mosque to speak out against Islamophobia.
President George W. Bush had visited the Islamic Cultural Center of Washington, D.C., following the 9/11 attacks.
The Islamic Society of Baltimore has about 3,000 congregants, according to The Baltimore Sun, and runs a K-12 school, summer camp and health clinic.
Among the worshippers who attend the mosque, the newspaper said, is the family of convicted murderer Adnan Syed, the star of the "Serial" podcast who is trying this week to win a retrial.
Those in attendance Wednesday included prominent Muslim politicians and athletes, including fencer Ibtihaj Muhammad, who will become the first American to compete in a hijab at the Olympics this summer.
"I told her to bring home the gold!" Obama joked. "Not to put any pressure on you."
He praised the contributions of Muslim Americans, such as Muhammad, and told the mosque that everyone should be proud to represent their faith.
"You fit in right here — you're right where you belong," Obama said. "You're part of America, too."