President Donald Trump has resigned from his namesake company and more than 400 affiliated entities, a Trump Organization spokesperson told NBC News.
In a statement, the spokesperson, who asked not to be identified, said Trump had transferred title, management and authority of the companies to a trust under the management of his sons Don and Eric and of Allen Weisselberg, chief financial officer of The Trump Organization.
The spokesperson provided a resignation letter dated Jan. 19 and signed by Trump, along with a list of hundreds of companies that he had left.
Related: Experts Agree Trump's Ethics Plan Falls Short
The news comes amid rising pressure on Trump to resolve his perceived conflicts of interest — although the move will likely do little to persuade critics, including ethics lawyers for George W. Bush and Barack Obama, who have argued that he should liquidate his assets or place them in a blind trust.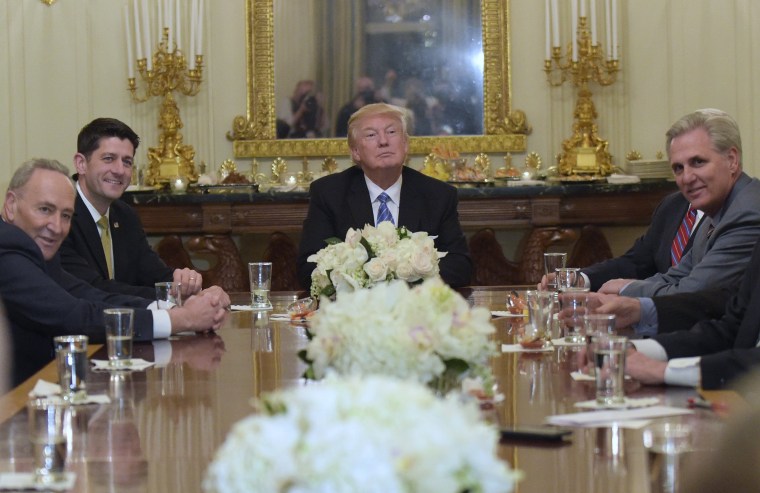 "Stepping back from running his business is meaningless from a conflict-of-interest perspective," said Walter Shaub, director of the U.S. Office of Government Ethics. "The idea of setting up a trust to hold his operating businesses adds nothing to the equation. This is not a blind trust — it's not even close."
On Monday, a liberal government watchdog group, Citizens for Responsibility and Ethics, sued Trump, arguing in federal court that he violated the Constitution by not divesting from the Trump Organization and other interests with leases, bookings, payments and deals connected to foreign governments — spanning Russia to to Saudi Arabia to the Philippines and China.
Related: Inside Trump's Holdings: A Web of Potential Conflicts
That violation began, the suit alleges, the moment Trump was sworn into office. The resignation letter released Monday is dated the day before Trump was inaugurated.
Trump and White House officials have argued that the president, by law, can't have any conflicts of interest — "in theory, I could run my business perfectly and then run the country perfectly," Trump said in November — although he announced this month that he would nevertheless let his children manage his businesses.
"He has gone above and beyond in what he has done to make sure there are no conflicts," White House spokesman Sean Spicer said.