Lecompton, Kansas, resident Kris Kobach, who lives in the state's 2nd congressional district, has voted in nearly every election — local and national — dating back to 1996.
Indianapolis, Indiana, resident Mike Pence, who lived on Meridian Street — in the governor's official residence before moving to Washington, D.C. — mailed in his ballot for the 2008 primaries. The only year he did so since 2006.
That's just some of the publicly available voter information that anyone with an internet connection can find out about the co-chairs of the Presidential Advisory Commission on Election Integrity.
The Trump panel ignited a bipartisan firestorm over the past week after Kobach, the Kansas secretary of state, penned a letter asking states to hand over a massive amount of publicly available voter roll data.
It also requested information that some state officials consider confidential or sensitive, such as the last four digits of Social Security numbers, felony convictions and military status.
As a result, 45 states and the District of Columbia have either declined to release voter data or will hand over limited information.
Other challenges to the request include a privacy group requesting a temporary restraining order in federal court this week to halt the commission's work and two New Hampshire lawmakers filing a lawsuit to block its secretary of state from handing over public voter data.
The panel also has said it plans to release the information collected to the public, raising privacy concerns among civil liberties groups, and has not said exactly how it intends to use all of the data that it is trying to gather.
The 15-member commission, created through executive order by Trump in May, is charged with identifying "vulnerabilities" in the American election system, as well as potential impacts on "improper voting, fraudulent voter registrations, and fraudulent voting."
Neither Indiana nor Kansas are fully complying with the commission's request.
Kobach told The Kansas City Star his office will not hand over Social Security numbers to his own commission but would provide the other information requested in the letter.
Indiana Secretary of State Connie Lawson, a Republican, said in a statement that state law barred her from providing the "personal information requested by Secretary Kobach." The law, she said, allows only certain voter information to be passed along, including "name, address and congressional district assignment."
A spokeswoman for the office, in an email to NBC News, reiterated that personal information, such as Social Security numbers and military status, was not publicly available.
The information about Pence and Kobach was obtained by entering basic identifying data — name, date of birth and home county — into online portals provided by Kansas and Indiana for their respective voters. (Voter information can also be requested via a public records request in many states, often for a fee.)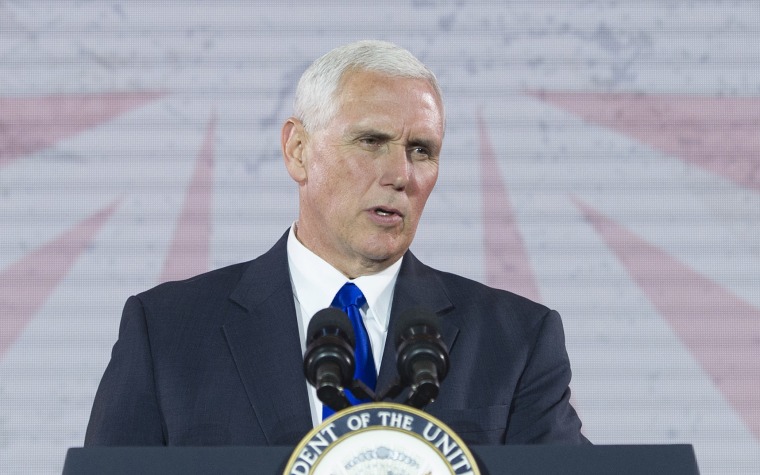 Kobach's publicly available voter data includes his name, home address, party affiliation, voting precinct and location and his 20-year voting record, dating back to 1996. The only year missing is 2003.
It also includes whether he showed up to vote in person or mailed in his ballot, which he did twice — 2007 and 2015.
Public data would not include sensitive personal information, according to a representative from the Kansas secretary of state's office.
Indiana makes less information about voters publicly available than Kansas.
For Pence, that's limited to his name, home address, voting precinct and location. Also, the years in which Pence voted absentee — 2008 — are publicly available dating back to 2006, but the elections in which he voted in person are not made public by his home state.
Some experts questioned the usefulness of the information the commission is attempting to collect given the differing mishmash of data that is available in each state.
David Becker, the executive director and founder of the Center for Election Innovation & Research, said the differences in available voter information for Pence and Kobach highlights that problem for the commission.
"If you don't have enough sophisticated data points and methodology, just having this data is useless," Becker said.