Donald Trump's pick for secretary of state boasts investments in Chinese and Russian firms among his almost $500 million in total assets, documents show.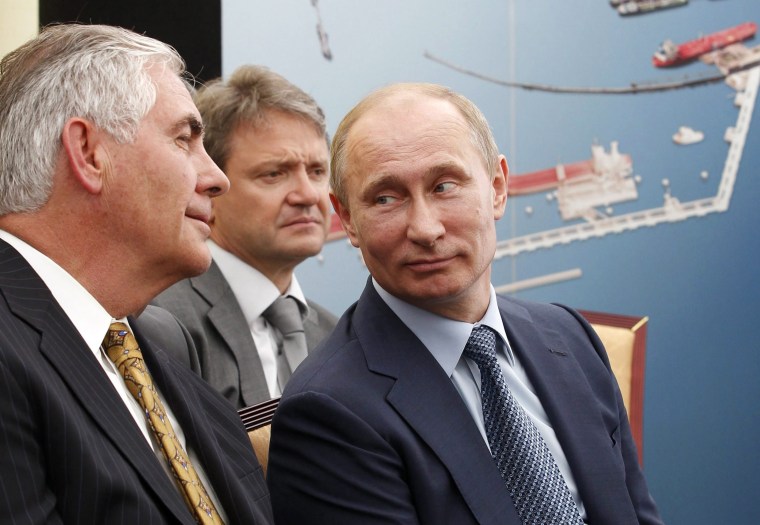 NBC News obtained a copy of Rex Tillerson's Public Financial Disclosure Report that was submitted as part of the vetting process for the ExxonMobil CEO and chairman's nomination to the role.
It details Tillerson's financial holdings — including numerous stock holdings in U.S., European and Asian companies.
He holds from $109,000 to $361,000 worth of stock in Chinese companies — telecommunications, cement, and shipping firms, plus household names like Alibaba and Baidu.
He also has a small stake — from $1-$15,000 worth of stock — in the Russian internet company Yandex, a stock commonly held by Westerners that is traded on NASDAQ.
Tillerson's stock holdings in Chinese and Russian companies are all $50,000 and under.
His largest holdings overall are in Exxon stock and financial instruments including mutual funds and indexed funds. In total, Tillerson has at least $200 million in Exxon-related holdings.
In addition, Tillerson has large holdings in Texas municipal bonds. He and his wife, Renda St. Clair, jointly own a large horse ranch in Texas that is valued at as much as $25 million. They also have real estate holdings elsewhere in the state.
Using the maximum value for the holdings published, Tillerson's total assets would be close to half a billion dollars.
His holdings rival those of former Treasury Secretary Henry Paulson, who liquidated his own holdings of more than $500 million before taking on that role in 2006.
Related: Trump's Cabinet Picks Have Combined Wealth of $14.5B
Tillerson will likely have to divest some of his direct holdings in stock like Exxon. However, due to a tax provision created in the Bush administration for people nominated for an executive branch position, Tillerson can take those holdings and invest them for three years in a "permitted property."
That means his tax hit would be negligible to non-existent.
In addition, ExxonMobil's board has reached an agreement with Tillerson for vesting his pension in a fashion that his lawyers say won't violate ethics rules. An issue over deferred compensation had required him staying with the firm through March.