WASHINGTON — More than 130 political appointees working in the Executive Office of the President did not have permanent security clearances as of November 2017, including the president's daughter, son-in-law and his top legal counsel, according to internal White House documents obtained by NBC News.
Of those appointees working with interim clearances, 47 of them are in positions that report directly to President Donald Trump. About a quarter of all political appointees in the executive office are working with some form of interim security clearance.
White House officials said Wednesday they would not comment, as is their policy, on the nature of security clearances. CNN also reported on the clearances earlier Wednesday evening. It is unclear whether some employees have had their clearance levels changed since mid-November.
The documents also show that 10 months into Trump's administration, at least 85 political appointees in the White House, vice president's office and National Security Council were working without permanent security clearances. About 50 appointees were operating with interim security clearances while serving in offices closely linked to the West Wing, such as the National Economic Council, the Office of Management and Budget, the U.S. Trade Representative and the White House executive residence.
White House officials who are listed as not having permanent security clearances as recently as this past November include Ivanka Trump, the president's daughter and senior adviser; Jared Kushner, the president's son-in-law and senior adviser; Dan Scavino, the president's director of social media; and Christopher Liddell, assistant to the president for strategic initiatives; according to the documents.
All four are listed as operating with interim clearances only for information classified as "top secret" and "TS/SCI," which is shorthand for "top secret, sensitive compartmented information."
A total of 34 people who started their government service on Jan. 20, 2017, the first day of the Trump presidency, were still on interim clearances in November.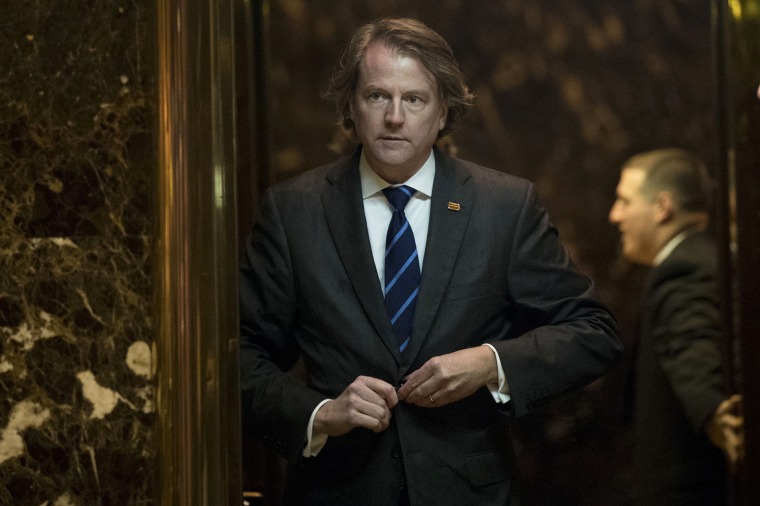 Among them are White House counsel Don McGahn, White House press secretary Sarah Huckabee Sanders and White House deputy press secretary Raj Shah, who had only interim clearances to access the most sensitive government information, according to the documents. Each of them had obtained permanent clearances to access top-secret materials, a lower clearance that would prevent access to information, for example, in the president's daily intelligence brief.
On the National Security Council, 10 of 24 officials listed in the documents — about 42 percent — had only interim security clearances as of November. Those officials listed as working without permanent security clearances include Dina Powell, a deputy national security adviser for strategy who left her post in January. Powell's clearance process did not begin until March 2017. Her replacement, Nadia Schadlow, joined the Trump White House in March 2017 and was still on an interim clearance in mid-November.
Other prominent NSC members listed as operating on interim clearances, included Fiona Hill, the NSC's senior director for European and Russian affairs; Kevin Harrington, the NSC's senior director for strategic planning; and John Rader, special assistant to the president for national security affairs, and Joshua Steinman, the NSC's senior director for international cybersecurity.
A White House official on Thursday, however, said that Steinman had full clearance all along and was erroneously on the list, and that Hill had received hers after the list was compiled.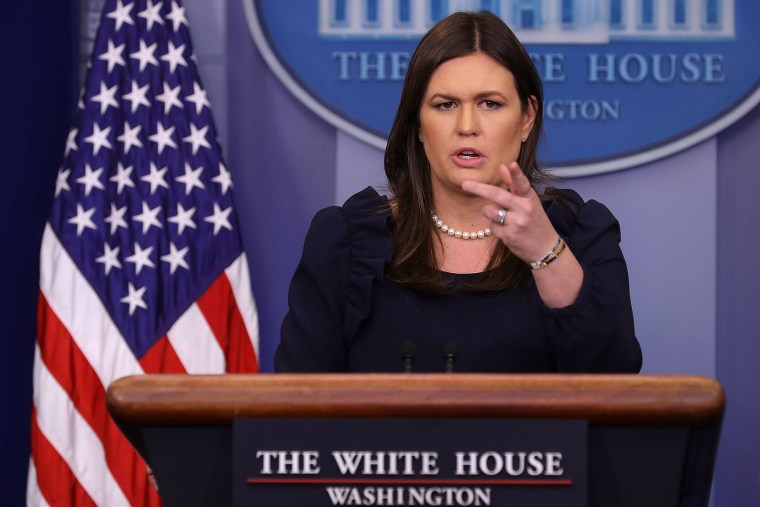 Security clearances can change over time, and legal experts said the lack of a permanent security clearance does not mean there is something problematic in an individual's background.
Dan Coats, the Director of National Intelligence, said during congressional testimony earlier this week that he would recommend minimal access to classified documents to anyone without a permanent security clearance.
"But if you do that, it has to be a specific interim with controlled access and limited access, and that has to be clear right from the beginning," Coats said. "You can't just say an interim allows me to do anything."
The levels of clearance listed in the documents for the political appointees varied from secret to top secret to SCI.
One of the president's central arguments against his Democratic opponent in the 2016 presidential election was that Hillary Clinton's alleged mishandling of classified information not only disqualified her but was grounds for imprisonment.
The most senior White House officials are vetted for top-secret and SCI clearance. Top secret includes information that if revealed is expected to cause exceptionally grave damage to national security, according to a report written in 2013 by the Government Accountability Office. SCI is described as "classified information concerning, or derived from, intelligence sources, methods, or analytical processes that must be handled within formal access control systems established by the Director, Central Intelligence Agency."
Ty Cobb, the president's lawyer in the White House focusing on the Russia investigation, was serving under an interim security clearance when he began in August. Cobb was granted permanent security clearance last month, a White House official told NBC News.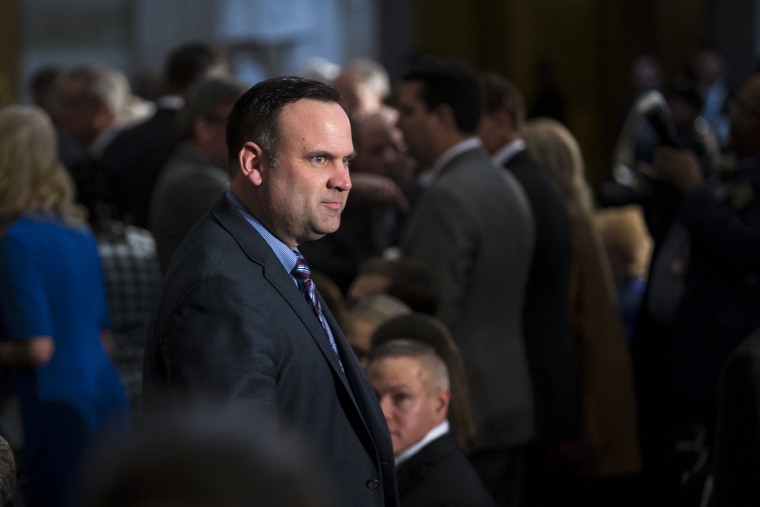 Scavino has been in Trump's orbit for decades, and was one of the first employees on his 2016 campaign. He is among the White House officials most often at the president's side, capturing candid moments and critical meetings on camera that he disseminates to the president's vast social media following.
One White House official, George Banks, a special assistant to the president for economic policy, resigned Wednesday after he was reportedly informed he would not receive a permanent security clearance.
Congressional Democrats have been raising concerns about security clearance issues involving Trump officials since the transition period in 2016. Last October, Elijah Cummings of Maryland, the top Democrat on the House Oversight Committee, requested detailed information on all White House staff who had interim clearances.
But the White House's struggle to provide a consistent account for the circumstances involving former staff secretary Rob Porter's clearance review led a top Republican to formally launch an investigation for the first time this week.
In separate letters to White House chief of staff John Kelly and FBI director Christopher Wray, House Oversight Committee Chairman Trey Gowdy, R-S.C., requested information from the White House and FBI about how interim clearances are investigated and adjudicated, and whether Porter's specific case conformed to those procedures.
Separately, a group of Senate Democrats asked Wray to provide a list of individuals in the White House who hold interim security clearances.
"We are deeply concerned that high level officials operating under an interim security clearance, like Jared Kushner, read the President's daily intelligence briefing," the senators wrote.
Several former government officials who served in President Barack Obama's White House said they could not recall how many staffers were operating with an interim security clearances a year into the administration. One of them, however, said there was frustration in the West Wing at the time because "it was taking a long time for people's clearances to get through."
Still, this former official said, it is a "big flag" that White House officials as senior as Kushner, McGahn and Ivanka Trump do not have permanent security clearances at this point.
The issue of security clearances has been simmering for months and boiled over nine days ago when a Daily Mail report about alleged domestic violence committed by Porter also revealed that he had been working without a permanent security clearance. Porter resigned last week. His replacement, Derek Lyons, also appeared to be working with an interim security clearance as recently as November, according to the documents.
Omarosa Manigault-Newman, who first met Trump on "The Apprentice," and worked on his campaign, spent 2017 working in the White House but is listed as having no clearance at all. Hope Hicks, White House communications director, and Kellyanne Conway, who is a senior counsel to the president, came into the White House on Trump's first day in office and have the highest security clearance.