Top Trump Administration counterterrorism adviser Sebastian Gorka abruptly left a panel on fake news at Georgetown University on Monday after he was questioned about his work at Breitbart and links to a far right Hungarian group with Nazi ties, three people who were there told NBC News.
During a roughly six-minute statement, which NBC News obtained a recording of, Gorka described allegations that he belongs to the group Vitezi Rend as a "propaganda campaign" and said that protesters quietly holding signs during the event were "victims of fake news."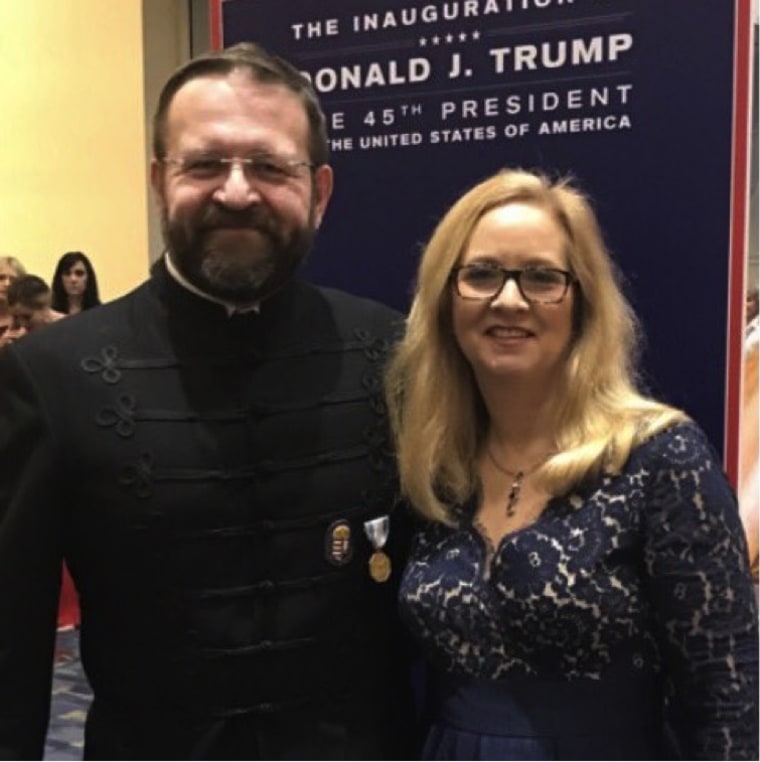 Related: Sebastian Gorka Made Nazi-Linked Vitezi Rend 'Proud' by Wearing Its Medal
"Every young person holding a placard to protest my parents and myself — I challenge you now: go away and look at everything I have said and written in the last 46 years of my life and find one sentence that is anti-Semitic," he said. "You won't find one."
One of the protest organizers, Andrew Meshnick, said that roughly 50 Jewish and Muslim students attended the event because they wanted a chance to challenge Gorka's "extreme views."
They had their chance during a question and answer session that followed the panel. One student, Roey Hadar, raised a column that Gorka wrote when he was an editor at Breitbart — which Hadar called a "yellow journalism rag" — that described the New York Times and the Washington Post as "shills" for "the Jihadis."
Hadar asked if such "anti-Muslim rhetoric" legitimized groups like ISIS.
"Could you quote for me exactly what I said," Gorka replied.
Hadar pressed for an answer, to which Gorka responded: "No. If you're going to sling accusations against me, a word-for-word verbatim quote because you are lying or misinformed."
Students moved on to several more questions. Meshnick asked if the administration created fake news by accusing Susan Rice of committing a crime ("He said: 'You don't know anything — I'm not going to answer your questions,'" Meshnick recalled).
Another student asked if Gorka would disavow Vitezi Rend. A university researcher who attended the panel, Mobashra Tazamal, told NBC News that he didn't, and during his statement, Gorka said the organization had a single purpose: battling communism.
After five questions, Tazmal said, Gorka stood up and said the rest of the panel should have a chance to speak.
Then he left.
"We're wondering how a bunch of 20-year-olds with signs and facts scared away the president's counterterrorism advisor," Meshnick said. "Why was that so intimidating to him?"
The White House did not immediately respond to a request for comment.