Sen. Cory Booker is set to make history this week when he testifies before the Judiciary Committee against Sen. Jeff Sessions' nomination for attorney general in hearings that begin Tuesday morning.
Booker's office said Monday that the Senate historian had been unable to find any previous instance of a sitting senator testifying against a fellow sitting senator nominated for a Cabinet position.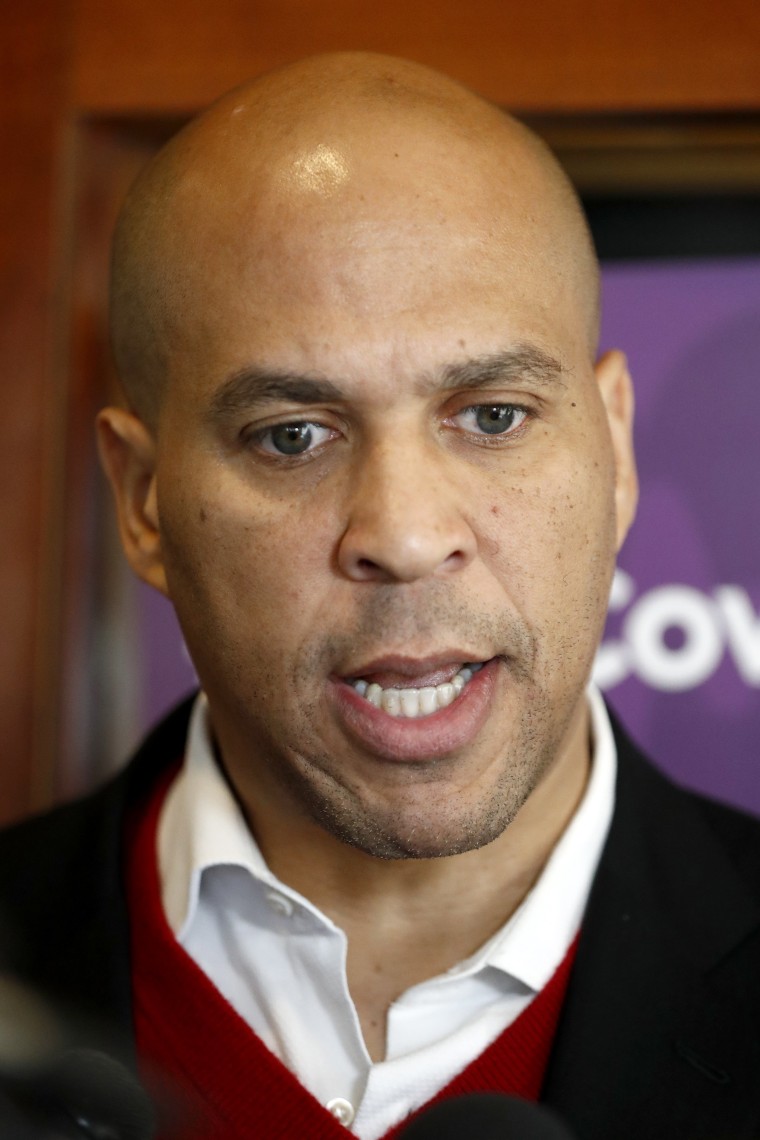 Noting that "I'm breaking a pretty long Senate tradition," the New Jersey Democrat said Monday on MSNBC's "All In": "We've seen Jeff Sessions — that's Senator Jeff Sessions — consistently voting against or speaking out against key ideals of the Voting Rights Act, taking measures to try to block criminal justice reform."
"He has a posture and a positioning that I think represent a real danger to our country," Booker said.
In 1986, the Senate Judiciary Committee killed President Ronald Reagan's nomination of Sessions to a seat on the U.S. District Court for the Southern District of Alabama after four former Justice Department colleagues testified that he had made racially offensive statements.
Sessions, R-Alabama, turned the rejection into a launchpad for his political career. He was elected attorney general of Alabama before being elected in 1996 to the U.S. Senate, where he is considered among the more conservative members.
Related: NAACP Stages Sit-In to Protest Sessions' Attorney General Nomination
Several other prominent African-American figures in addition to Booker also plan to testify against Sessions, including two members of the House: Rep. John Lewis, D-Georgia, a leader of the civil rights movement of the 1960s; and Rep. Cedric Richmond, D-Louisiana, the chairman of the Congressional Black Caucus.
The NAACP has also strongly opposed Sessions' nomination, calling him "a threat to desegregation and the Voting Rights Act."
According to prepared remarks obtained by NBC News, Sessions will testify that he understands "the horrendous impact that relentless and systemic discrimination and the denial of voting rights has had on our African-American brothers and sisters."
The only African-American Republican senator, Tim Scott of South Carolina, said in a statement Monday that he would be supporting Session's nomination after placing "special emphasis" on the decision at a time of "racial and societal unrest like we have not seen in a generation."
Scott said after doing his own homework, working with Sessions for four years and meeting with him personally, that he had determined Sessions to be a "consistently fair person" who is committed to upholding the Constitution.
Sessions, a former U.S. attorney and attorney general in Alabama, was Trump's earliest supporter in the Senate. Sessions' fierce opposition to illegal immigration and skepticism toward legal immigration aligned with Trump's campaign message.
He has been criticized by numerous liberal and civil rights organizations, which cite his strong opposition to expansion of rights for gay and lesbian Americans, legalization of marijuana even for medical use, legal abortion, embryonic stem cell research and President Barack Obama's Affordable Care Act.
His prepared remarks show he will also acknowledge that he recognizes "the demands for justice and fairness made by the LGBT community" as well as "the lifelong scars born by women who are victims of assault and abuse."
Related: What Would Sessions Mean for the Future of Police Reform?
In his statement, Booker singled out what he characterized as Sessions' opposition to "bipartisan criminal justice reform" and his "efforts earlier in his career to deny citizens voting rights."
"The Attorney General is responsible for ensuring the fair administration of justice, and based on his record, I lack confidence that Senator Sessions can honor this duty," Booker said.