Attorney General Jeff Sessions met with the Russian ambassador to the U.S. before the presidential election last year, his spokeswoman confirmed, raising questions about whether he misled senators who inquired about the Trump campaign's ties to Moscow.
Sarah Isgur Flores told NBC News that Sessions did have a conversation with Russian Ambassador Sergey Kislyak last year. The meeting was first reported by The Washington Post.
But she said "there was absolutely nothing misleading about his answer" because Sessions was asked during the hearing about "communications between Russia and the Trump campaign" and not about meetings he took as a member of the Armed Services Committee.
According to his spokeswoman, Sessions' meeting with Kislyak was just one of 25 conversations with foreign ambassadors in his role on the committee.
Democrats alleged that Sessions misled the Senate Judiciary Committee on Jan. 10.
"The American people deserve to know the truth about what happened between Russia and the Trump team"
They raced to call for Sessions to resign or at least to recuse himself from the official investigation of alleged ties between Russian officials and President Donald Trump's campaign.
As attorney general, Sessions oversees the FBI, which is investigating alleged connections between Moscow and the president's successful election campaign.
U.S. intelligence agencies concluded that Russia conducted a covert hacking operation to undermine the U.S. election process, which evolved into an attempt to help Trump win the White House.
Trump's first national security adviser, Michael Flynn, resigned last month after it was disclosed he misled Vice President Mike Pence and other senior officials about his communications with Kislyak.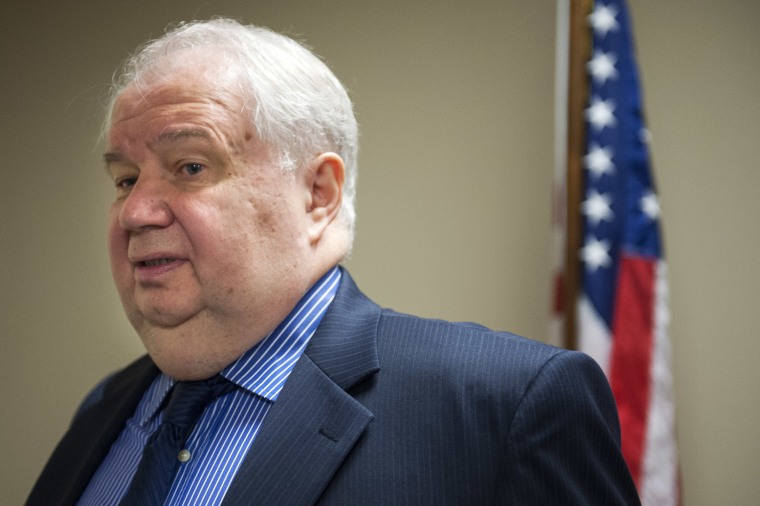 During the election campaign, Trump spoke fondly of Vladimir Putin. Secretary of State Rex Tillerson boasts exceptionally close ties with the Russian president, and Trump's former campaign manager, Paul Manafort, resigned in August amid questions about his ties to pro-Russia interests in Ukraine.
In a statement Wednesday night, Sessions said: "I have never met with any Russian officials to discuss issues of the campaign. I have no idea what this allegation is about. It is false."
The statement didn't say whether Sessions had met with Russian officials for any other reason.
The Russian Embassy in Washington, D.C., said that it "does not comment on the numerous contacts with local partners, which are conducted in accordance with the usual diplomatic practice."
Sessions was the first sitting senator to endorse Trump, exactly one year ago, when he campaigned with Trump in Madison, Alabama.
Asked Jan. 10 by Sen. Al Franken, D-Minnesota, what he would do if he learned that "anyone affiliated with the Trump campaign communicated with the Russian government in the course of this campaign," Sessions replied: "I have been called a surrogate at a time or two in that campaign, and I did not have communications with the Russians, and I'm unable to comment on it."
Representatives of Sessions told NBC News that he actually spoke twice with Kislyak last year, once during a private meeting in Sessions' office in September.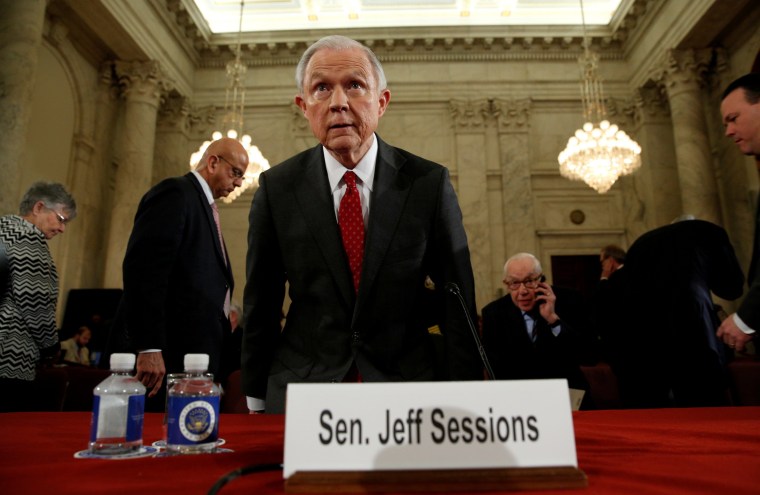 Democrats have called for an independent investigation, and some called for him to step down Wednesday night or at least to recuse himself from the official investigation.
"Sessions is not fit to serve as the top law enforcement officer of our country and must resign," House Democratic leader Nancy Pelosi of California said. "There must be an independent, bipartisan, outside commission to investigate the Trump political, personal and financial connections to the Russians."
Rep. Elijah Cummings of Maryland, the ranking Democrat on the House Oversight Committee, also said Sessions "should resign immediately, and there is no longer any question that we need a truly independent commission to investigate this issue."
Cummings told MSNBC that "it was shocking to the conscience" to find out that Sessions had met the Russian ambassador, given his statements to senators.
Rep. Adam Schiff of California, the ranking Democrat on the House Intelligence Committee, said: "It is essential that he recuse himself from any role in the investigation. This is not even a close call; it is a must."
Franken added: "The American people deserve to know the truth about what happened between Russia and the Trump team, and I believe we need thorough and impartial investigations to get to the bottom of it."
Jerrold Nadler, D-New York, a member of the House Judiciary Committee, tweeted: "If it turns out Sessions lied under oath, he of course will be [subject] to criminal prosecution & [should] immediately resign."
Richard Painter, who served as the chief White House ethics lawyer for President George W. Bush from 2005 to 2007, also weighed in late Wednesday.
An official familiar with Sessions' interactions provided NBC News with a list of what was described as all of the then-senator's known visits with foreign ambassadors last year. The list includes the Sept. 8 meeting with Kislyak.
The official told NBC News that Sessions came in contact with Kislyak a second time at a public event organized in July by the Heritage Foundation, a conservative policy group, where he spoke informally with a small group of ambassadors, including Kislyak.
The official said Sessions often met with ambassadors, discussing bilateral relations and issues, both positive or negative. Ambassadors would often make "superficial comments" about election-related news, the official said. But it was not the substance of their discussions, the official said.