WASHINGTON — Despite calls from many quarters, President Donald Trump hasn't shown much interest in acting "presidential."
Over two years on the campaign trail, and now six months in office, when it comes to pivoting to presidential he's been consistent and clear: Not happening.
But now, with the appointment of Ret. Marine Gen. John Kelly as his new chief of staff, is Trump finally on the precipice of change?
He says he could if he wanted — "with the exception of the late great Abraham Lincoln, I can be more presidential than any President that's ever held this office!" — but chooses not to because he believes the country needs an unconventional governing style.
"Sometimes they say he doesn't act presidential. And I say, 'Hey look, Great schools, smart guy.' It's so easy to act presidential, but that's not gonna to get it done," Trump told thousands of supporters in Youngstown, Ohio, last week for a campaign-style rally.
Trump has dashed the hopes of White House advisers, outside strategists and lawmakers before, ignoring public pleas that he ditch his tweets in favor of a more measured style of governing. When some started to believe that the occasional stretches of a quiet Twitter feed or an on-message speech proved that Trump had finally, at long last, pivoted from his bombastic ways, those hopes have been soon dashed. Time and again.
Many would like to see the president stop making major policy announcements on Twitter (as he did last week banning transgender people from military service), halt criticism of members of his own party (he blasted Alaska Sen. Lisa Murkowski for letting the nation down by opposing the GOP health care bill), and speak appropriately to audiences (the non-partisan Boy Scouts where Trump got highly political and the Suffolk County Police Department where the president said law enforcement shouldn't be "too nice" to suspects are two of the most recent examples.)
But Monday's swearing in of Kelly, paired with the dramatic fall of Communications Director Anthony Scaramucci, signaled that efforts were underway, with the president's blessing, to stop the madness that had engulfed the White House and instead impose some order on a previously untamable West Wing.
"General Kelly has the full authority to operate within the White House, and all staff will report to him," White House Press Secretary Sarah Huckabee Sanders told reporters Monday as they sifted through the wreckage to find out what — or who — had felled Scaramucci.
The outspoken communications novice proudly told reporters from the podium less than two weeks earlier that he reported directly to the president with privileges to "walk in" to the Oval Office.
But Monday morning, Kelly told staff the chain of command for everyone now runs through him. Those familiar with the talks said Kelly stipulated before taking the chief of staff job that he must have the ability to make his own staffing decisions and require staff to run through him.
"He's no nonsense," a source with knowledge of the conversations told NBC News, pointing out how different this new approach was than former Chief of Staff Reince Priebus'.
A White House official told NBC "there's no doubt" Kelly is in charge right now and that the new order he's imposed will last.
Among the big choices facing Kelly will be who to replace Scaramucci with, as he begins the quest for the administration's fourth communications director in six months. But it's also the start of a careful balancing act between placating staff and stopping leaks, while allowing the president the freedom to communicate with his base but not to careen too far off message.
Kelly might get a control of a lot around the White House, but say over the president's Twitter account has eluded top Trump aides.
Those hoping for a more tempered Trump were heartened when he skipped the early-morning tweets on Tuesday, but a little later, before lunchtime, he lashed out at "the Fake News Media and Trump enemies" in defense of his social media usage.
Trump's tweets serve as a near constant reminder of those who have tried to bridle the president in the past — and failed.
When former campaign chairman Paul Manafort tried to convince Republicans that Trump was different in private than his public persona, the president balked at suggestions he was going to pivot away from the tough talk and counter-punching that earned him his base's praise. Manafort was later fired after a summer on the job, replaced by Kellyanne Conway.
Remember, it was about letting Trump be Trump.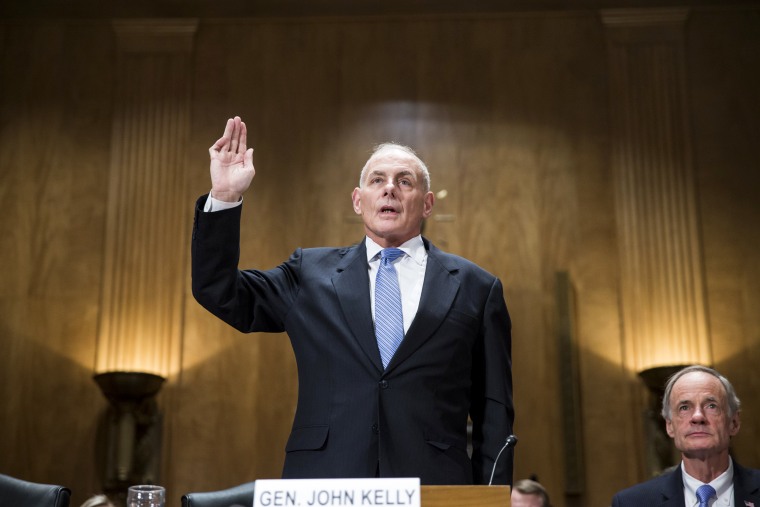 And attempts to curtail the president from weighing in on news of day, especially as it pertained to allegations of collusion with Russia, were greeted repeatedly with defiant tweets.
Advisers had urged Trump not talk about Russia as he took to the stump in Iowa in June, a top White House official told NBC News at the time. He took their advice — for a few hours. By the next day, he was back tweeting — trashing the Democratic National Committee and shifting blame to the Obama administration for doing nothing to stop alleged Russian meddling in the 2016 election.
"The thing that General Kelly should do is not try to change Donald Trump," former Trump campaign manager Corey Lewandowski told NBC's Chuck Todd on Sunday. Lewandowski has long advocated to "let Trump be Trump" and encourage advisers to embrace the president's natural political instincts.
"Anybody who thinks they're going to change Donald Trump doesn't know Donald Trump," Lewandowski said.
And current staff remain aware of the man in the Oval Office. Kelly will "professionalize the internal workings of the White House," the White House official said. "But we all know the president likes to take his message directly to the people. I think [Kelly's] job will be to get everyone in line and working towards one thing only — the president's agenda."