President Joe Biden's domestic policy adviser, Susan Rice, is stepping down from her post next month, multiple current and former senior administration officials told NBC News.
The move brings to a close Rice's prolific, wide-ranging and at times controversial tenure overseeing Biden's domestic agenda — including some of the thorniest political issues, such as immigration policy. During her more than two years in the role, Biden has signed executive and legislative actions on health care, gun safety, student loans, policing and other key priorities for Democrats.
Rice's last day in the White House will be May 26, according to a senior administration official.
White House chief of staff Jeff Zients said Rice, who served as national security adviser during the Obama administration, has been critical to driving Biden's agenda and has taken the Domestic Policy Council "to new heights."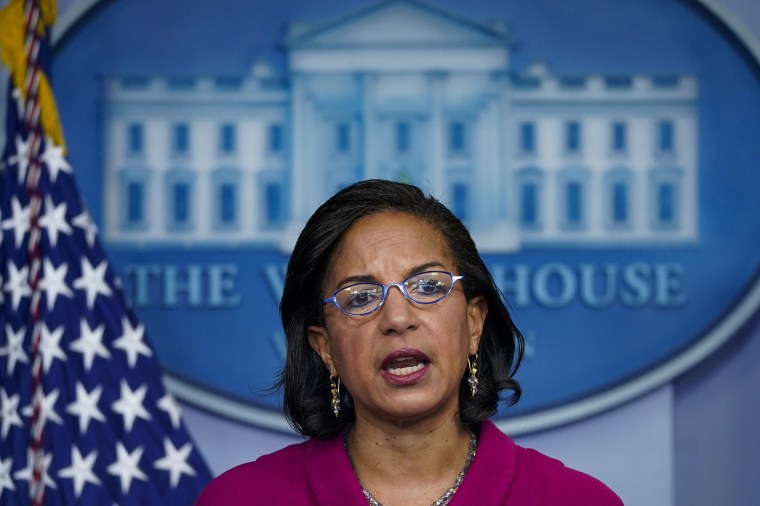 "It is extraordinary when you think about what she's done in terms of public service across her career, capped off by being the first person ever to be the national security adviser and domestic policy adviser," said Zients, who has known Rice since high school. "It really speaks a lot to her leadership and her range."
The process for Biden to select Rice's successor will include candidates both inside and outside the White House, a second senior administration official said.
Whomever Biden names to serve as domestic policy adviser for the remainder of his term will face much less of the policymaking sprint, including on legislation, that Rice did, and focus more on implementing existing policies and some additional executive actions. 
"Susan was there during this two-year period where there was just an incredible and historic burst of policymaking, and the next year and a half is going to be different. It's going to call for a different approach to policy," said Brian Deese, who worked closely with Rice while serving as director of the National Economic Council. 
"The role and the requirements for the role are going to be different, and I think they'll take that into consideration," Deese added, referring to the president and his top aides.
Rice, who was on Biden's shortlist for vice president, entered the job without a domestic policy background, having served in foreign policy roles during the Obama and Clinton administrations. Among her first moves in the Biden administration was to adopt a structure at the Domestic Policy Council similar to that of the National Security Council, bringing in policy experts and codifying a process for convening officials across the government.
Former White House press secretary Jen Psaki — who is now a host on MSNBC, which along with NBC News is part of NBCUniversal — said Rice's experience in foreign policy helped inform the administration's response to domestic issues, such as the global pandemic and immigration.
"She's a policy wonk," Psaki said. "So, in that sense it was just learning newish policy issues." 
Rice has told colleagues she entered the administration intending to stay two years, according to a senior administration official. 
She remained in the White House a few months longer, the official said, in part to see through several projects, including a strategy for combating antisemitism that's expected to be finalized before she leaves, a federal strategy on homelessness, and an effort aimed at reducing crime and helping formerly incarcerated people more smoothly re-enter society that's likely to be announced next week.
The timing of Rice's departure also coincides with a growing controversy over the White House's handling of migrant children who arrive unaccompanied at the southern border amid questions about whether the White House, including Rice, ignored warnings that sponsors of migrant children were making them work grueling jobs in violation of child labor laws. The White House has said that is not the case. A senior administration official said Rice is proud of her work on the border.
Administration officials said the controversy has nothing to do with Rice's decision to leave, which they said was already in the works.
The timing of Rice's exit also means she will remain in her job as Biden contends with an expected influx at the southern border due to the end of pandemic-era restrictions for asylum-seekers. Crafting a strategy for when the policy, known as Title 42, ends has been among one of Rice's top challenges. 
Immigration is one of the issues where Rice has at times clashed with other administration officials, such as Health and Human Services Secretary Xavier Becerra, over the approach to handling migrants at the border, for instance. Often described as "tough" and "dogged," Rice also has endeared herself to some of the White House's younger staff members and maintained a close relationship with Biden, according to some of her current and former colleagues.
"Susan is blunt and direct, and some people find that style effective; some people I think are intimidated by it," said former White House chief of staff Ron Klain. "But she was a great colleague and great mentor to a lot of young people in the White House."
Deputy White House chief of staff Jen O'Malley Dillon echoed Klain's praise in a statement. "The country and the American people are better, more secure because of her leadership," she wrote. 
Rice hasn't ruled out a future stint in government. Her plan for now, according to a senior administration official, is to spend the summer with her family and contemplate her next act.