WASHINGTON — A scene like one right out of "Ted Lasso" unfolded at Monday's White House press briefing as actor Jason Sudeikis, who plays the show's namesake soccer coach, fielded a question from the fictitious sports critic Trent Crimm.
The lighthearted exchange came as several cast members made an appearance at the daily press briefing to talk about mental health, a popular theme on the hit Apple TV+ show.
"No matter who you are, no matter where you live, no matter who you voted for," Sudeikis said, everyone knows someone or has been that person who "has struggled, that's felt isolated, that's felt anxious, that has felt alone. And it's actually one of the many things that — believe it or not — that we all have in common as human beings."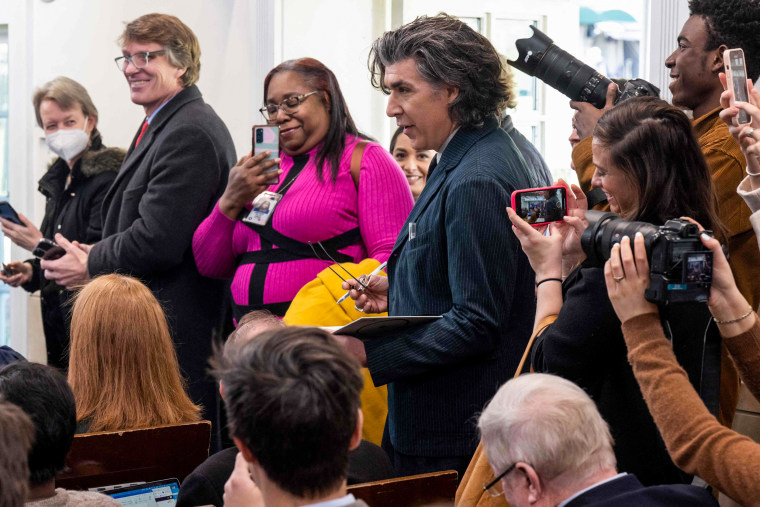 "The big theme of the show is to check in with your neighbor, your co-worker, your friends, your family, and ask how they're doing and listen," the Emmy Award-winning comedian and actor said. "We also have to know that we shouldn't be afraid to ask for help ourselves and that does take a lot, especially when it's something that has such a negative stigma to it, such as mental health, and it doesn't need to be that way."
Sudeikis was joined at the podium by Brett Goldstein, who plays Roy Kent; Hannah Waddingham, who plays Rebecca Welton; Toheeb Jimoh, who plays Sam Obisanya; and Brendan Hunt, who plays Coach Beard. The third season of the show recently premiered on Apple TV+.
Cast members were scheduled to meet with the president and first lady Jill Biden after their appearance in the briefing room.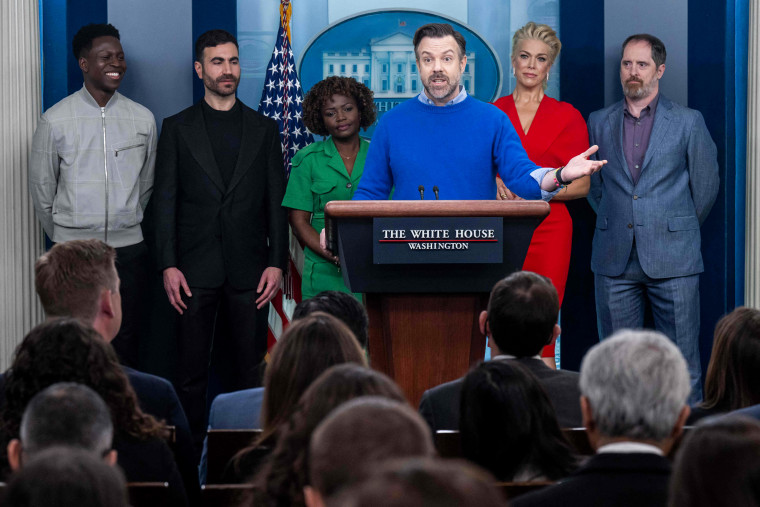 After Sudeikis finished his remarks on mental health, he called on a "familiar face" standing among the White House press corps.
"Trent Crimm, fake journalist," said James Lance, the actor who plays Crimm on the show. "How do you feel about Kansas City being one of the named hosting cities for the 2026 World Cup?"
"Here I was, hoping for a softball," Sudeikis joked. "You know what? I'm very excited. Truth be told. Kansas City is gonna be one of these teams. I mean, I love this town. What I am genuinely worried about is once we get all these folks from all over the world to come to Kansas City and see our city, eat our food, meet our people, you're gonna have, you know, a lot of folks that will want to move away."
As the cast headed out of the room, a real reporter asked Sudeikis if he could reprise his impression of President Joe Biden, which he's performed on NBC's "Saturday Night Live."
"They got the real one here now," he said. "I need fake teeth and, you know, injected with a lot more chutzpah to pull that off."