WASHINGTON — Barack Obama may not be running for anything these days, but his signature health care law was a big winner in Tuesday's elections, as voters rebelled against Republican lawmakers who have blocked Obamacare's Medicaid expansion.
Democrats are hopeful their victories are a harbinger of further gains as they look to capitalize on the law's rising popularity in polls — and repeal legislation's deep unpopularity — with more ballot initiatives, legislative efforts and campaign messages.
In Maine, voters passed a ballot initiative that would expand Medicaid to an estimated 70,000 residents by a margin of 18 points, 59-to-41, doing an end run around Gov. Paul LePage, a Republican who has vetoed five bills to do so.
LePage is already threatening to block the measure unless legislators can find a way to finance it without raising taxes, saying in a statement that "this fiscally irresponsible Medicaid expansion will be ruinous to Maine's budget."
Jonathan Schleifer, executive director of the Fairness Project, says the Maine initiative is only the start. His group, which helps coordinate progressive ballot initiatives around the country, is looking at putting expansion on the ballot in Utah and Idaho next year and potentially initiatives in Alaska to enshrine some Obamacare features into state law.
"We need to end the conversation around repealing Obamacare and make it very clear, as we did last night, that folks want to expand it," Schleifer said. "We're not waiting until 2020. We're going to get as much of this done in 2018 as we can."
The win in Maine came after months of failed attempts by President Donald Trump and Republicans in Congress to undo the Medicaid expansion nationally and cut the program further over time. It also comes as the Trump administration is exploring changes that could make Medicaid less accessible, like allowing states to impose work requirements.
Maine wasn't the only place where the results are relevant to Obamacare. The Democratic tsunami in Virginia, led by Gov.-elect Ralph Northam, also has health care implications.
For years, Gov. Terry McAuliffe, a Democrat, has sought to expand Medicaid but has been stymied by the Republican-controlled legislature. But on Tuesday, Democrats made surprise gains in the House of Delegates, potentially retaking the chamber from Republicans depending on a handful of uncalled elections.
"All the folks who fought me on Medicaid expansion, they all got blown out," McAuliffe told reporters on Tuesday.
The blue shift gives Northam, a pediatrician whose campaign emphasized his opposition to Obamacare repeal, a strong opportunity to renew the Medicaid push.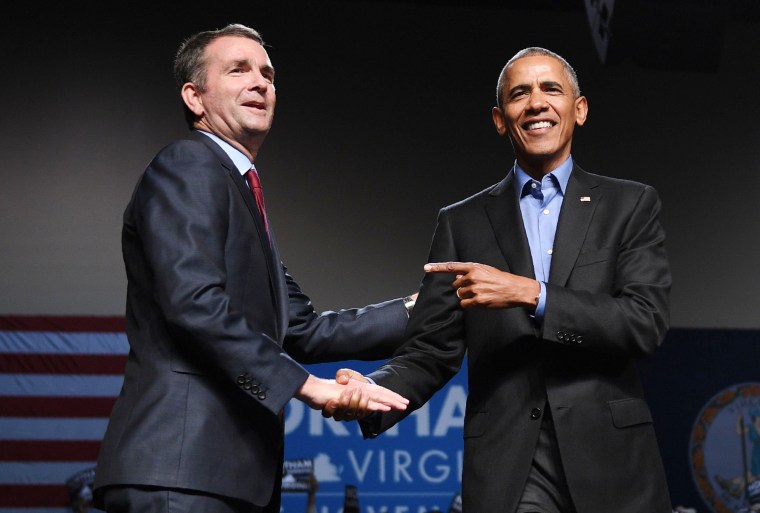 "They can't afford not to take [the expansion]," McAuliffe said. "It's here to stay. I think they're going to have to do it."
There's evidence that health policy was a major factor in Northam's victory over Republican opponent Ed Gillespie, whose campaign focused on Confederate statues and undocumented immigrants.
In exit polls, 39 percent of respondents named health care as the issue most important to their vote, far more than topics like immigration and taxes, and these voters backed Northam by a whopping 54 percentage points, 77 to 23.
The results are in line with national polling, where surveys have found deep unease with Republican efforts to replace Obamacare all year. An NBC News/Wall Street Journal poll last month found just 27 percent of respondents approved of Trump's handling of health care versus 57 percent who disapproved.
If Virginia ends up passing a Medicaid expansion, it could lend to efforts in other states to expand Medicaid through legislation. One target is Kansas, where an alliance of moderate Republicans and Democrats have passed expansion bills only to face a veto from Gov. Sam Brownback, a conservative Republican.
In Washington, the results in Maine and Virginia could serve as a flashing red light to Republicans as they debate whether to take another stab at dismantling Obamacare. Lawmakers in 33 states and the District of Columbia have already expanded Medicaid, and Republican governors in expansion states like Nevada's Brian Sandoval and Ohio's John Kasich were prominent critics of prior repeal efforts.
Prominent conservatives are pushing to eliminate the law's individual mandate as part of tax legislation and the White House has taken a variety of steps experts warn could undermine the law, from cutting advertising during open enrollment to halting cost-sharing reduction payments.
"I think successful conservative candidates can't just rely on the 'repeal and replace' slogan," Michael Steel, a Republican strategist and former spokesman for ex-Speaker John Boehner, said in an e-mail. "They will need to talk about the specific and tangible benefits of more consumer-focused and affordable policies."