WASHINGTON — John Kelly, the White House chief of staff, abruptly scrapped plans to travel with President Donald Trump on Wednesday so he could try to contain his boss's fury and manage the fallout from new revelations about tensions between the president and Secretary of State Rex Tillerson, according to six senior administration officials.
Kelly summoned Tillerson, and their ally Defense Secretary James Mattis, to the White House, where the three of them huddled to discuss a path forward, according to three administration officials. The White House downplayed Kelly's decision to stay in Washington, saying he did so to manage day-to-day operations.
Vice President Mike Pence, meanwhile, was fuming in Phoenix, where he was traveling, seven officials told NBC News. He and Tillerson spoke on the phone before the secretary's public appearance on Wednesday morning.
Related: Tillerson's Fury at Trump Required an Intervention from Pence
Pence was incensed upon learning from the NBC report that Tillerson's top spokesman had said he once privately questioned the value of Nikki Haley, the U.S. ambassador to the United Nations. Officials said the spokesman, R.C. Hammond, fabricated an anecdote that Pence had asked Tillerson in a meeting whether Haley, who is seen as a possible successor to Tillerson, is helpful or harmful to the administration.
NBC reported Wednesday that Tillerson had threatened to resign in July after a series of clashes with the president, at one point venting his frustrations among his colleagues by calling the president a "moron," according to multiple senior administration officials who were aware of the matter at the time.
Four senior administration officials said Trump first learned on Wednesday that Tillerson had disparaged him after a July 20 national security meeting at the Pentagon. Trump vented to Kelly Wednesday morning, leading Kelly to scrap plans to travel with the president to Las Vegas to meet with victims and first responders in Sunday's mass shooting.
Trump was furious when he saw the NBC News report, which was published shortly before 6 a.m. Wednesday.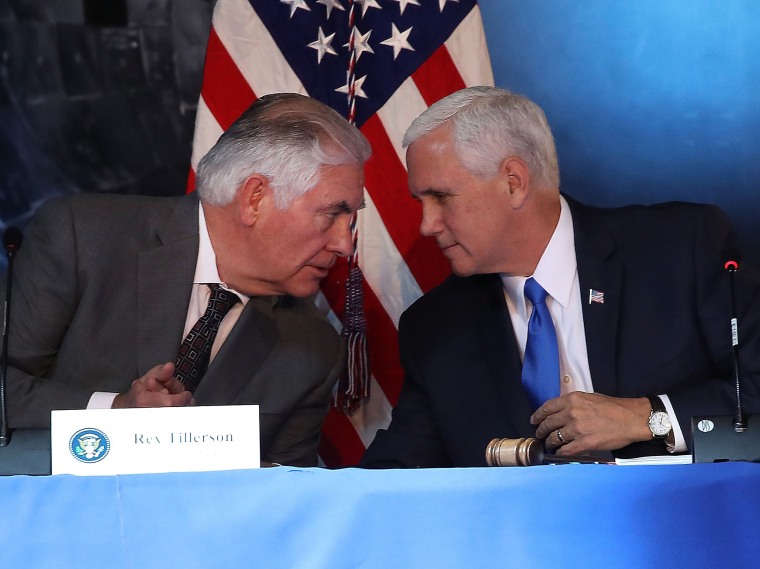 For the next two hours the president fumed inside the White House, venting to Kelly, officials said.
He left for Las Vegas shortly after 8 a.m., 20 minutes behind schedule.
Tillerson scrambled to pull together a statement, while his spokesman publicly apologized for his comments about Pence and Haley, saying he "spoke out of line about conversations I wasn't privy to."
Tillerson delivered a statement praising Trump and insisting he never considered resigning, but it's what he didn't say that further enraged Trump, officials said.
The secretary's refusal to deny that he had called the president a "moron" in his opening statement and in his responses to questions from reporters stoked Trump's anger and widened the rift between the two men, officials said.
After watching the secretary's response Wednesday, one White House official said, "When Tillerson didn't deny it, I assumed it was true."
Hammond is seen by the White House, particularly Pence's office, as untrustworthy, officials said. It's unclear if he will remain in his post, according to three administration officials.
Pence was "very annoyed anyone would misrepresent anything he said, particularly in private meetings," one White House official said.
On Wednesday, this source said, White House officials spoke to State Department officials to make it clear that Hammond's comment was "false" and needed to be corrected.
The revelations followed Trump's frustrations over the weekend after Tillerson said the U.S. would talk to North Korea.
State Department officials tried to reach Tillerson on his government aircraft during his flight from Beijing to Japan, but they couldn't reach him, sources said. The secretary and his team didn't want to issue a clarification, further stoking tensions with the White House, an administration official said.
Trump took to Twitter, telling Tillerson not to waste his time trying to negotiate with the North Korean regime.
Additional reporting from Peter Alexander, Hallie Jackson and Vivian Salama.