President Donald Trump's national security adviser, John Bolton, said Wednesday that any meeting with Russian President Vladimir Putin would be put off until 2019 because of special counsel Robert Mueller's "witch hunt."
"The president believes that the next bilateral meeting with President Putin should take place after the Russia witch hunt is over, so we've agreed that it will be after the first of the year," Bolton said in a statement that was notable for the senior adviser's use of the term "witch hunt" when discussing diplomatic matters.
His use of the phrase also mirrors language frequently used by Trump in referring to Mueller's investigation. (Trump has tweeted the phrase 89 times as of Wednesday afternoon, according to a count by NBC News).
Mueller has given no indication as to when his investigation into Russian election interference, which includes probing whether people associated with the Trump campaign colluded with Moscow and also whether the president has attempted to obstruct justice, will come to an end. Since Mueller's appointment, at least 30 individuals have been charged with crimes, including five who pleaded guilty (among them Michael Flynn, Trump's former national security adviser), as well as 13 Russian nationals, and 12 Russian intelligence officers.
The shift from the White House Wednesday marks a stunning turnaround for the president, who last week invited Putin to Washington this fall despite facingintense bipartisan blowback after his cozy summit with the Russian leader in Helsinki, Finland.
At a joint press conference during the summit last week, Trump railed against Mueller and members of the news media and suggested that Putin was more credible than his own intelligence officials, including Director of National Intelligence Dan Coats, who has accused Russia of undertaking an "unprecedented influence campaign" in 2016. Trump was also criticized for meeting with Putin one-on-one with only interpreters present in the room.
Trump's performance was met with broad condemnation from lawmakers and pundits across the political spectrum, who slammed his remarks as "treasonous" and "disgraceful."
Despite an attempt to walk back some of his remarks less than 24 hours later, Trump, amid ongoing criticism, invited Putin to the White House this fall for a second summit.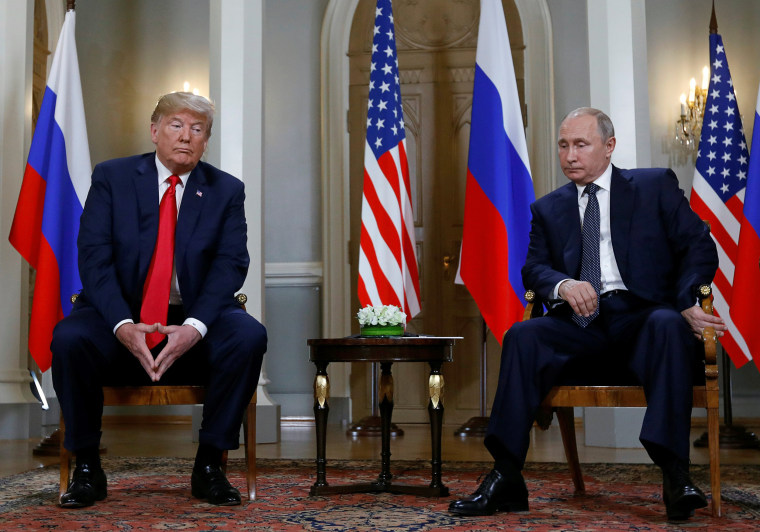 The invitation blindsided Coats, who was informed of the development by NBC News' Andrea Mitchell during an interview last weekend.
Members of Congress immediately lambasted the idea of Putin visiting the White House. House Speaker Paul Ryan, R-Wis., said Tuesday that the Russian president would not be invited to address Congress during a visit to Washington.
The White House's postponement announcement Wednesday also comes just a day after a top Russian official played coy in responding to the invite. On Tuesday, Kremlin aide Yuri Ushakov wouldn't say whether Putin would accept Trump's invitation.
According to Reuters, Ushakov said only that the two leaders would have other opportunities to meet.
"There are other options (to meet) which our leaders can look at," Ushakov said, referring to a meeting of G20 leaders in Argentina later this year.
U.S. lawmakers, meanwhile, reacted favorably to Bolton's announcement Wednesday. Sen. Bob Corker, R-Tenn., the chairman of the Senate Foreign Relations Committee, said the delay was "great."