President Donald Trump, after a chaotic month of governing that included the botched roll out of his travel ban and being forced to fire his national security adviser, held a rally Saturday in which little was changed from the campaign trail.
Reveling in the crowd of 9,000 in Melbourne, Florida, Trump once again attacked the press, renewed his pledge to "repeal and replace" Obamacare, and seemed to invent a terror attack in Sweden in order to illustrate the need for his executive order that barred travel from seven Muslim-majority nations.
Related: McCain Defends Free Speech, Says 'That's How Dictators Get Started'
Trump complained about the appeals court judges who refused to reinstate his executive order, which critics have called a "Muslim ban," something Trump denies. The president called the judges' ruling "very sad" and read part of a statute giving authority to the president in matters of immigration and national security.
"If you have a college education, you can understand it. If you have a high school education you can understand it, if you were a bad student in high school you can understand it," Trump said of the statute.
Trump then said, "look what's happening last night in Sweden," alluding to past terrorist attacks while critiquing Europe's refugee policies.
But the remark left Swedes scratching their heads, because no attack had occurred.
The Aftonbladet newspaper listed in English some events that had happened Friday in Sweden, including a man being treated for severe burns, an avalanche warning and police chasing a drunken driver.
The former Swedish Foreign Minister later mocked Trump's comments in a tweet.
Despite the fact that November has long come and gone, the phenomena of the Trump rally felt as if it had been frozen in time, nearly perfectly preserved since the last time the then-candidate strode to the podium and told thousands of his cheering supporters about the woes of the country and the battles he planned to fight — with one of his loudest wars being waged against the news media.
"They just don't want to report the truth," Trump said. He assailed journalists as "part of the problem" and "part of the corrupt system" in a continuation of the attacks the president lobbed Thursday during a fiery, wide-ranging press conference from the White House and reiterated Friday in tweet that called many news organizations, including NBC News, "the enemy of the American people."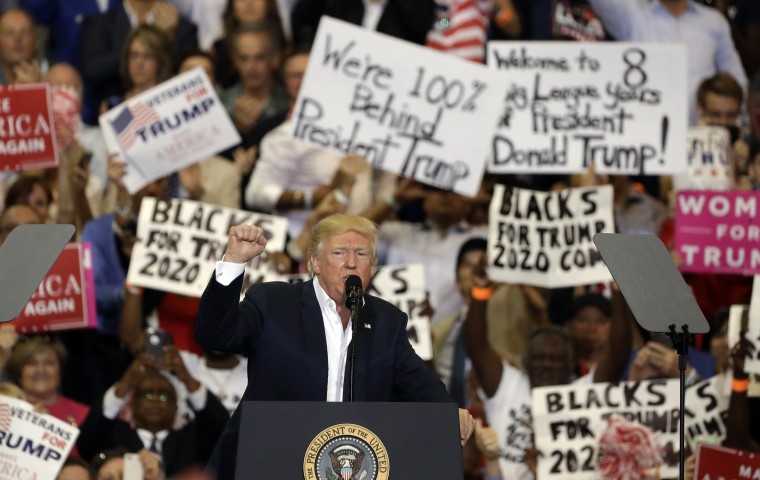 Trump earned applause for saying he'd repeal and replace the Affordable Care Act, a line that consistently ushered in some of his loudest praise from crowds across the country in 2016.
The president promised a new health care plan to replace it "in a couple of weeks." It would be "great," he said, but did not expand further as to what it might entail. Republicans in Congress have struggled to move forward on this issue, however, weighing the political realities of repealing the health care law that insures millions without a plan to replace it. Trump has vowed repeatedly to "cover everybody," though the GOP plans floated thus far would not do so. Delays and uncertainty have made insurance companies nervous and given rise to protests throughout the country, while Republicans remain divided over how to proceed.
The White House has also been in turmoil. Trump's decision to hold a campaign-style rally, surrounding himself with cheering supporters, came at the end of a turbulent few weeks in which, among other things, he attacked a private company for no longer carrying his daughter's clothing line, lost an appeal to reinstate his travel ban, and saw his pick for labor secretary, Andrew Puzder, withdraw from consideration amid intense scrutiny around his business record and past allegations of domestic abuse.
In a key staff shake up, Trump was forced to fire his national security adviser, Michael Flynn, after it was reported in the news that Flynn had misled Vice President Mike Pence and other administration officials about the nature of his conversations with Russia's ambassador to the United States. The White House had also been warned that Flynn was vulnerable to blackmail.
Still, Trump told the crowd gathered in a hangar at the Orlando Melbourne International Airport that his administration was on the right track.
"I hear your demands, I hear your voices, and I promise you I will deliver," Trump said. "And by the way, you've seen what we've accomplished in a very short period of time — the White House is running so smoothly, so smoothly."
Trump once again claimed that he "inherited one big mess" in order to defend his performance.
And although Trump told the crowd that our nation must "ignore the tired echoes of yesterday's fights," Trump rehashed the election that ended with him in the nation's highest office.
He reminded the crowd that the November election was supposed to "the greatest defeat in the modern history of American politics — and it was, for the Democrats, not the Republicans."
Trump brought up, as he did often during the campaign, that he did well with women and that the polls conducted by the media that showed otherwise were "phony."
After the rally, White House Press Secretary Sean Spicer told reporters that Trump authored his own remarks.