National security aide Sebastian Gorka may leave the White House, an administration official told NBC News on Monday.
Gorka may move from the White House to another federal agency — or leave altogether — but no final decision has been made, the official said.
A senior administration official had told The Associated Press on Sunday that Gorka was set to leave the White House in the coming days. Gorka told an NBC News reporter to email him when asked about whether he was leaving the White House.
White House Press Secretary Sean Spicer said Monday afternoon that there were no personnel announcements and, "I have no belief that [Gorka] is currently leaving the White House at this time."
RELATED: Gorka Made Nazi-Linked Group 'Proud by Wearing Its Medal
Gorka was hired as a counterterrorism adviser and has made regular TV appearances as an outspoken defender of President Donald Trump's administration.
He has been dogged by controversy ever since he attended Trump's inaugural ball in January wearing the medal of Hungarian Nazi-linked group Vitezi Rend.
He has repeatedly denied he was a member of the group and said the medal was his father's.
However, last month NBC News traveled to Hungary, where Gorka's family is from, and dug deeper into his ties with Vitezi Rend. A spokesman for the group said he was "proud" that Gorka wore his group's medal, and several locals who knew Gorka said he was well known as a member himself.
There's no official suggestion that Gorka's reportedly imminent departure from the White House is connected to his family's ties with Vitezi Rend.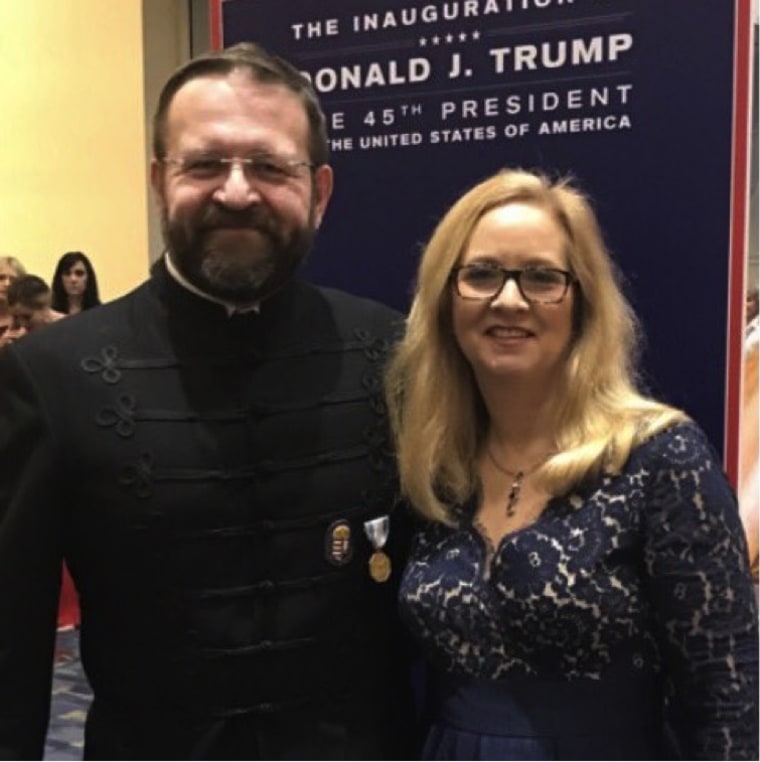 A senior official told the AP that Gorka had been hired to play a key role on a panel called the Strategic Initiatives Group, but this fizzled out in the early months of the administration.
Speaking on condition of anonymity, the official told the news agency that Gorka failed to get National Security Council clearance after he was charged with carrying a gun at Ronald Reagan Washington National Airport last year. The case was dismissed in February after he was ordered the forfeit the weapon and remain on "good behavior" for six months.
Gorka held only a temporary, low-level security clearance for material classified at the "secret" level, a senior U.S. official told NBC News, again on condition of anonymity.
This is the easiest clearance there is to obtain and is issued as a temporary measure pending background and security clearance checks — which Gorka had not passed, the official said. This has prevented Gorka from participating in most counterterrorism meetings across the U.S. government and any briefings that go beyond that classification level.
The official told NBC News that Gorka has had no direct policy making role and was sidelined by National Security Adviser H.R. McMaster.
Gorka's current influence, if any, appears limited to fellow political appointees including Steve Bannon and Stephen Miller inside the White House, the official said.
Hungarian media and later BuzzFeed News reported that Gorka also failed to gain security clearance in Hungary in 2002, meaning he was unable to sit on a governmental committee.