MIAMI — The United States will tighten travel restrictions and block business with the island nation's military regime, President Donald Trump announced Friday.
"Effective immediately, I am canceling the last administration's completely one-sided deal with Cuba," Trump said, bringing the hot and crowded room in the Manuel Artime Theater to its feet.
Touting the new policy as a campaign promise kept, Trump promised to "enforce the ban on tourism, enforce the embargo, we will take concrete steps to ensure that investments flow directly to the people so they can open private business and begin to build their country's great, great future."
"The U.S. embassy will remain open, Trump said, "in hope that our countries can forge a much stronger and better path."
He further outlined that the U.S. "will very strongly restrict American dollars flowing to military, security and intelligence services that are the core of the Castro regime."
Trump's remarks marked a return to Miami, the city where as a candidate he railed against the Obama administration's ending of a decades-long freeze of diplomatic ties with the Cuban government and promised to "make the right deal" if elected.
Trump derided the Obama administration actions as a "terrible and misguided deal with the Castro regime." Boos rang out in the theater as Trump added a reminder that the "Iran Deal was pretty bad also — let's not forget that beauty."
The readjustment to the U.S.-Cuba policy marks yet another instance of this White House peeling back the signature policies of the past administration.
However, the Trump administration changes do not amount to a full reversal of former President Barack Obama's actions. Nor does the move end diplomatic ties, close the U.S. Embassy in Havana or place limits on items, such as cigars and rum, that Americans can bring back from the island nation.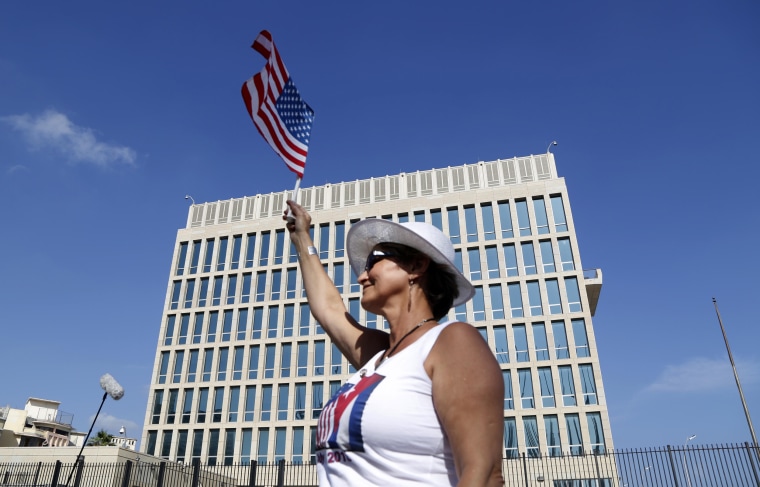 Trump was joined on stage in Miami by several cabinet members, including Commerce Secretary Wilbur Ross and Labor Secretary Alex Acosta and Florida Gov. Rick Scott as well as lawmakers influential to helping shape the administration's Cuba policy, Sen. Marco Rubio and Rep. Mario Diaz-Balart, both Republicans from Florida.
Rubio praised the day as the one history would remember in turning the tide toward a free Cuba. America is "prepared to outstretch its hand and work with the people of Cuba but we will not — we will not — empower their oppressors," he said, praising Trump for the willingness "to do what needed to be done."
"You have not betrayed us! You kept your promise! And you stand in solidarity with the Cuban people," Diaz-Balart exalted to an excited crowd ahead of Trump's remarks.
Briefing reporters ahead of the announcement Thursday, senior administration officials defended the policy as one that seeks to "steer money away from the Cuban military and toward the Cuban people."
President Trump's announcement comes the same day news of plans for a municipal election to be held in Cuba, the first step in the process of Cuban President Raul Castro stepping down. Castro has already said he would not seek a third term when his mandate ends in next February.
Related: Inside Cuba's Military Cyber Command
For many of those gathered at the Manuel Artime Theater in Miami, Trump's action are meaningful.
"I think it's great," Patrick Brugger told NBC News of the policy Trump was set to announce. Sitting with his mother, Theresa, who fled Cuba when she was eleven. He called Obama's initial lifting of the embargo "tremendously insulting."
Now, "even though it's not going to be a complete reversal," at least it feels like progress, Patrick Brugger said. "Even if it's not in the true sense getting something [from Castro's regime] but at least taking something away that was just given to them, is certainly a step in the right direction and something that's going to be very welcomed by the Cuban community in Miami."
His mother, Theresa, agreed, responding positively to stipulations from the Trump administration that negotiations could pick up if Cuba holds free and fair elections and releases political prisoners. "Exactly," Theresa Brugger said. "Little by little we're opening it up. Not a radical way just like Obama did."
"Yes," more needs to be done, Nilo Hernandez said, acknowledging that a full rollback of diplomatic ties is the "right thing to do" in his opinion, but unlikely.
"At least he's going to get something back in return," Hernandez, who also fled Cuba, said. "Obama didn't get anything. And human rights? [The Castro regime] are violating every single day. Something that people don't understand: you've got to live in there in order to realize exactly what's going on there."
Others said they worried about the impact of the policy shift.
"The confusion that will surround this policy will undoubtedly stifle U.S. demand to travel to the island," James Williams , president of Engage Cuba, a group of businesses and organizations working to lift the embargo, said in a statement.
Sen. Patrick Leahy, D-Vermont, called the Trump administration's move an attempt to curry favor with influential members of Congress.
"This is a hollow retreat from normalization that takes a swipe at Americans' freedom to travel, at our national interest, and at the people of Cuba who yearn to reconnect with us — all just to score a political favor with a small and dwindling faction here at home," Leahy said in a statement.
Trump ventured to Florida, a state he won during the presidential election, to announce a new policy on Cuba, but the tragic events of a shooting on an Alexandria, Virginia baseball field were still front of mind.
The president again shouted out House Majority Whip Steve Scalise who was among several shot on Wednesday.
Scalise "took a bullet for all of us," Trump said, noting that he's still recovering and having a "hard time, worse than anybody thought."
Perhaps because of this, he mused for a second time, the country would "become closer, more unified."