WASHINGTON — President Donald Trump on Friday criticized the armed school guard who failed to stop the shooting in Florida as the president pushed to permit some teachers to carry guns and end gun-free zones.
"He didn't turn out to be too good, I'll tell you that," Trump said at the Conservative Political Action Conference, calling the guard "not a credit to law enforcement."
The armed sheriff's deputy, Scot Peterson, who was on site during the mass shooting at Marjory Stoneman Douglas High School in Parkland, Florida, last week, resigned after being suspended without pay. He took cover outside the school rather than trying to enter the building and stop the shooter.
Later in the day Friday, during a joint press conference with Australian Prime Minister Malcolm Turnbull, Trump called Peterson's decision to stay outside "not his finest moment" and said the guard didn't "love the children." Teachers, on the other hand, Trump said, "love their children" and would move to protect them in situations of crisis.
Trump also repeated his call to arm teachers, explaining why he thinks that would prevent mass school killings.
"This crazy man who walked in wouldn't even know who it is that has (a gun), that's good. It's not bad, that's good," Trump told conservatives gathered in National Harbor, Md. "And a teacher would've shot the hell out of him before he knew what happened."
"When we declare our schools to be 'gun free zones' it just puts our students in far more danger," he said.
Trump's speech was expected to focus on school safety efforts, the legacy of late religious leader Billy Graham, and sanctions against North Korea. But midway through the address, he told the crowd his prepared remarks were "a little boring — you don't mind if I go off script a little bit?"
That led to a riff about the president's bald spot, chants from the crowd about Hillary Clinton to "lock her up!" and a dramatic reading of one of Trump's campaign staples — the rock song-turned-immigration-rallying cry, "The Snake."
The crowd — conservatives with generally positive attitudes toward the National Rifle Association and the Second Amendment — applauded the idea of some gun-carrying teachers and school officials, even as experts have balked at the president's proposal.
"I don't want a person that's never handled a gun, that wouldn't know what a gun looks like," Trump said of his plan.
Earlier this week, Trump also floated the idea of small bonuses for those teachers or school officials willing to carry guns.
Speaking of the former student who took the lives of 17 students and teachers in Parkland last week, Trump said that "if he thought that other people would be shooting back at him, he wouldn't have gone to that school."
A day after National Rifle Association CEO Wayne LaPierre criticized background checks at CPAC, the president made the case for strengthening them: "We don't want people that are mentally ill to be having any form of weaponry."
While Trump also has advocated raising the age of purchase from 18 to 21 years of age for semi-automatic weapons — which the NRA doesn't support — he did not mention that idea on Friday at CPAC.
The changes he hopes to make to improve school safety are "just common sense," Trump told the crowd. "It's not, 'Do you love guns, do you hate guns?' It's common sense. It's all common sense."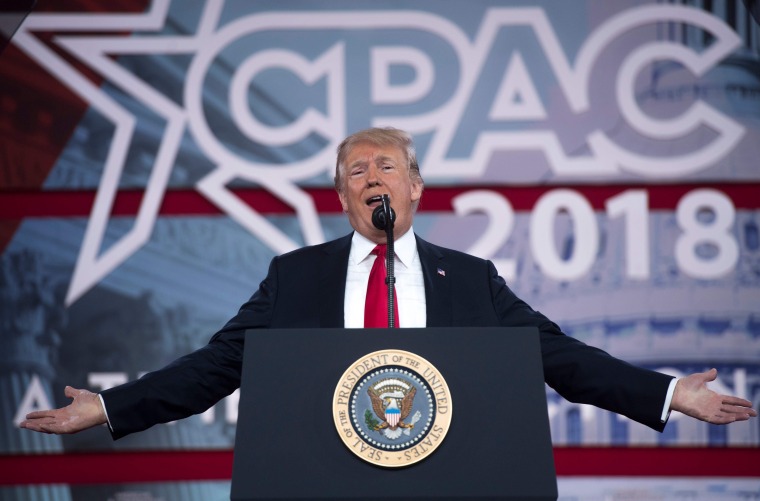 But Trump also knew his audience.
He made clear that despite wanting to move forward and make changes to certain aspects of gun laws, "there's nobody that loves the Second Amendment more than I do, and there's nobody that respects the NRA, they're friends of mine."
Before addressing school safety measures, the president warned the crowd that electing Democrats would mean waving goodbye to the newly enacted tax cuts passed by Republicans late last year, as well as seeing their Second Amendment rights taken away.
"If you only had a choice of one, which would you rather have?" Trump asked, "The Second Amendment or the tax cuts?" In polling the crowd — a favorite move of Trump's from his days on the 2016 campaign trail — keeping Second Amendment rights won more cheers.
"I'm gonna leave it at the Second Amendment," Trump decided. "I don't want to get into that battle, all right?"
It became clear early on that the president's scripted remarks could become a casualty of the friendly conservative crowd that he was clearly enjoying. When Trump seemed to catch a glimpse of himself in a nearby television monitor — "What a nice picture that is," he remarked — he paused to coif his hair.
"I try like hell to hide that bald spot folks, I work hard," Trump teased, moving his hands over his famous blond hair. "Doesn't look bad? Hey, we're hanging in. ... Together, we're hanging in."
As he crossed the hour mark in his remarks, Trump had energized the crowd about the need for Republicans to mobilize in 2018 and lamented that Democrats had "totally abandoned" him on solving DACA. "They don't even talk to me about it!" Trump said.