WASHINGTON — President Donald Trump on Thursday inducted a new member into what he described as "the world's most exclusive club of heroes" by awarding a Medal of Honor to a Navy SEAL who led a daring assault and rescue mission on a snowy Afghanistan mountaintop in 2002.
Trump presented the nation's most prestigious honor for selflessness on the battlefield to retired Master Chief Special Warfare Operator Britt K. Slabinski of Northampton, Massachusetts. The president said Slabinski is a "special man" and a "truly brave person."
"We pay tribute to Britt's heroic service and we proudly present him with our nation's highest military honor, and I would go so far as to say our nation's highest honor," Trump said at a White House ceremony. Several past Medal of Honor recipients attended the ceremony and were recognized by Trump.
"Today we induct a new name into the world's most exclusive gathering of heroes, and that's exactly what it is," the president said.
Trump recounted how Slabinski risked his life by repeatedly exposing himself to "horrendous" fire from more heavily armed al-Qaida forces in March 2002 during the Battle of Takur Ghar while leading a reconnaissance task force in support of Operation Enduring Freedom.
Slabinski set out to rescue a teammate who was injured after falling out of theur helicopter after it came under attack as it attempted to land on the mountaintop. The helicopter crash-landed in the valley below and Slabinski and the rest of the team decided to make a daring trip back up the mountain.
"The odds were not good. They were not in their favor, but Britt and his team didn't even hesitate for a moment," Trump said.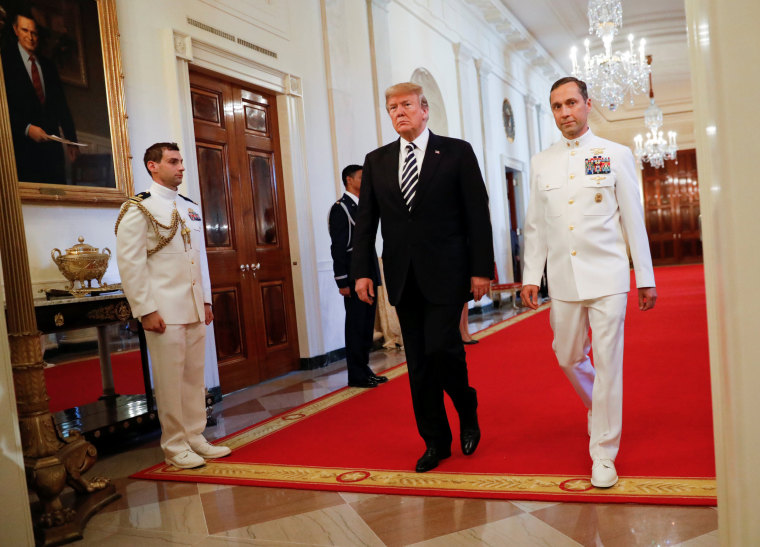 After forging ahead and exposing himself to an onslaught of enemy fire, Slabinski later carried the seriously wounded teammate down a sheer cliff face while leading a trek through waist-deep snow. He continued to battle al-Qaida until the mountaintop was secured and his team was extracted.
Slabinski retired from the Navy in 2014 after more than 25 years of service. He said following the ceremony that the medal "belongs to so many others" and named the teammates "who followed me without hesitation." Slabinski said the medal also belongs to the seven Americans who died on the mountaintop.
"They gave all for us. This honor is truly theirs. They are the true heroes," he said in a statement delivered on the White House driveway.