NASHVILLE, Tenn. — President Donald Trump railed against a judge's order blocking his immigration restrictions on Wednesday, saying the ruling made America "look weak" — and drew chants from supporters of "lock her up!" when he attacked his defeated rival.
Campaigning in Tennessee more than four months after winning the presidency, Trump continued to attack Hillary Clinton. While reading a legal code that the president said backed his authority to enact the travel ban, Trump interrupted himself to say that "fortunately" the former secretary of state was not in the White House.
"The law and Constitution give the president the power to suspend immigration when he deems – or she, or she. Fortunately, it will not be Hillary," he said.
Chants of "Lock her up!" reverberated through the auditorium at the mention of Clinton. Trump walked from the podium and surveyed the crowd as they continued to chant — something that became a hallmark of his campaign.
The second version of Trump's travel ban, which would temporarily halts immigration from six primarily Muslim nations, was set to go into effect Thursday until it was stopped by a federal judge in Hawaii. The first executive order shortly after Trump took office was replaced by what the president, during his campaign-style rally in Nashville, called a "watered down" version.
"Let me tell you something: I think we ought to go back to the first one!" Trump declared to a cheering crowd.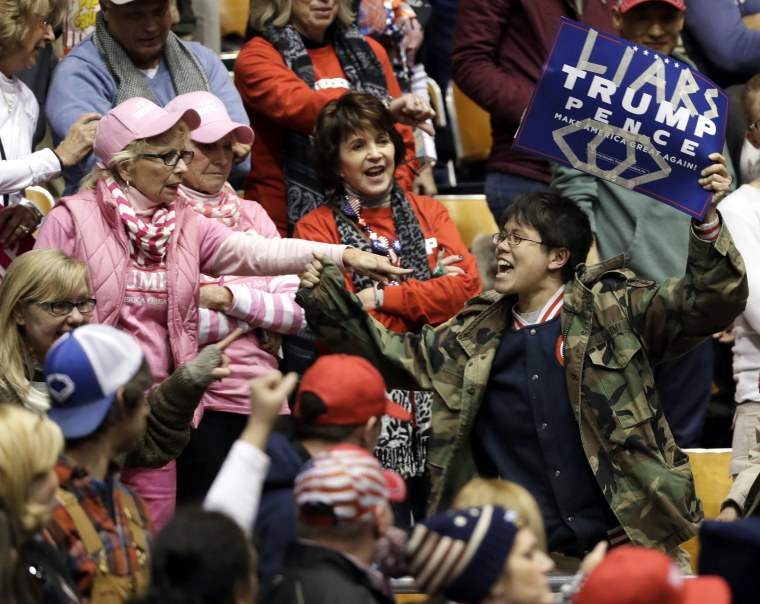 The president's stop in Nashville was supposed to serve as a rallying cry for a lagging Republican effort to replace Obamacare, but quickly turned into a travel ban defense that overshadowed his half-hearted legislative push for health care reform.
"I wanna cut the hell out of taxes," Trump said, but added that before he could get to that, Obamacare had to go.
The president called Barack Obama's signature accomplishment "catastrophic" and predicted its impending demise, but did little to tout the Republican's replacement plan that he himself backs.
"Remember folks: if we don't do anything, Obamacare is gone. It's gone. It's gone," Trump said.