President Donald Trump's 2018 budget proposal includes sweeping cuts to social spending for low-income Americans, including entitlement programs that the president promised to protect as a candidate, while boosting defense spending.
White House budget director Mick Mulvaney briefed reporters on the blueprint Monday, which seeks to eliminate the deficit in 10 years while avoiding cuts to Medicare and Social Security retirement benefits. The full budget is scheduled to come out on Tuesday morning.
"This is, I think, the first time in a long time the administration has written a budget through the eyes of the people paying the taxes," Mulvaney told reporters.
It would accomplish its savings goals via deep cuts to other safety-net programs. At the same time, it assumes that the White House's agenda of repealing Obamacare, reforming the tax code and investing in infrastructure will become law and unleash an economic boom that would further reduce deficits by $2 trillion over the next decade.
Related: Both Parties Claim Measure of Victory in Rare Bipartisan Budget Deal
The goal of "Trumponomics," as Mulvaney put it, was to reach "sustained 3 percent economic growth in this country." Mainstream economists largely view such targets as unrealistic due to factors outside the White House's control, like an aging population.
The blueprint, titled "The New Foundation For American Greatness," seeks $1.4 trillion in savings over the next decade through a "two-penny plan" for non-defense discretionary spending that would reduce spending by two cents on the dollar each year. Since agencies are projected to require increased spending in that time, it would effectively add up to major cuts to programs affecting everything from the environment to medical research to education.
The White House proposal assumes the House's health care bill becomes law, and predicts it would produce $250 billion of savings. The administration proposes reducing spending on Medicaid programs by more than $600 billion over the next decade, a massive cut that appears to go on top of $839 billion in Medicaid cuts included in the House bill. Mulvaney said the difference was due to the White House's use of a formula that would grow Medicaid spending at a slower rate.
It represents a major broken promise for Trump, who said he would not cut Medicaid during the campaign and demanded credit for being the first Republican candidate to do so. Medicaid covers about 73 million people, including low-income households, people with disabilities and seniors.
The president also strongly opposed cuts to Social Security during the campaign, but the new budget would make cuts to Social Security Disability Insurance, which covered over 10 million recipients as of December 2015. It would save about $72 billion through changes to disability programs over the next ten years.
Asked about the discrepancy, Mulvaney suggested that the president intended his promises to apply only to retirement benefits.
"If you ask 999 people out of a thousand, they'd tell you Social Security disability is not part of Social Security," Mulvaney said.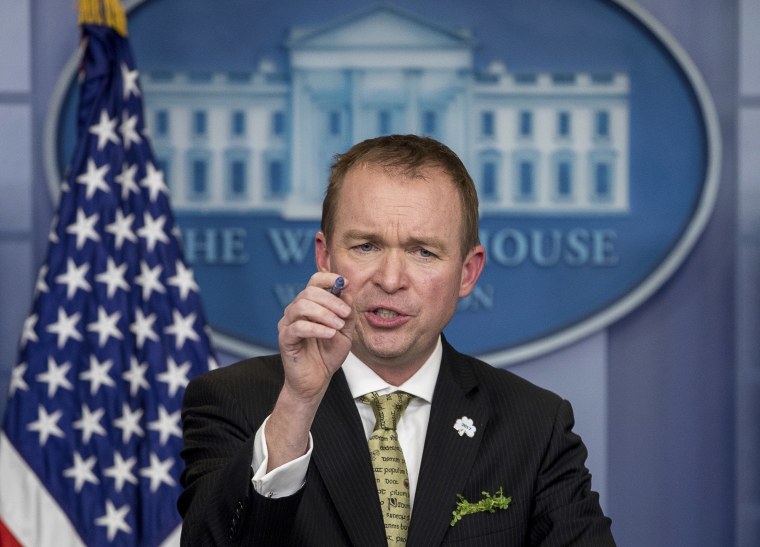 Other cuts include $193 billion to the food stamp program SNAP over the next decade. The overall goal, Mulvaney said, would be to tighten work requirements in order to get able-bodied adults off social safety net programs.
"We're not going to measure success by how much money we spend but by how many people we actually help," he said.
In education, the budget proposes eliminating federal subsidies for student loans while instituting a new income-driven repayment program. The White House projects the combination would save $143 billion over a decade.
Some of the savings would go to boosting White House priorities on security and economic investment. The budget would boost defense spending by $54 billion for the next fiscal year and includes another $2.6 billion for new border security measures, including $1.6 billion to build walls and replace existing barriers.
While the White House has not yet put out a detailed infrastructure plan, the budget blueprint assumes a $200 billion spending package over the next 10 years that the administration hopes would encourage further private investment that Trump promised would total $1 trillion. It also budgets $19 billion for a new paid parental leave program.
The blueprint assumes the White House would pass its plan to reform the tax code, but offered no new details beyond the one-page outline they put out last month. Mulvaney said the budget assumed the changes would not add to the deficit, but the administration has not yet identified how it would offset the lost revenue from cutting tax rates for individuals and corporations.
As part of its tax overhaul, the White House budget proposes requiring that beneficiaries of the Earned Income Tax Credit and Child Tax Credit provide a Social Security number to receive a tax refund. The goal would be to prevent undocumented workers from benefiting from the tax credits.
Congress is responsible for passing a budget, making the White House's proposal more a statement of priorities than a realistic legislative package. Even before its official release, lawmakers in both parties indicated it was unlikely to find support.
"Almost every president's budget proposal is basically dead on arrival, including President Obama's," Sen. John Cornyn (R-Tex.), the Senate Majority Whip, told reporters.
"It's especially cruel, quite frankly, for people who ... need a hand up," Sen. Jon Tester (D-Mont.) said.
Earlier this year, Republicans and Democrats negotiated a compromise spending bill to fund the government through September 30 that jettisoned the White House's requests for deep spending cuts and did not fund presidential priorities like construction of a new border wall.