President Donald Trump is considering former Connecticut Sen. Joe Lieberman to lead the FBI, White House Press Secretary Sean Spicer told reporters Wednesday.
Trump will meet Wednesday with Lieberman and other candidates, including acting FBI Director Andrew McCabe, former Oklahoma Governor Frank Keating, and former top FBI official Richard McFeely, Spicer added.
During a briefing on Air Force One en route to Washington, D.C. from New London, Connecticut, where Trump delivered a commencement address to Coast Guard cadets, Spicer said "the president will continue to meet with candidates for FBI director." But a senior administration official tells NBC News that this is the first day that the president will meet with candidates to replace James Comey.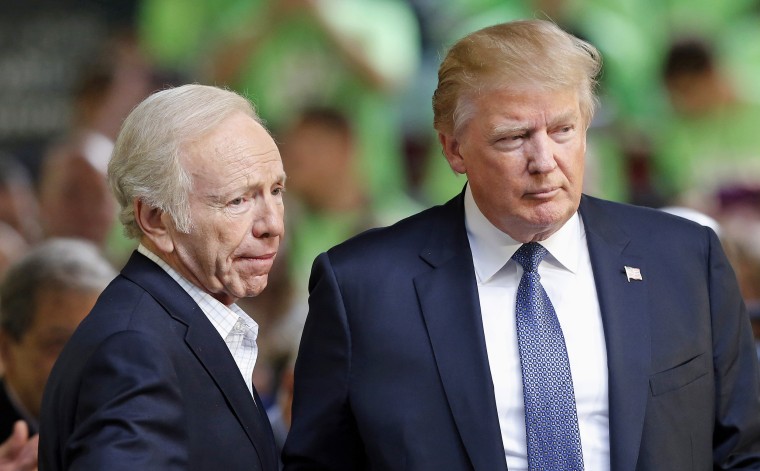 These candidates have been sent over from the Department of Justice, the official said.
When asked by MSNBC if he would accept if he was offered the job of FBI director, Lieberman declined to say.
"It was unexpected. Not something I was seeking," Lieberman, an Independent, said. He was the Democratic Party's nominee for vice president in 2000, and Connecticut's attorney general before being first elected to the Senate in 1988.
LIVE BLOG: Comey Memo Has Trump White House in Tailspin
Three of the four candidates mentioned Wednesday were not among those names initially reported to be under consideration, with the DOJ conducting interviews with seven additional candidates over the weekend.
Trump has promised a "fast decision" for a new director, telling reporters on Air Force One Saturday that he thinks "the process is going to move quickly."
"Almost all of them are very well-known; they've been vetted over their lifetime, essentially," he said of the new potential FBI leaders. "But very well-known, highly respected, really talented people and that's what we want for the FBI."
Trump sent shockwaves through Washington early last week when he abruptly fired Comey as head of the FBI.
Subsequent revelations that Trump planned to fire Comey "regardless" of recommendations from Attorney General Jeff Sessions and Deputy Attorney General Rod Rosenstein, and explosive reports that the president urged James Comey to drop the FBI's investigation into former National Security Adviser Michael Flynn have led to intensified calls for an independent investigation into Russian meddling in the election.