WASHINGTON — President Donald Trump declared the opioid crisis a public health emergency on Thursday and said the U.S. must confront "the worst drug crisis in American history."
The president said 64,000 Americans died from overdoses last year — 175 every day, seven every hour.
"This epidemic is a national health emergency," Trump said during an address at the White House. "Nobody has seen anything like what is going on now. As Americans, we cannot allow this to continue. It is time to liberate our communities from this scourge of drug addiction."
The president said, "We can be the generation that ends the opioid epidemic. We can do it."
Trump said he directed federal agencies to use all their resources to fight the drug crisis, including focusing on providing improved treatment for addicts.
"No part of our society" has been spared by the opioid crisis, Trump said, adding that he wanted Americans to know "the federal government is aggressively fighting the opioid epidemic on all fronts."
The president said the epidemic "will get worse before it gets better. But get better it will...It will be defeated."
First lady Melania Trump spoke before her husband and talked about the families and friends of opioid users she had met and she told the stories of addicts, some of whom had overdosed.
"This can happen to any of us," she said. "No state has been spared and no demographic untouched."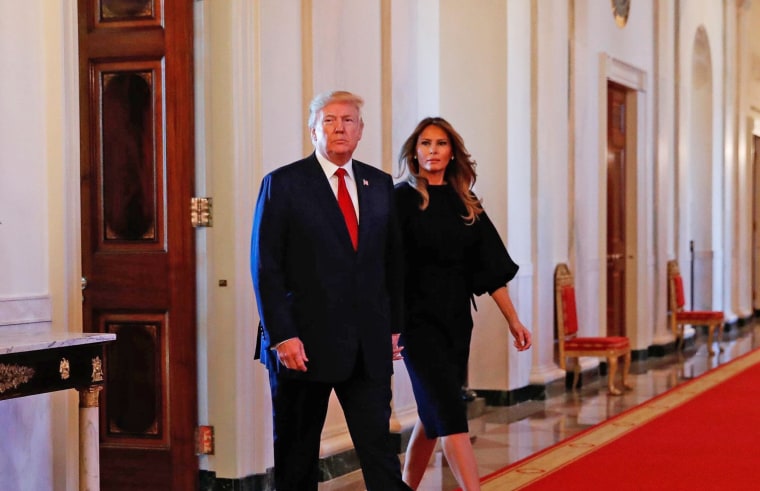 The president also went off script to tell the story of his older brother Fred, who died of alcoholism.
"He'd tell me don't drink," Trump said in the emotional aside. "He was a strong guy but it was a tough, tough thing that he was going through. But I learned because of Fred."
In the audience for the president's remarks, a who's who of top administration officials and lawmakers. Seated in the front row were Cabinet members Betsy DeVos, Elaine Chao, Ben Carson, Alexander Acosta, Wilbur Ross, Ryan Zinke, and Jeff Sessions, while Gov. Chris Christie sat nearby flanked by Democratic Sen. Joe Manchin and Republican Rob Portman.
The public health emergency declaration lasts 90 days, but can be renewed until no longer needed.
Christie, who leads the president's opioid commission, commended the action as "bold."
Trump's declaration is a sign that he is "showing an unprecedented commitment to fighting this epidemic," Christie said.
Related: Trump's Emergency Declaration Needs More Funding
On Friday, Christie called that epidemic a "murder of our people from within" and explained that federal and state governments shouldn't hesitate to fund solutions.
"If we had a terrorist attack every day that killed 175 Americans, how much would you spend to make it stop?" Christie said on MSNBC's "Morning Joe."
The declaration of a public health emergency will "reorient all of the federal government and executive branch resources toward focusing on providing relief to this urgent need," a senior White House official told reporters Thursday.
Past instances of public health emergencies in the U.S. include the H1N1 influenza outbreak in 2009, as well severe weather events and natural disasters.
The declaration alone provides no additional money to combat the problem but allows existing grants to be redirected to better deal with the crisis.
Among other things, the declaration allows for expanded access to "telemedicine" services, something the White House points out as being important in dealing with a crisis that is concentrated in rural areas across the United States.
States now also have the ability to expand the number of patients suffering from drug addiction they can treat at their facilities. At the agency level, money already granted can be now also be used to treat and prevent opioid addiction.
The president said he would be looking at the possibility of bringing "major lawsuits against people and companies that are hurting our people," as well as ensuring that one particular kind of "truly evil" opioid was taken off the market immediately.
Trump said the Centers for Disease Control have launched a prescription awareness campaign to ensure that patients have the facts and are aware of the dangers of opioid abuse.
Christie praised the multi-pronged approach to the issue that included prevention, intervention and treatment.
Trump had first said he would declare a national emergency in August, a move his opioid commission recommended over the summer.