President Donald Trump defended the delay in firing former National Security Adviser Michael Flynn in exclusive interview on Thursday with NBC News' Lester Holt.
There was an 18-day gap between the heads up from former Acting Attorney General Sally Yates regarding Flynn's activities with the Russians and his removal by the White House.
"(White House counsel Don) McGahn came back to me and did not sound like an emergency," Trump said of Yates' information about Flynn.
"This man (Flynn) has served for many years, he's a general, he's a — in my opinion — a very good person. I believe that it would be very unfair to hear from somebody who we don't even know and immediately run out and fire a general."
White House Press Secretary Sean Spicer has previously expressed skepticism about Yates' motives in giving her initial heads up about Flynn to the White House. On Tuesday, Spicer praised the "due process" of the White House in the lead up to Flynn's dismissal and dismissed Yates as "someone who is not exactly a supporter of the president's agenda."
"You have someone who you have to wonder whether — why they are telling you something," Spicer added.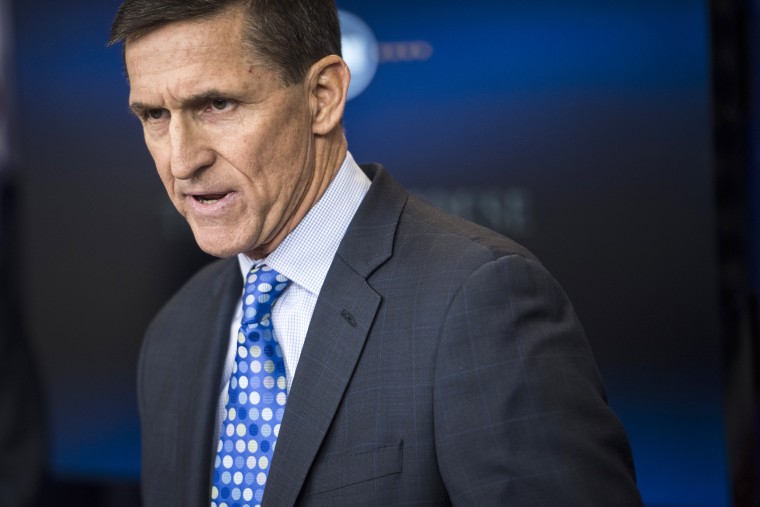 Yates testified Monday to the Senate Judiciary subcommittee that she told the White House that Flynn could be "blackmailed by the Russians" because he had misled Vice President Mike Pence about his conversations with Kremlin diplomats.
"We were concerned that the American people had been misled about the underlying conduct and what General Flynn had done," she said.
Trump also told Holt that he was not aware of Flynn's payments from the Russian and Turkish governments, but wondered if maybe former President Barack Obama did.
"Obama perhaps knew because [Flynn] had clearance from the Obama administration," Trump told NBC News. "And his clear — and this is something they never want to report — he had clearance from the Obama administration. The highest clearance you can have."
While Flynn's clearance was continued by the Obama administration, he was also fired by the prior administration from his post as head of the Defense Intelligence Agency in 2014.Obama also warned Trump against hiring Flynn less than 48 hours after the November election, three former Obama administration officials have told NBC News.
On Wednesday, the Senate Intelligence Committee subpoenaed Flynn — the first time they've used that subpoena power since the joint inquiry into the terrorist attacks of Sept. 11, 2001, according to a Senate historian. The Senate Intelligence Committee also subpoenaed documents from Flynn after he declined to provide them if he wasn't offered immunity.