WASHINGTON — President Donald Trump defended his son's meeting with a Russian lawyer promising damaging information about Hillary Clinton, blaming the media for making "a very big deal over something that really a lot of people would do."
"My son is a wonderful young man. He took a meeting with a Russian lawyer, not a government lawyer but a Russian lawyer," Trump said in a joint press conference with French President Emmanuel Macron. "From a practical standpoint most people would have taken that meeting. It's called opposition research or research into your opponent."
He went on to elaborate that "I've had many people call up. 'Oh, gee, we have information on this factor or this person, or frankly, Hillary.' That's very standard in politics. Politics is not the nicest business in the world, but it's very standard, where they have information and you take the information."
Trump also laid blame at the feet of Obama administration Attorney General Loretta Lynch, saying that he "heard" Lynch was the one to approve the Russian lawyer's visa to enter the country.
The White House has spent the week engulfed in the latest wave of Russia-related controversy regarding a June 2016 meeting between Donald Trump Jr., his son-in-law Jared Kushner, then-campaign chair Paul Manafort, and Russian lawyer Natalia Veselnitskaya.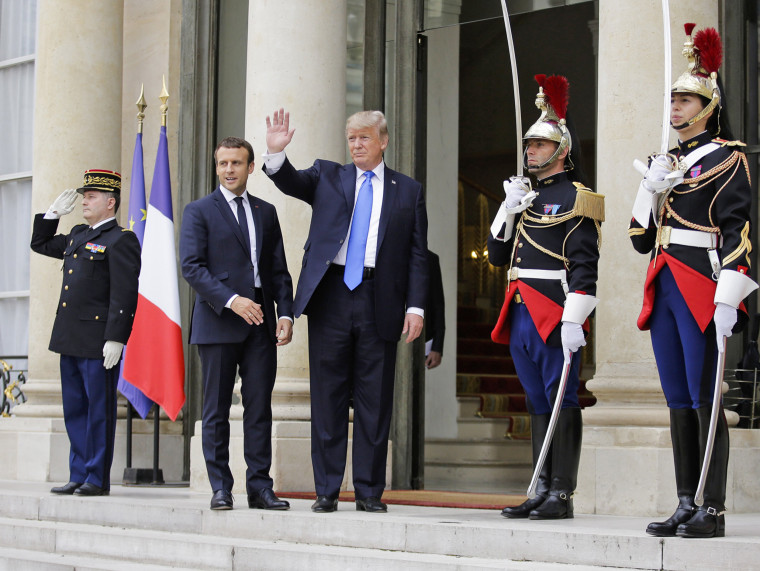 In an exclusive interview with NBC News Tuesday, Veselnitskaya said "I never had any damaging or sensitive information about Hillary Clinton. It was never my intention to have that."
Trump has praised his son for transparency and openness in dealing with the situation. Trump Jr. released emails relating to the meeting after being informed that The New York Times had them and planned to publish them.
Trump's relationship with Macron has been marked by clashes on policy, awkward assertions of machismo and Trump's seeming preference for Macron's election challenger, Marine Le Pen.
In their first meeting, the leaders engaged in a white-knuckled, teeth-gritting grip for cameras which Macron assessed as a "moment of truth."
In their second meeting, Trump told Macron's wife, French first lady Brigitte Macron, "You're in such good shape."
The policy differences between the two presidents were only further highlighted last week at the G-20 Summit in Hamburg, where the United States was singled out in the summit's communique for its opposition to the near-globally agreed upon Paris Climate Accord.
Macron said he respects President Trump's decision to withdraw from the accord.
"Here we know what our disagreements are" he said through a translator.
Trump seemed to leave the door open to possible reconciliation on the global pact.
"Something could happen with respect to the Paris Accord, we'll see what happens," he said.
If something were to happen, that would be "wonderful," Trump added, but if it doesn't "that'll be OK too."
President Trump withdrew the United States from the climate agreement in June, triumphantly declaring it a victory of his America First motto to be the president of "Pittsburgh not Paris." White House advisers say Trump is open to renegotiating the deal, but have not offered specifics nor been able to say if Trump even believes climate change exists.
At the end of the G-20, Macron announced a December summit in Paris, celebrating the two-year anniversary of the agreement and discussing the path forward.
Trump's trip to Paris to celebrate Bastille Day and to commemorate the 100th anniversary of America's entry into World War I brought a chance for a new beginning, however, one that celebrates points of commonality between the leaders and ushered in new discussions on counterterrorism and the ongoing conflict in Syria.
This trip's discussion focused heavily on strengthening "our vital security partnerships," Trump said, noting the need to stand up to "rogue" threats like North Korea, Syria and Iran.
The two presidents arrived at the Élysée Palace in the same car earlier on Thursday, waving hello to the press. Macron ushered his U.S. counterpart up the stairs before shaking President Trump's hand vigorously.
Trump tapped his hand, perhaps in a nod to the white-knuckle handshake they shared in Brussels.
Meanwhile, at the Place des États-Unis in western Paris, a crowd of American expats gathered around the monument to U.S. soldiers who fought in World War I. Across town, French protesters declared a "No Trump Zone" at the Place de La République, a central and prominent square, mocking the false claim ­— reported by some members of the U.S. media following the terrorist attack on satirical magazine Charlie Hebdo in January 2015 — that there were Muslim-only "no-go zones' in the French capital.
The protest was organized by the "Up All Night" anti-establishment movement, which last year made a name for itself by organizing self-described 'popular assemblies' in the prominent Paris square.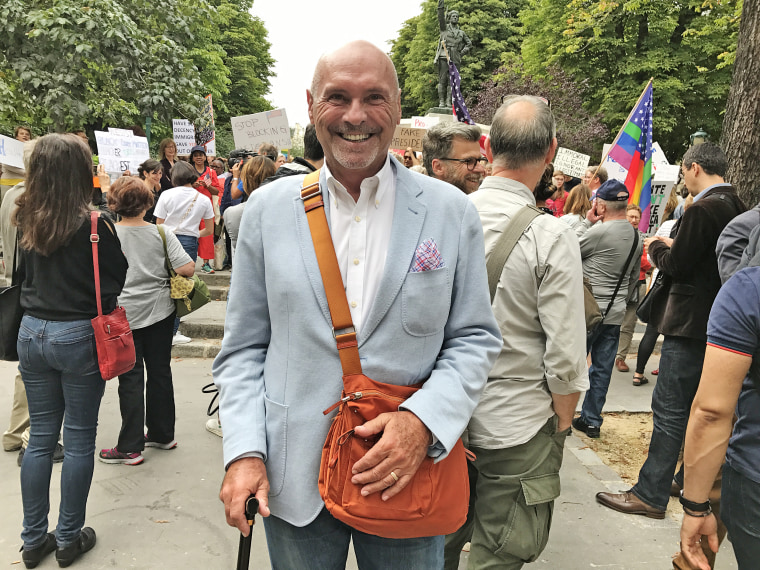 Trump will spend little more than a day in the city before returning to the U.S. on Friday. But for many of the Parisians and American expats peacefully protesting in the streets on Thursday his visit was a day too long.
"I find the invitation extremely offensive because this orange menace doesn't represent the majority of the American people or our values," said Steve Kocheran, who is originally from San Diego but has lived in Paris for 12 years.
"I want to know what Macron's motivation was. I think there is something hidden behind the smoke screen, I think Macron is plotting something and if he is I hope he wins," said the 66-year-old history teacher.
Mickey Farrance, who is originally from California but had traveled up from Grenoble to attend the protest, said she understood why Macron had invited the president but said Trump didn't deserve to be there.
"I hope at dinner tonight at the Eiffel Tower Macron brings out the stinkiest cheeses that France has to offer," she said.
Ali Vitali reported from Washington. Saphora Smith reported from Paris.