WASHINGTON — President Donald Trump reported that he reimbursed personal attorney Michael Cohen for costs apparently incurred in paying adult film star Stormy Daniels for a nondisclosure agreement, according to a federally required annual financial disclosure form released by the Office of Government Ethics on Wednesday.
"In the interest of transparency, while not required to be disclosed as 'reportable liabilities' ... in 2016 expenses were incurred by one of Donald J. Trump's attorneys, Michael Cohen," a note at the bottom of Page 45 of the 92-page report states. "Mr. Cohen sought reimbursement of those expenses and Mr. Trump fully reimbursed Cohen in 2017. The category of value would be $100,001 to $250,000 and the interest rate would be zero."
The acting director of the ethics office, David J. Apol, concluded that Trump's report "meets the disclosure requirements," but noted that making that debt public "is required." The outside group Citizens for Responsibility and Ethics in Washington had filed a complaint that Trump's 2017 form had improperly omitted a "loan" from Cohen.
Federal law requires White House officials, including the president, to "report liabilities owed to any creditor that exceeded $10,000 at any time during the reporting period." It is illegal to "knowingly and willfully" omit or falsify information on disclosure forms, a crime punishable by a fine and up to one year in prison.
Last year, Trump did not disclose any debts to Cohen, who executed a payment of $130,000 to Daniels, whose real name is Stephanie Clifford, less than two weeks before the 2016 presidential election. Trump, who has denied having a sexual relationship with Daniels during his marriage to Melania Trump, said earlier this month that he reimbursed Cohen.
"Mr. Cohen, an attorney, received a monthly retainer, not from the campaign and having nothing to do with the campaign, from which he entered into, through reimbursement, a private contract between two parties, known as a non-disclosure agreement, or NDA," Trump wrote on Twitter, reversing an earlier statement that he was unaware of the disbursement.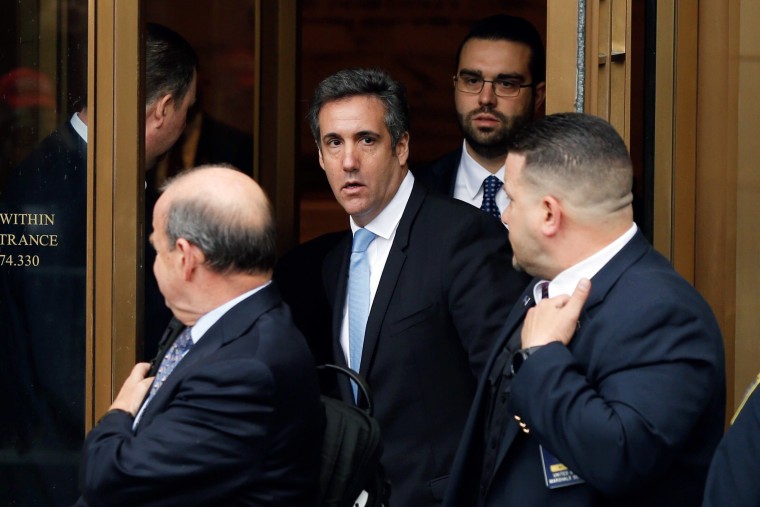 In April, Trump told reporters on Air Force One that he did not know about the payment to Daniels or where Cohen got the money to make it.
Daniels' attorney, Michael Avenatti, said on MSNBC Wednesday that the new disclosure shows that Trump was not being truthful at that time. The financial report, signed by Trump, notes that Cohen was reimbursed by the president in 2017, at least three months before his Air Force One remarks.
"These guys can't keep their lies straight," Avenatti said.
Trump confidant and adviser Rudy Giuliani described the transaction by saying money was "funneled through" Cohen's law firm.
Trump's form also says he earned tens of millions of dollars from various assets, mostly real estate holdings. It is impossible to discern the exact stated value of his business empire or precise levels of income because many line items in the records list ranges, not precise figures.
For example, his interest in a residential and real estate company called Trump CPS is listed as being worth $25 million to $50 million, and his earnings from the company in 2017 totaled $1 million to $5 million. The highest category for asset value is "more than $50 million," and the upper rank for income is "over $5 million."
In some cases, Trump reported exact dollar amounts for income for his hotels, resorts and golf clubs. The $40,408,037 he said he took in from the Trump International at Washington's Old Post Office Building — which has become a salon for Trump administration officials, associates of the president and fans — is in line with similar hotels based on the number of rooms, average daily rate and estimated occupancy, Hans Detlefsen, president of Hotel Appraisers and Advisers, told NBC News.
"I would characterize it a luxury chain scale, a hotel that is producing a significant occupancy and ADR performance numbers given that you have the topline over $40 million, plus the available room count," Detlefsen said. "It is an efficient room count for a hotel this size."
His reported income from luxury golf clubs — excluding resorts that feature courses and have other sources of revenue — is better than might be expected, according to Laurence A. Hirsh, president of Golf Property Analysts.
The money Trump says he is earning from the Jupiter, Bedminister, Charlotte, Hudson Valley, West Palm Beach, Colt's Neck and Los Angeles private clubs — in the range of $15 million to $20 million — is "above typical," Hirsh said. "The one thing — without question — the revenues are higher than most clubs we see."
The disclosure forms also show that the first lady had a new source of income in 2017: royalties from photos of her owned by Getty Images. She took in $100,000 to $1 million for the use of her likeness.