President Donald Trump is donating his first salary to the National Parks Service.
The first quarter salary — totaling $78,333 — was given ceremoniously to Interior Secretary Ryan Zinke at the outset of Monday's White House Press briefing and Press Secretary Sean Spicer presented an enlarged check. The check was flashed on screens flanking Spicer's podium.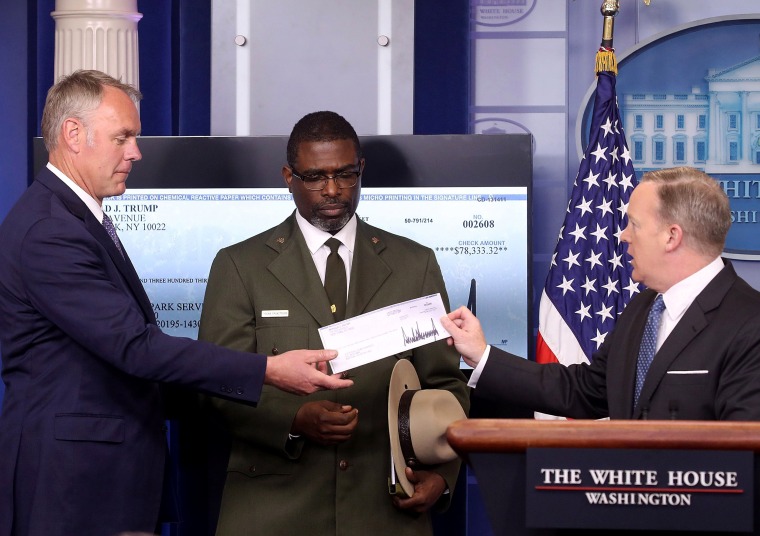 "The president is personally proud to contribute the first quarter of his salary to the important mission of the Parks Service, which is preserving our country's national security," Spicer said, handing the check to Zinke and Superintendent of the Harper's Ferry Parks cite, Brandy Berg.
The check's was "every penny the president received from the first quarter" since his inauguration on January 20, Spicer told reporters.
The donation makes good on an early promise by the Trump administration that the president would donate his salary, though originally the idea was that he'd donate to charity. The National Parks Service was chosen from a list of options presented to Trump by counsel.
It's "not as easy as you'd think" to give money to the government, Spicer noted on Monday.
Sierra Club Executive Director Michael Brune panned Trump's donation calling it a "publicity stunt" that's a "sad consolation prize" as Trump's budget proposes cuts to the Interior Department's budget by 12 percent.
"America's parks, and the people and economies they support, need real funding, not a giant fake check," Brune said in an emailed statement. "Parks are a good investment and we must invest now if we want them to be around for our kids."