President Donald Trump signed an executive order on Thursday creating a commission aimed at investigating alleged vote fraud — a move that drew swift rebuke from civil liberty groups and liberal lawmakers amid worries the panel's work could seek to justify voter suppression.
Trump's order establishes a commission to review alleged voter fraud throughout the American election system. Vice President Mike Pence will head the group, called the "Presidential Commission on Election Integrity."
Kansas Secretary of State Kris Kobach, an immigration hardliner and strict voter identification law advocate mulling a gubernatorial run, will serve as vice chair.
The panel will be tasked with studying "vulnerabilities" in the voting system, as well as potential impacts on "improper voting, fraudulent voter registrations, and fraudulent voting."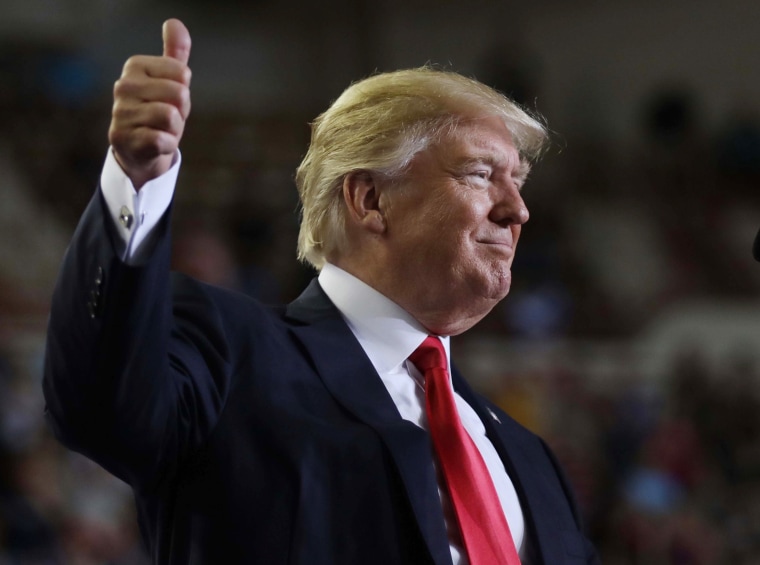 Trump has repeatedly made unfounded claims about rampant voter fraud during the 2016 election and insisted that the system was "rigged" against him — and even prompting him to dodge on whether he would accept the election results if he lost.
The commission is expected to hold its first meeting in the next few months, a senior White House official who spoke on condition of anonymity to NBC News said, and is expected to work for a year to review election operations from voter fraud to voter registration. Officials note that voter suppression, an issue important to Democrats, will be a part of the charter of this commission.
The official also told NBC News that among the names being considered to join the commission are Bill Gardner, Democratic Secretary of State of New Hampshire, Matthew Dunlap, Democratic Secretary of State of Maine, Ken Blackwell, former Republican Secretary of State of Ohio, Connie Lawson, Republican Secretary of State of Indiana, and Christy McCormick, an Obama-appointed Republican Commissioner of the Election Assistance Commission.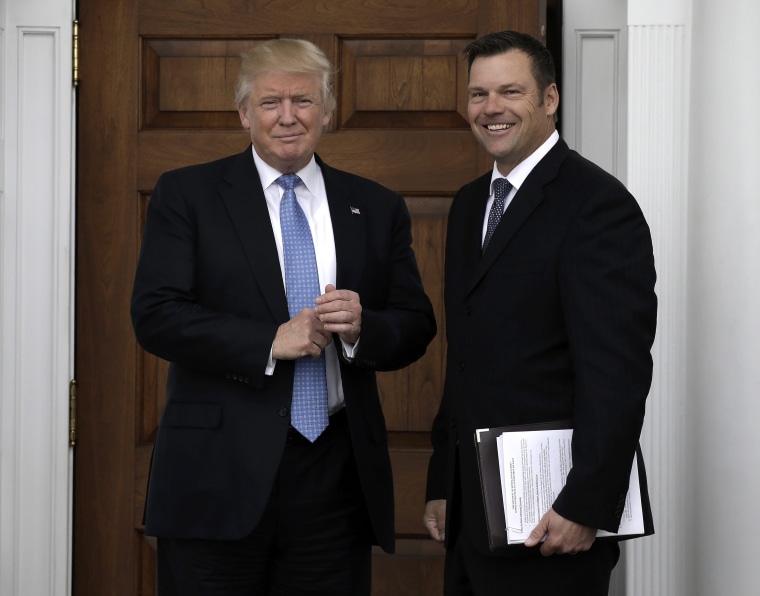 The selection of Kobach to help head the panel worries civil liberties groups and some Democratic lawmakers who see his past efforts as evidence of what the commission's findings might yield.
"This voter commission is a clear front for constricting the access to vote to poor Americans, older Americans, and — above all — African Americans and Latinos," Senate Minority Leader Chuck Schumer said in a statement. "Putting an extremist like Mr. Kobach at the helm of this commission is akin to putting an arsonist in charge of the fire department.
Other groups were similarly concerned about the impact on minority voters.
"This commission may have a chilling effect on minority communities cross the country," said Kristen Clarke, president and executive director of the Lawyers' Committee for Civil Rights Under Law
Reacting to news of the commission, Brennan Center for Justice President Michael Walden called the commission "a sham and distraction."
"It's simply an effort to try and find proof of the president's absurd claim that 3-5 million people voted illegally in November," he said in an emailed statement.
Rep. Elijah Cummings called the order and its timing "a weak and transparent effort to distract from the President's firing of FBI Director Comey just as he was accelerating his investigation into the President's campaign and its ties to Russia, as well as the storm of controversy that is now enveloping the White House as a result."
Days after assuming office, the president vowed a major investigation into the millions of "illegal" votes he claimed cost him the popular vote to Hillary Clinton, who topped him by nearly 3 million votes. At the time, White House Press Secretary Sean Spicer said the investigation wouldn't just be about the 2016 election, but "about the integrity of our voting system."
Trump's first 100 days came and went with no investigation and no official committee, though the White House did say Pence would eventually lead a group on this issue. And still, Trump continued to claim that millions of undocumented immigrants voted in the election.
"I think I will be proved right about that, too," he told TIME in an April interview when asked about the lack of evidence to back up his claim.
The evidence that does exist, however, shows that voter fraud is extremely rare and that three million undocumented immigrants didn't vote in the 2016 election.
Last week, the Brennan Center for Justice said it studied jurisdictions accounting for 23.5 million votes in the 2016 election, and those jurisdictions reported an estimated 30 instances of suspected non-citizens voting. That equates to non-citizen voting in the 2016 election accounting for 0.0001 percent of the vote in these jurisdictions.
As a candidate, Trump frequently warned crowds of the evils of voter wrongdoing.
"People know there are a lot of rigging of elections," he told a local Miami TV station in late October.
In the weeks leading up to the election, he even hedged on whether he would accept the results of the November election because of what he felt was voter fraud and an unfair system.
A report from the newly established White House group is expected sometime in 2018.