President Donald Trump celebrated on Thursday taking the first step toward repealing and replacing Obamacare.
Trump called the measure "incredibly well crafted" and praised House Republicans for passing a "great plan" that will end the "suffering" and "ravages" of Obamacare and credited the legislation for uniting the GOP.
"They're not even doing it for the party," Trump said as he stood flanked by Republican House leaders and rank-and-file members in the Rose Garden at the White House. "They're doing it for this country because we suffered with Obamacare."
Just before the president spoke, House Speaker Paul Ryan was seen in the Oval with Trump smiling and shaking hands.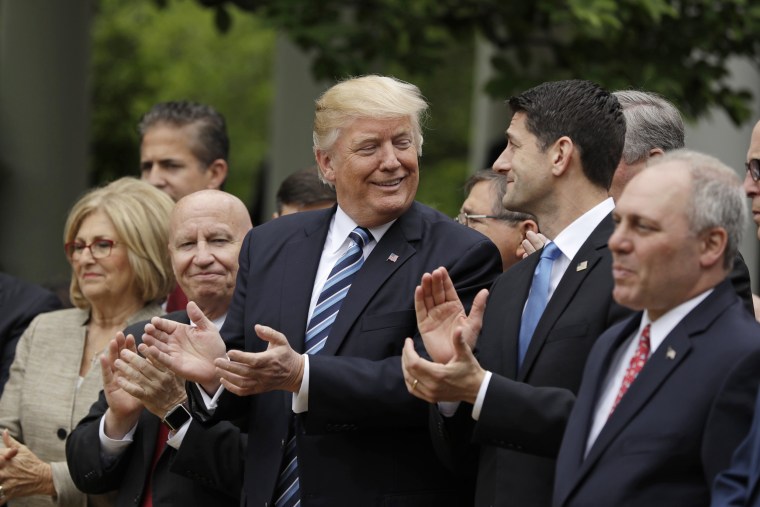 The legislative win comes just after Trump's 100th day in office.
"[I've] only been a politician for a short period of time," he said. "How am I doing? Am I doing okay? I'm president. Heh! Hey, I'm president!"
Vice President Mike Pence told Republicans: "Welcome to the beginning of the end of Obamacare.
The embattled healthcare bill narrowly passed the GOP-controlled House after an earlier failure in March on the part of Ryan and the White House to bring together a divided Republican Party. The final vote Thursday was 217-213.
Related: Here's What You Need to Know About the Health Care Bill
White House Deputy Press Secretary Sarah Huckabee Sanders told reporters Thursday in a gaggle before voting had ended that the president had been "incredibly engaged in this process" and engaged directly with fifteen to twenty members of Congress to get them to yes.
The American Health Care Act now heads to the Senate, where it is expected to undergo changes and some Republican senators have already expressed concerns about the plan.
"I feel so confident" it will pass the Senate, Trump said.
The House bill guts fundamental pieces of Obamacare, including coverage subsidies, Medicaid expansion and the mandate that Americans buy insurance or face a fine. The latest round of negotiations brought more money to be used for individuals with pre-existing conditions in high-risk pools in states that decide to waive essential health benefit requirements for insurers.
"Yes, premiums will be coming down. Yes, deductibles will be coming down. But very importantly: It's a great plan," Trump said.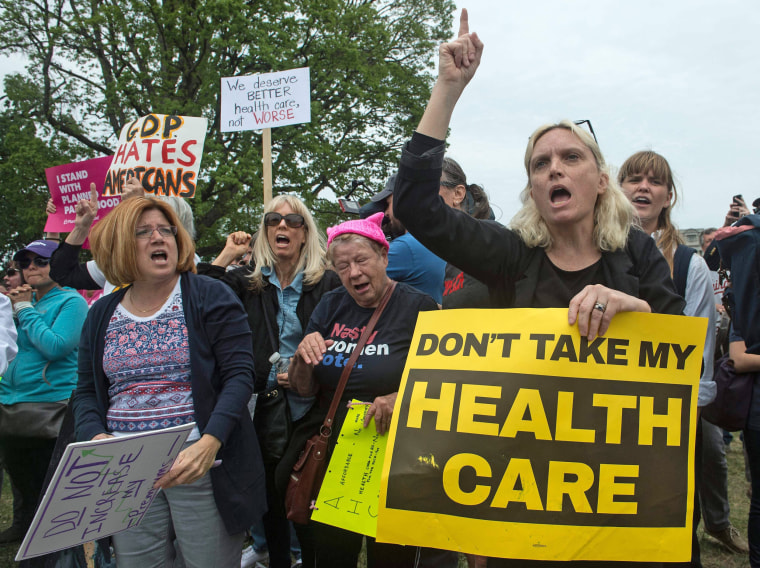 Republicans voted on the bill without a new Congressional Budget Office analysis of the cost and impact. Asked Thursday why the rush to vote without a CBO score, Sanders told White House reporters that "it's impossible to score" or assess the legislation's potential impact because of so many moving parts.
Immediately after the House vote — which finished with protest chants of "shame" outside the Capitol and Democrats singing "Hey, Hey, Goodbye" at their GOP counterparts — Republican lawmakers boarded buses to the White House to celebrate the legislative victory.
"The journey continues," Trump said after a round robin of lawmakers took the mic. "We will get it done."
A slate of grassroots organizations, health advocates and Democratic lawmakers vowed to stop the measure's momentum.
"This bill is going nowhere fast in the United States Senate," Senate Minority Leader Chuck Schumer said in a statement on Thursday. "Rather than trying to pass a different version of the same Trumpcare bill that would mean higher costs and less care, Senate Republicans should refuse to follow their House colleagues over a cliff, reject repeal, and work with Democrats to improve our healthcare system in a bipartisan way."