WASHINGTON — President Donald Trump, in an extraordinary White House event on Wednesday, heard heart-breaking personal stories of loss from the parents and friends of young people who had died in school shootings.
The parents and students seated around Trump in the State Dining Room — some in tears, others speaking with voices raised in anger — pleaded with the president for action to make schools safer and back additional gun control measures.
"Fix it!" an anguished father, Andrew Pollack, told Trump as he stood and told the story of the murder of his daughter Meadow, 18, at Marjory Stoneman Douglas High School in Parkland, Fla., last week.
"It should've been one school shooting, and we should've fixed it," said Pollack. "I'm pissed."
"You don't want to be me — no parent does," said Nicole Hockley, whose 6-year-old son was murdered in the 2012 shooting at Sandy Hook Elementary School. "You have the ability to save lives today, please don't waste this."
She was seated next to Sam Zeif, whose text messages with his 14-year-old brother, who was also at the Florida school during the shooting, went viral online. On Wednesday, Zeif spoke through tears, saying he did not understand why it is so easy to buy an AR-15, the kind of gun used in the Parkland shooting and many others over the past few years.
"How is it that easy to buy this type of weapon? How have we not stopped this after Columbine, after Sandy Hook?...We need to do something," said Zeif, whose best friend was murdered: "I'm here to use my voice because I know he can't."
Another parent, Cary Gruber, recounted his son's texts to him as a shooter attacked Stoneman Douglas last week "saying 'if something happens, I love you.'"
Gruber called for raising the age for gun purchases. "If he's not old enough to buy a drink, he should not be able to buy a gun at 18 years old. That's just common sense," he said.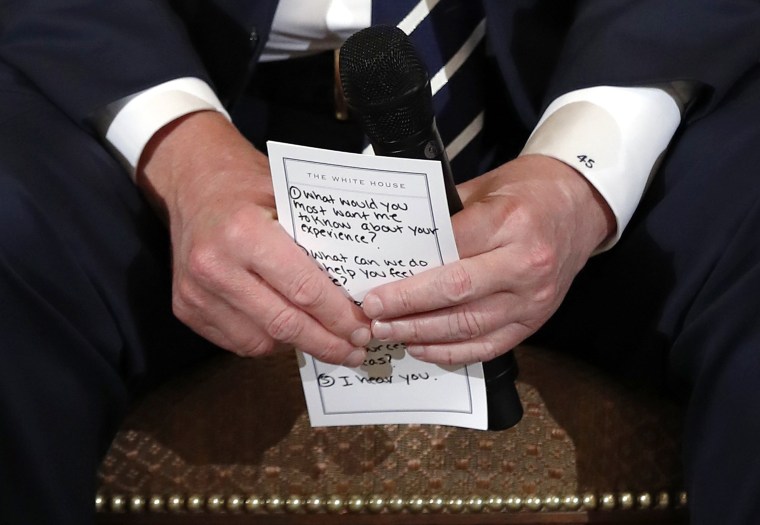 Trump told the group he would "do something about this horrible situation that's going on" in America, and that he hoped to "figure it out together" with those students, teachers and parents gathered at the White House.
"We don't want others to go through the kind of pain that you've gone through," Trump said.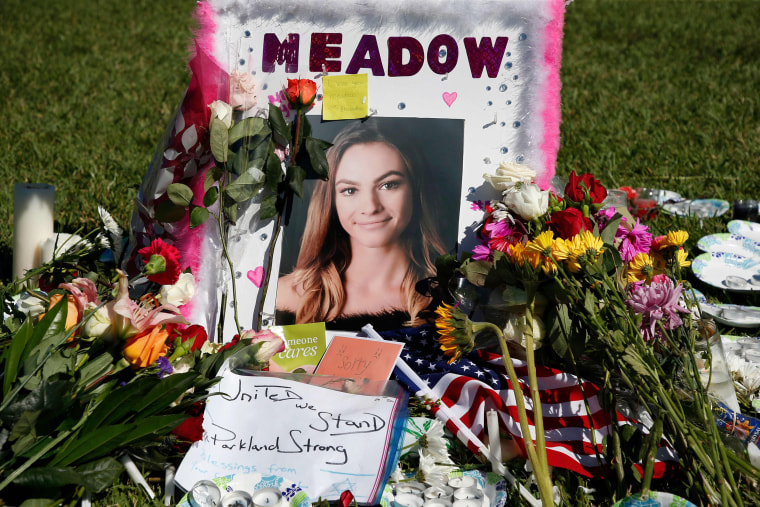 Trump spoke about potential solutions to address the violence, expressing support for arming school officials and teachers and backing ending gun-free zones, which he said are a sign to shooters that says, "Let's go in and let's attack because bullets aren't coming back at us."
The president conceded that concealed carry "only works" with people who are "very adept at using firearms" but said that if one of the "brave" coaches in Parkland who tried to stop the shooter had had a gun, he could have shot the shooter instead of running at him.
While some parents present seemed to back the idea, Mark Barden, who lost his 7-year-old son Daniel in the Sandy Hook massacre, spoke against it, to some applause.
"School teachers have more than enough responsibilities right now than to have the awesome responsibility of lethal force to take a life," said Barden, who is also married to a schoolteacher himself. Shooters are "not going to care if someone's there with a gun," he argued. "That's their plan anyway."
The president said other potential measures the administration was looking at include stricter background checks and a greater focus on the mental health of potential gun buyers, as well as a change to the age at which individuals would be allowed to purchase weapons.
Trump also said that the Parkland shooter "should have been nabbed a number of times" based on what was known about his struggles with mental health, adding that it was unfortunate that "if you catch somebody" with mental illness, in today's society there's "no mental institution to bring them" to for treatment.
In the days since the Parkland shooting, students who survived the attack have spoken out about the need for gun control and action from Washington to prevent more violence — and called for party politics and interest group allegiances to be put aside.
But Parkland students who have captured national attention with their gun control activism following the tragedy were not present at the White House Wednesday. One of them, Cameron Kasky, tweeted that it was because they were not invited.
"We don't have time to thank these people for taking half a step in the right direction," he said.
Trump himself has benefited from the endorsement and financial support of the National Rifle Association as a candidate, and has continued to be an outspoken supporter of gun rights as president.
On Tuesday, the president directed the Justice Department to propose a rule that bans so-called "bump stocks" that allow shooters to engage gun triggers faster, causing them to fire at a rate similar to an automatic weapon. That move comes in response to America's deadliest mass shooting in Las Vegas last year.
Trump has also tweeted in recent days about the need to strengthen background checks. But despite his expressions of willingness to take action, it is unclear how far the president will ultimately venture into the gun control debate.