The agreement signed by President Donald Trump and North Korean leader Kim Jong Un on Tuesday appeared to contain no new pledges and was padded with vague language that many experts said would be difficult to enforce.
While some commentators were scathing, others painted the meeting as a historic first step in a process where the technical details would come later.
And even some critics conceded that any level of diplomacy was preferable to the apocalyptic threats Trump and Kim traded last year.
Tuesday's document described itself as "an epochal event of great significance" and said Kim's regime had agreed "to work toward complete denuclearization of the Korean Peninsula."
This commitment is nothing new.
As recently as April, North and South Korea pledged to work toward the "common goal" of "complete denuclearization" and "a nuclear-free Korean Peninsula."
And in 1994, the U.S. and North Korea signed an "Agreed Framework," which said Pyongyang would "consistently take steps to implement" a denuclearization pact from two years earlier.
"The declaration amounts to pretty much nothing — it's an empty commitment," Andrei Lankov, a professor at Kookmin University in Seoul, told NBC News.
Lankov said he believed Trump had achieved an accomplishment by bringing Kim to the negotiating table, but squandered the opportunity by letting the despot give nothing away while gaining a plethora of photo opportunities and good PR.
"The Americans had the opportunity to force the North Koreans to make significant concessions, but they didn't use the advantage they had," said Lankov, who is also director of the NK News website.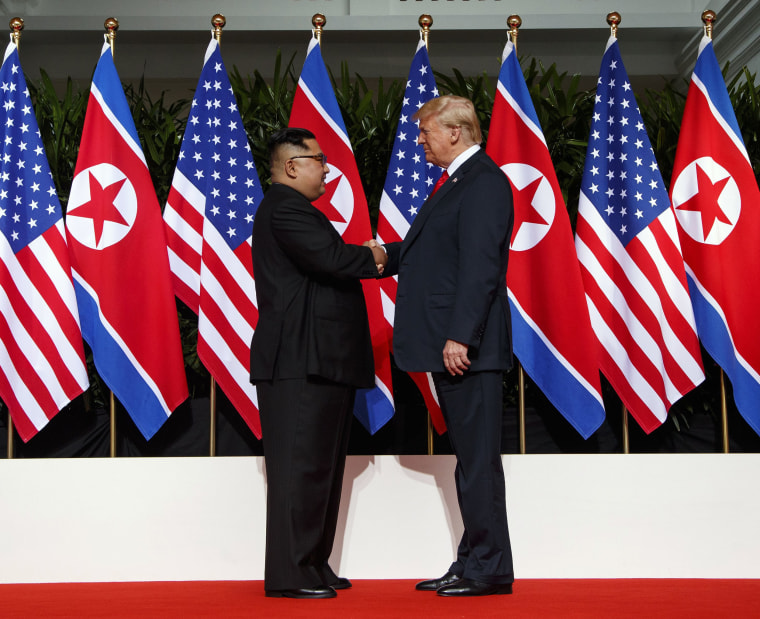 The North Koreans are in no rush. Trump will be president for a maximum of seven more years; Kim plans to rule North Korea for the rest of his life.
Even if these are just the opening pleased-to-meet-yous, skeptics predict the North will drag its heels, canceling meetings, fudging details, so that the ever-more distant prospect of "denuclearization," while agreed upon, is never actually fulfilled.
"They will play for time," Lankov said.
Others disagree.
Rüdiger Frank, a professor of East Asian economy and society at the University of Vienna, wrote on Twitter that "Trump saved the process by taking it slow and one baby step at a time, rather than killing it before it starts."
'Vague, meaningless pledge'
On Tuesday it appeared Kim didn't surrender any more ground on his nuclear arsenal than his isolated state has done in the past three decades
"I don't think Kim Jong Un has given up anything that hasn't been given up before," Christopher Hill, who served as ambassador to South Korea under President Barack Obama, told MSNBC. "I wouldn't even call this a statement — it's a restatement."
In return for the North working toward denuclearization, the agreement said the U.S. would "provide security guarantees" to North Korea — without saying what those might be.
On Twitter, Vipin Narang, an associate professor of political science at MIT, called this "a vague, meaningless pledge in exchange for a vague meaningless guarantee."
Robert Kelly, professor of political science and diplomacy South Korea's Pusan National University, labeled it "depressing" and "even thinner than most skeptics anticipated."
Trump later said in a press conference that the U.S. would pause its joint military exercises with South Korea, a concession that according to Adam Mount, senior fellow at the Federation of American Scientists, went further than it needed to.
Where's the V?
Going into Tuesday's summit, U.S. said it would accept nothing short of the "complete, verifiable, irreversible denuclearization" of the Korean Peninsula — often shortened to CVID.
Just one day earlier, Secretary of State Mike Pompeo was clear how important the "verification" part was to U.S. interests.
"The 'V' matters. We are going to ensure that we set up a system sufficiently robust that we're able to verify these outcomes," Pompeo told reporters in Singapore on Monday. "It's only once the 'V' happens that we'll proceed apace."
Tuesday's statement did not contain the word "verification."
Another complaint from critics was that the document did nothing to clear up the different definitions of "denuclearization" used by the U.S. and North Korea.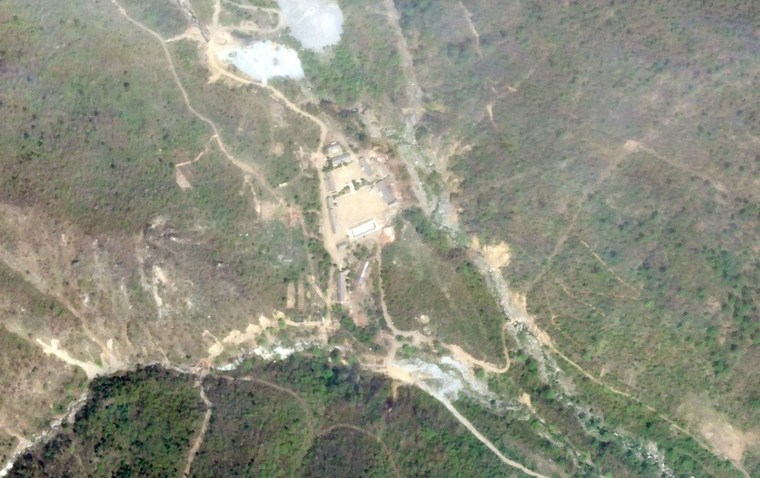 For the U.S., denuclearization means the removal of North Korea's nuclear arms capabilities, and according to National Security Adviser John Bolton its ballistic missiles and chemical and biological weapons, too.
The North sees denuclearization as a two-way street: The U.S. might have to remove the so-called nuclear umbrella over its Asian allies, and with it the ability to protect countries like Japan and South Korea with the option of a retaliatory or preemptive strike.
Although many experts were unhappy with the specifics, few denied the historic significance of two traditional foes sitting down together — exchanging pleasantries rather than threats of annihilation.
Although shaking hands with one of the worlds most repressive dictators may be unpalatable, it arguably places the world in less danger than talk of "nuclear buttons" on social media.
"What this [agreement] does is encourages Kim Jong Un in his readiness to come out into the world for dialogue and making peace," wrote John Delury, a professor at South Korea's Yonsei University.