WASHINGTON — President Donald Trump is getting exactly what he wanted from a racially charged confrontation with professional athletes and sports team owners: a morale boost for his base and a fight with those who see the refusal to stand for the National Anthem as an appropriate form of dissent.
Trump's fiery declaration on Friday night that National Football League owners should "fire or suspend" players who kneel during the anthem was met Saturday with fierce criticism and on Sunday with mass demonstrations of resistance on the field.
Some players knelt, while others locked arms in solidarity. Baltimore Ravens coach John Harbaugh and Jacksonville Jaguars owner Shahid Khan were among those who joined players in protests that are now nearly as much about Trump as the original desire, pushed into the spotlight more than a year ago by Colin Kaepernick, to highlight racial injustices in the criminal justice system.
"He wanted a reaction. He got that reaction," former Republican National Committee Chairman Michael Steele told NBC News. "It's very disappointing — the same level of stuff we get from the president that doesn't advance a genuine conversation but polarizes people into camps. … This is asinine."
But at a time when some of Trump's staunchest allies are lining up against him in an Alabama Senate GOP runoff on Tuesday, his effort to dismantle Obamacare is hanging by a thread, and the president has been more likely to team up with Democratic leaders than Republicans on legislation, GOP strategists say Trump found an issue that reminds his supporters where he stands on cultural issues.
Photos: NFL Players Lock Arms, Kneel During Anthem to Protest Trump
"He is giving lots of red meat to his base to fire them up before a crucial election," GOP strategist John Feehery said of the Alabama contest, which pits Trump-backed Sen. Luther Strange against anti-establishment favorite Roy Moore. Several longtime Trump loyalists, including former White House political strategist Steve Bannon and Housing and Urban Development Secretary Ben Carson, are siding with Moore.
"I am fascinated by how the Democrats are falling into Trump's trap and fully backing the protestors," Feehery said. "Not sure if that is smart politics for them. Could be wrong, but (it) seems risky to me."
Trump waded into the fight over the anthem at a rally for Strange on Friday night and he continued it with a series of tweets over the weekend. The president then upped the ante by withdrawing his invitation for the Golden State Warriors — the National Basketball Association champions — to visit the White House after the team's star, Stephen Curry, said he would encourage teammates not to attend.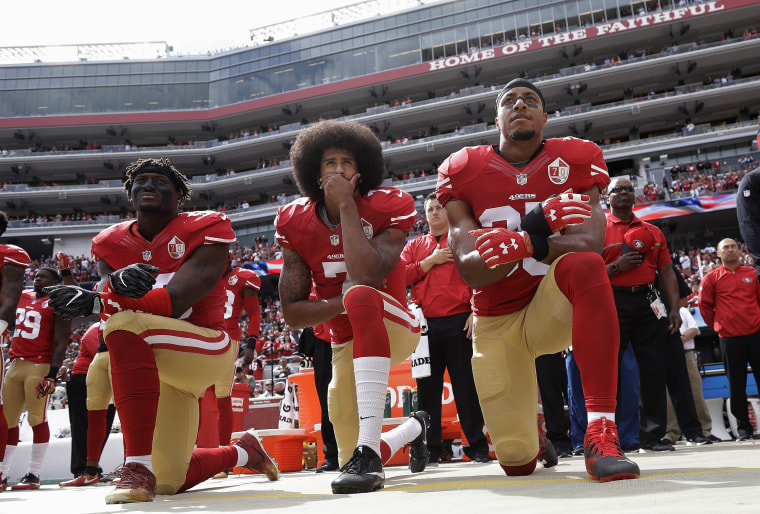 On NBC's Meet the Press, White House director of legislative affairs Marc Short accused Curry and the Warriors of starting an unnecessary fight with the president.
"Steph Curry is an amazing athlete. But why the Warriors chose to politicize an invitation to the White House, I think, is unfortunate," Short said.
In part because the protests have been about the treatment of African-Americans by police and in part because the athletes Trump has chosen to single out for scorn are black, the battle has been tinged with racial overtones.
And other African-American athletes have weighed in to defend their peers. "U bum," Cleveland Cavaliers star LeBron James tweeted at the president on Saturday. "@StephCurry30 already said he ain't going! So therefore ain't no invite. Going to White House was a great honor until you showed up."
Trump said Sunday that his comments had "nothing to do with race."
"I've never said anything about race," the president told reporters. "This has nothing to do with race or anything else. This has to do with respect for our country and respect for our flag."
But Democratic strategist Rodell Mollineau said he believes that Trump is more interested in stoking racial divisions than defending the flag.
"Let's be clear. His remarks weren't about God and country. The president gave a speech George Wallace would be proud of," Mollineau said of the president's remarks on Friday. "His remarks were meant to stir up his base and to temporarily distract from the failures of his administration. On those counts, he has succeeded."
Mollineau added that Trump's moves could "backfire on him, but only if more white professional athletes start kneeling with their teammates." That "would be seen as pretty big rebuke to Trump's racially charged rhetoric," he said.
An NBC/Wall Street Journal poll released last week showed that 25 percent of Americans approve of Trump's handling of race — a small minority but a significant portion of his political base. And as Republican strategists pointed out in interviews on Sunday, Trump is on much more solid ground when the issue is whether athletes should kneel during the anthem.
A Quinnipiac University poll conducted last year showed that a majority of Americans (54 percent) disapproved of the protests and just 38 percent approved.
"Ultimately, it's something that a lot of American are going to agree with him on," GOP strategist Brian Darling said.
Steele, the former chairman of the Republican Party, said Americans should be upset that the president is dividing them, regardless of whether it makes sense politically.
"I don't give a damn if it's helpful to him or not. That should not be the standard we're applying," he said. "The standard should be is what the president's saying and doing helpful or harmful to the American people."