WASHINGTON — President Donald Trump appears likely to pull the plug on DACA, the Obama-era program allowing young people who came to the U.S. illegally as children to remain here, several government officials said Friday.
Administration officials said Friday that the Homeland Security secretary, Elaine Duke, and Attorney General Jeff Sessions discussed the program with senior officials Thursday during a meeting at the White House. Sessions has been a consistent opponent of the program.
As many as 1 million immigrants could be affected.
Trump is said to be weighing whether to let DACA gradually expire or end it immediately, but the officials said it is not yet clear which option Trump may choose.
The program "continues to be under review," Sarah Huckabee Sanders, the White House press secretary, told reporters Friday.
Civil rights groups warned that canceling DACA would play into the hands of white supremacists.
"It would be a grave moral and legal error," said Vanita Gupta, director of the Leadership Conference on Human Rights and former head of the Justice Department's civil rights division under President Barack Obama.
"Killing the DACA program as the Trump administration's first post-Charlottesville move would be absolutely shameful," Gupta added. "We must not allow the hate violence that we saw on the streets of Charlottesville to become the guiding force for policy making."
Obama urged then president-elect Trump to think "long and hard" before halting DACA. Obama also said he would speak out against any attempt to end the program because he would see that as an assault on American values.
"The notion that we would just arbitrarily or because of politics punish those kids, when they didn't do something themselves...would merit my speaking out," Obama said.
The administration had been contemplating what to do with the program since well before the deadly violence in Charlottesville, Virginia. By invoking the issue of white supremacist opposition to immigration, civil rights groups were demonstrating how strongly they intended to fight to keep DACA.
Republican attorneys general from 10 states, plus the governor of Idaho, urged the White House in late June to let the program lapse by Sept. 5. Otherwise, they said, they will urge a federal court to strike it down.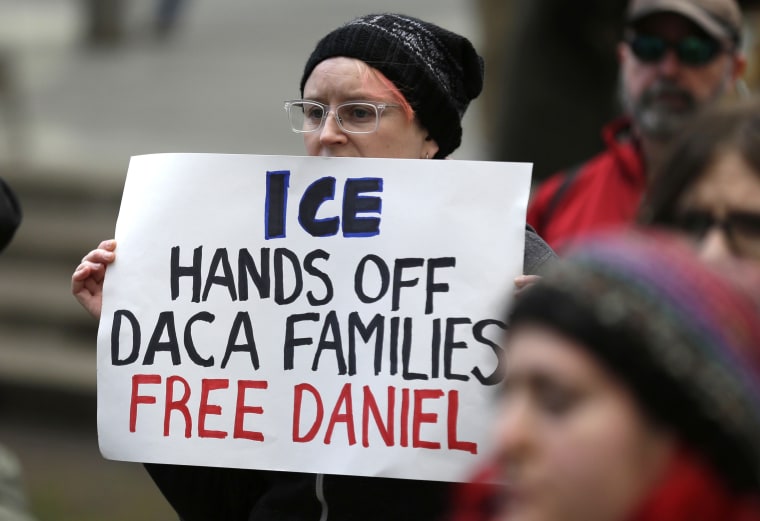 Begun in 2012 under the Obama administration, the DACA program allows young people who arrived by 2007 to remain in the country if they were illegally brought by their parents to the U.S. before they were 16, have lived here since then, and have not committed serious crimes. Some also came here legally with their parents but then overstayed their visas.
Those eligible must renew their DACA status every two years.
More than 800,000 are now covered by the policy and can legally apply for work permits. Immigrant rights groups said 200,000 young people have sought DACA status since Trump became president.
Greisa Martínez Rosas, director of advocacy and policy for the immigrant rights group United We Dream and a DACA recipient herself, told reporters, "We are ready to bring on the fight."
"We are ready to ensure that Donald Trump does not throw our lives to Congress like a hot potato," she said. "Donald Trump has the ability to keep the program in place and we will force him to do that — he awakened a sleeping giant and we will not go back to sleep."
During his campaign, Trump said he would cancel DACA. But in late April he sent a different message, telling the Associated Press that young people covered by the program could "rest easy" because his priority was deporting criminals. "This is a case of heart," he said.
In their letter urging the White House to end the program, the 10 Republican attorneys general suggested allowing it to lapse by refusing to grant any further DACA renewals. Currently valid permits could continue in force until they expired, they said.
Their letter sparked discussions inside the Trump administration over whether it would be willing to defend the program in court.