The U.S. forces that supported Iraqi troops during the operation to recapture Mosul from the Islamic State this year used it.
And it could be in a police department near you.
It is a mine-resistant, ambush-protected vehicle, known as a MRAP, and they each weigh 18 tons and are designed to withstand bombs, bullets, mines and grenades. They've been used in Iraq, in Afghanistan and in America, in cities such as Miami Beach, Florida, and Fairbanks, Alaska.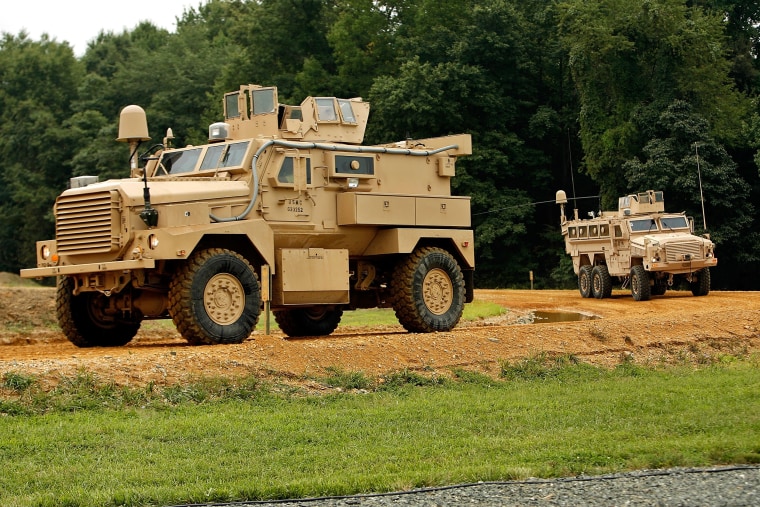 These vehicles and thousands of other pieces of military surplus equipment have been shipped free to law enforcement agencies across the country after President Donald Trump, in an executive order in August, removed Obama-era reforms that had banned local police from receiving some equipment and placed tight restrictions on others.
Obama acted after the confrontation between police and protesters in Ferguson, Missouri, in 2014 following the shooting of an unarmed black man. The striking images on social media of military equipment being used by police for crowd control drew national attention to the military equipment surplus program.
After Obama tightened the program in 2015, for instance, police departments seeking MRAPs from the Defense Department had to submit a detailed justification for why they were needed and how officers would be trained to use them.
"We've seen how militarized gear can sometimes give people a feeling like there's an occupying force," Obama said at the time. "Some equipment made for the battlefield is not appropriate for local police departments."
Now, after Trump has loosened the program's requirements, the volume of surplus equipment flowing to police agencies is roughly the same as it was under Obama. But what's changed is the need for justification, mandated federal supervision and training — and that's got critics warning about trouble ahead.
"There is no accountability in place," said Ed Chung, a former Justice Department official who led the group that advised Obama on the issue.
Defense Department data reviewed by NBC News shows that the agency's "1033 program," the main supplier of military surplus equipment, has shipped seven MRAPs worth nearly $12 million to local police departments, including those in Florida, Alaska and Mississippi, since Trump altered the program.
Overall, more than 4,000 pieces, including night vision goggles, clothing and bomb disposal robots, have been approved and sent out by the Pentagon through Oct. 23, according to the Defense Department.
Congress created the program in 1990 during the height of the war on drugs for federal and state law enforcement agencies, and it was expanded seven years later to include all law enforcement departments. Since the program's inception, more than $5.4 billion in equipment has flowed to police.
Attorney General Jeff Sessions, announcing the rollback of Obama's order, said the program "went too far."
"We will not put superficial concerns above public safety," Sessions said. "This isn't about appearances, it's about getting the job done and getting everyone to safety."
Supporters of the recent changes to the program under Trump note that majority of the equipment is defensive in nature and argue that police departments, not the federal government, should have the say on who is trained to use the equipment.
"The fact that it doesn't look good is more an indictment of the rioters than it is an officer," said Jim Pasco, the executive director of the Fraternal Order of Police, who charged that Obama acted "politically and emotionally, rather than analytically" after Ferguson.
Obama banned the shipment to police of grenade launchers, weaponized vehicles, bayonets, rifles, ammunition of .50 caliber or higher, and certain armored vehicles that resemble tanks. Under Trump, those items are no longer prohibited.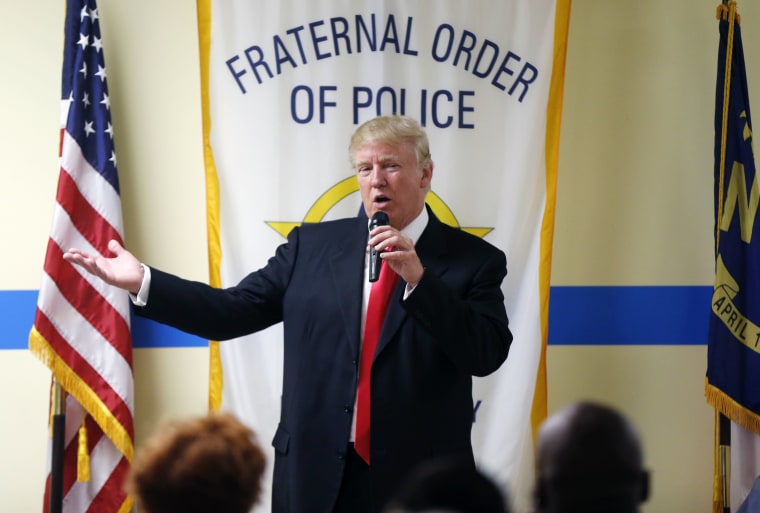 Obama also put in place oversight measures, called a controlled items list, for other equipment, such as MRAPs and riot gear, seen as potentially lethal or as having a negative effect on communities, and police agencies were required to justify their need for the equipment.
Trump's executive order eliminated the controlled items list and its requirements.
None of the previously banned equipment has yet to be shipped to local agencies under Trump, but critics fear it's just a matter of time.
"With President Trump rescinding the executive order, and everything that it deals with, we're back to where we were before," said Chung, the former Justice Department official.
Trump's action scrapped the Obama requirement that local enforcement agencies demonstrate that they could maintain the military equipment and had in place extensive training for all staff for each piece of equipment received, from MRAPs to body armor.
The federal government also had processes in place to keep detailed records of requests and improve communication between federal agencies about where the equipment was being sent. Police had to alert their communities about what they were requesting and why.
Those requirements have been scrapped under Trump, although the Defense Department is preserving the effort to better communicate with the various other federal agencies that provide resources to local law enforcement agencies.
"The entire point of it was how do we ensure that police departments are getting what they need to protect and serve while at the same time being accountable to the public that paid for the equipment in the first pace and being accountable to the communities that they serve," Roy Austin, a former DOJ official who worked on the issue, told NBC News.
Before Obama's order, Austin said, the federal government did a poor job of maintaining proper records, communicating with the various federal agencies that had similar, although lesser-known, programs, and police departments were also haphazardly requesting equipment they were unprepared to use, which he said made the program ripe for abuse.
Obama's order, he said, meant that "people were thinking before ordering a bunch of toys."
But Jonathan Thompson, executive director and CEO of the National Sheriffs' Association, said Obama went too far and he praised Trump for scaling it back.
"It put more realistic regulations in place," he said. "Rather than everybody be trained on every piece of equipment, the police chiefs and sheriffs determine what training is needed."
Pentagon spokeswoman Susan Lowe said Trump's executive order has had "minimal impact" on how the program is being run and added that local police departments still have to demonstrate that training has been provided. The training requirements are codified in the 2016 National Defense Authorization Act, the Defense Department said.
However, Kanya Bennett, a lawyer at the American Civil Liberties Union, who also worked on the issue with Obama, questioned the Defense Department's claim.
"I don't want anyone to think that the (National Defense Authorization Act) requires much of law enforcement," she said. "It's a really a 'check the box' that you have training."
She said the ACLU supports requiring that communities, through their city councils or other local officials, approve the use of surplus equipment before police departments in those municipalities are able to obtain it.
"I can understand the reluctance to prohibit some of these items outright," Bennett said. "But at the very least, you should leave that to the community that stands to be policed by this."
Eric Jewkes, the police chief in Fairbanks, Alaska, said he understands both sides of the debate.
"Our main focus is public safety and our officers' safety," said Jewkes, whose department acquired a MRAP under the program in September. "There's certainly equipment and resources that are accessible and are used by our military that is probably not appropriate, but there are some that have application to law enforcement."
Jewkes said the 46-person department is near an Army base, and has its own training protocols in place, as well as the ability to properly maintain the equipment.
"It seems like a waste to dispose of, when we can you use them in the law enforcement," he said. "The good or bad is how and when to use them."