MANILA, Philippines — It was a brief preview of talks to come Monday, but one all eyes were on.
U.S. President Donald Trump met with Philippine President Rodrigo Duterte at an economic summit here, leaving unanswered questions about whether he'd bring up human rights violations.
After the meeting, White House press secretary Sarah Huckabee Sanders said that "human rights briefly came up in the context of the Philippines' fight against illegal drugs." ISIS and trade were also discussed, she said.
Duterte, for his part, chided reporters for shouting questions during a brief availability, saying it was a bilateral meeting, not a news conference — but leaving the door open to one afterward. Last week, Duterte said he would tell Trump to "lay off" if he raised the issue of human rights.
Remarks from the two leaders to the presswere short. Trump called the U.S.-Philippine relationship "great" and praised Duterte for the entertainment he provided to leaders at the Asian summit.
The brief availability ended with Duterte previewing talks to come and jabbing at the press.
"We will be discussing matters that are of interest to both the Philippines and — with you around, guys, you are the spies," he said of the media. Trump laughed in response.
"Yes, you are," Duterte repeated before reporters were ushered out of the room.
At a short follow-up press briefing where Trump gave short remarks, Duterte had another jab for the reporters, saying he "would like the media to leave us alone."
Asked during a news conference last year about how he'd contend with the Philippines' high murder rate among journalists, Duterte said being in the profession doesn't mean you can't be killed.
"Just because you're a journalist you are not exempted from assassination, if you're a son of a bitch," he replied. "You won't be killed," Duterte added, "if you don't do anything wrong."
Earlier in the day, Trump joined hands with Duterte and other leaders for a welcome photo, clasping hands through crossed arms — a pose that vexed Trump at first.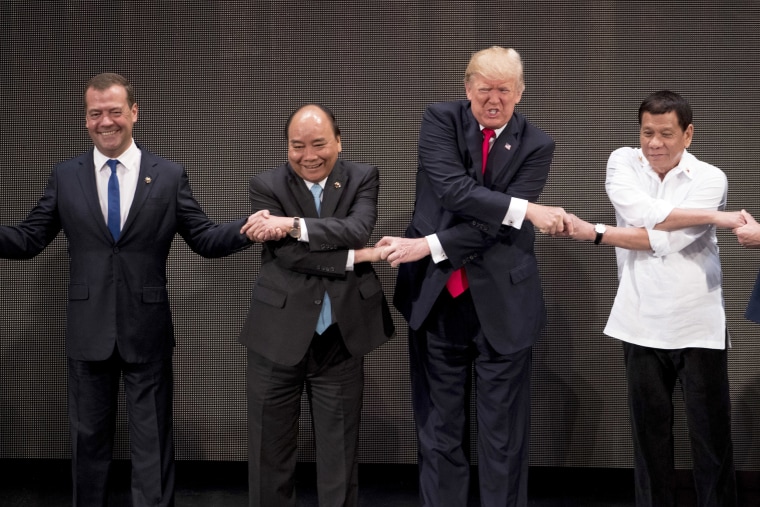 Despite Duterte's controversial anti-drug campaign and known human rights abuses, a senior White House official told reporters before the trip that the two leaders had a "warm rapport."
Trump's national security adviser, H.R. McMaster, had previously told reporters that the president had taken a "very strong stance" on human rights —"quietly" bringing them up with leaders during meetings.
"How much does it help to yell about these problems?" McMaster asked, defending the administration's behind-closed-doors strategy on an issue that previous presidents have taken on publicly.
Days before Trump touched down in the Philippines, a senior administration official previewed a discussion on the drug war that would focus on "ways in which that war could be prosecuted that conform with Philippine law and international norms for human rights."
Trump didn't answer Sunday when reporters asked him whether he planned to push Duterte on human rights.
Protesters took the streets near the U.S. Embassy in Manila by the thousands on Saturday and Sunday, and their at times violent outcry against Trump's visit was met by police with water cannons.