WASHINGTON — President Donald Trump boasted Wednesday that he once privately challenged Canadian Prime Minister Justin Trudeau's understanding of the trade balance between the two countries — without knowing the facts himself — and turned out to be right.
Imitating Trudeau at a fundraiser for Missouri Republican Senate candidate Josh Hawley, Trump recounted the prime minister insisting during a meeting that the U.S. does not have a trade deficit with Canada.
"I said, 'Wrong, Justin, you do.' I didn't even know," Trump said, according to an audio recording of his remarks obtained by NBC News. "I had no idea. I just said, 'You're wrong.' You know why? Because we're so stupid. ... And I thought they were smart. I said, 'You're wrong, Justin.'"
Then, in Trump's telling, aides to the two men stepped out of the room, conferred and reported back.
"'Well, sir, you're actually right. We have no deficit, but that doesn't include energy and timber,'" an American official explained to the two leaders, according to Trump's telling. "'And when you do, we lose $17 billion a year.' It's incredible."
Canadian and U.S. agencies calculate the balance differently. According to Statistics Canada, Canada runs a surplus, while the American Commerce Department reports the opposite. That suggests Trudeau may be using U.S. data to make his argument, while Trump might be relying Canadian data to make his.
While Trump has told the basics of the story before, his ridicule of Trudeau, the head of government for one of America's strongest allies and its northern neighbor, is a new twist. In Trump's telling, which was first reported by The Washington Post, he out-maneuvered Trudeau in a leader-to-leader negotiation with what he thought might be a bluff.
In a roughly 30-minute speech to several dozen Hawley donors, Trump also hinted that he might use the presence of U.S. troops in South Korea to force that nation to renegotiate its 2007 trade pact with the U.S.
"We have a very big trade deficit with them, and we protect them," Trump said. "We have right now 32,000 soldiers on the border between North and South Korea. Let's see what happens."
Trump also credited himself for using a hawkish strategy to induce North Korea to enter talks about limiting its nuclear capabilities despite international concern that his rhetoric might provoke a confrontation.
"You know what's going to get us into a war is weakness," Trump told the donors.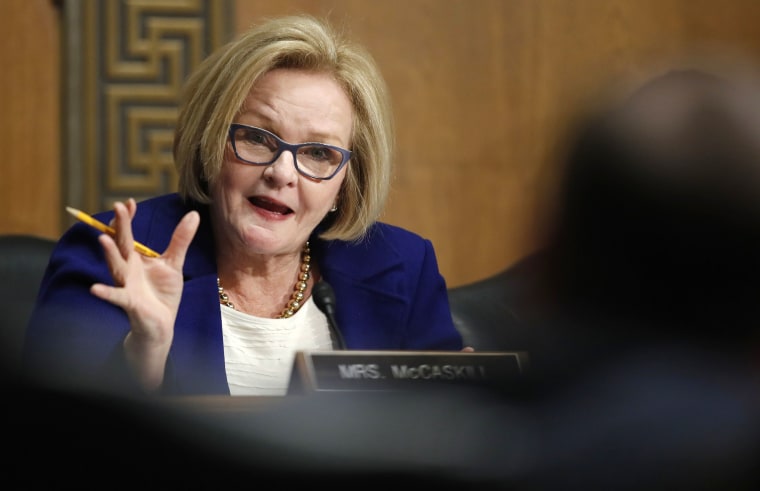 On the domestic front, Trump lit into Hawley's opponent, Sen. Claire McCaskill, D-Mo., and Conor Lamb, the Pennsylvania Democrat who appears to have won a Tuesday special election in a district that favored Trump by 20 percentage points over Hillary Clinton in the 2016 presidential election.
"Claire McCaskill is a guaranteed negative vote on every single thing that you people stand for and frankly that the vast majority of the people of Missouri stand for," Trump said. "It is a negative vote for our country, and you have to defeat Claire McCaskill."
Trump's comments on Lamb echoed what he had said in campaigning for Republican Rick Saccone last Friday: The race was close because the Democrat had emulated Trump.
"He said oh, I'm like Trump. He said, you know, Second Amendment, everything. I love the tax cuts, everything. You wouldn't have known. I mean it's a pretty smart race actually," Trump said.
In fact, Lamb opposed the Trump-GOP tax cuts, calling them a "giveaway" to the wealthy.
Trump argued that if and when Lamb gets to Washington — some ballots are still being counted — he'll be a rubber stamp for House Minority Leader Nancy Pelosi, D-Calif.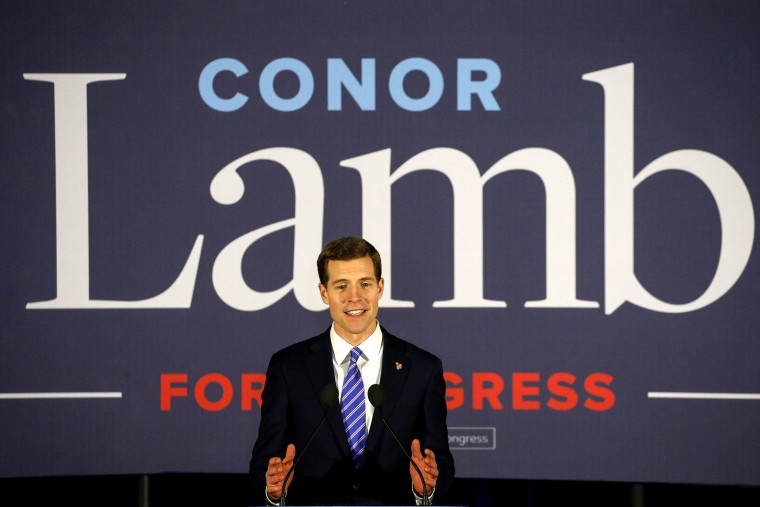 That's the case that Republicans and outside groups supporting Saccone made, seemingly to no avail, before voters went to the polls.
For Trump, the main takeaway was that Lamb succeeded because he sounded like Trump.
"Last night the young man also, he ran on a campaign, he said very nice things about me," Trump said. "I kept saying, 'Is he a Republican?' He sounded like a Republican to me. But I guess when you're popular in a certain area that's probably a good tactic."