President Donald Trump was "loud and clear" in a Monday video-conference with NASA astronauts in space.
The president spoke with Commander Peggy Whitson and Flight Engineer Jack Fischer aboard the International Space Station as Whitson celebrated setting the record for the most time spent in space of any American.
"Incredible record to break," Trump said, congratulating Whitson on behalf of America "and frankly on behalf of the world."
Flanked at his Oval Office desk by daughter-turned-political adviser Ivanka Trump — who has made a push for women in STEM — as well as NASA astronaut Kate Rubins, Trump celebrated the need for exploration and advancement in space.
"Who's ready to go to Mars?" Trump asked the astronauts, who discussed the early research and technology steps that will lay the groundwork for that type of planetary exploration. Whitson estimated humans on Mars "approximately in the 2030s."
Related: Trump Adds to NASA Budget, Approves Crewed Mission to Mars
Always concerned with being ahead of schedule, Trump riffed "We want to try and do it during my first term, or at worst during my second term, so we'll have to speed that up a little bit, OK?"
"We'll do our best," Whitson replied with a laugh.
The focus on results is perhaps not all that surprising, especially as Americans and the media begin this week to take stock of Trump's first hundred days in office.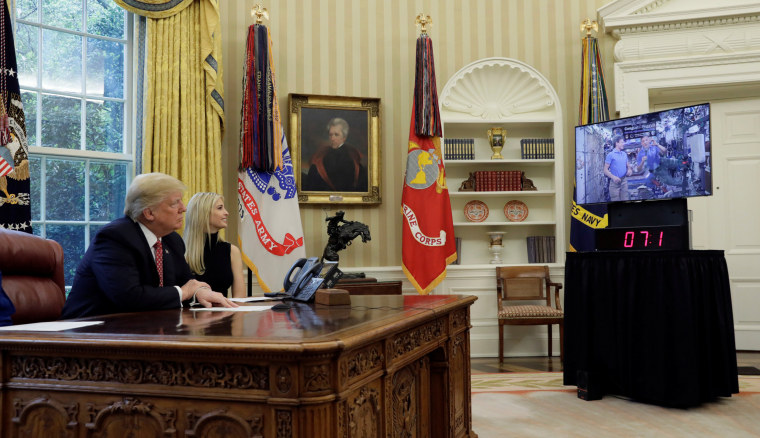 PHOTOS: NASA Astronaut Sets New Record for Americans in Space
But Trump has previously spoken of the need for space exploration, promising a crowd in Kenosha, Wisconsin last week that "we're going to spend again on the NASA space program."
"That's something we need, and we also need it psychologically," he said last Tuesday to applause.
Trump signed the NASA Transition Authorization Act of 2017 last month, an executive order that authorizes $19.5 billion in NASA funding for the fiscal year beginning on October 1. The order places a focus on deep space exploration and sets a goal of a mission to Mars by 2033.
Related: Elon Musk Makes His Case for Colonizing Mars
But Trump's budget calls for the agency's budget for the following year to be cut to $19.1 billion — a decrease of about 1 percent. The budget also cuts funding to other science-related agencies such as the National Institute for Health and Centers for Disease Control.
Trump's call to ramp up up space exploration also dovetails with the White House-backed push for getting more women into STEM roles and jobs.
In February Trump signed the INSPIRE Women Act, requiring NASA to facilitate and engage with female STEM students in kindergarten through twelfth grade in order to encourage them to enter careers in aerospace and science, tech, engineering and math fields.
Celebrating Whitson's accomplishment, Ivanka offered congratulations and called her an "incredible inspiration to us all."