WASHINGTON — President Donald Trump declared the Affordable Care Act a "meaningless promise" Monday, using his presidential bully pulpit to amplify his calls for action on stalled Republican attempts to repeal and replace Obamacare — which he called "death" at one point.
"Obamacare has wreaked havoc on the lives of innocent, hard-working Americans," Trump said at the White House, joined by families whom he said had suffered under the ACA.
The president hammered Democrats for their lack of bipartisanship and decried their criticism of Republican efforts to reform health care.
"They say death, death, death. Well, Obamacare is death," Trump said. "That's the one that's death."
Trump's remarks come amid failed GOP pushes so far to repeal and replace Obamacare, with the White House urging Republicans to act this week.
Senate Majority Whip John Cornyn, R-Texas, told reporters Monday that he expects the Senate on Tuesday to begin debate on health care legislation.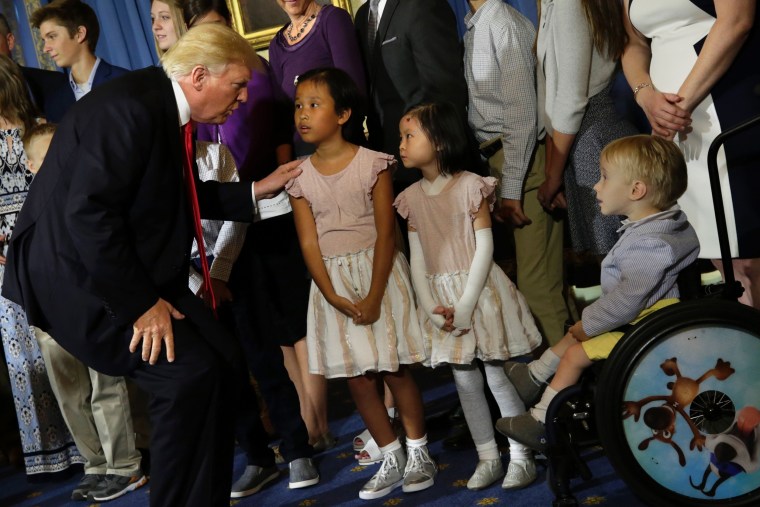 Trump painted Tuesday's vote as a chance at redemption for Democrats and moment of truth for Republicans who have long promised to get rid of Obamacare.
"Any senator who votes against starting debate is telling America that you are fine with the Obamacare nightmare," the president said.
The margin for success remains close for the GOP — a struggle for Senate Republicans over the last several weeks, and one that Trump indicated he well aware of.
"Democrats aren't giving us one vote," the president said, "so we need virtually every single vote from Republicans," which, he added, is "not easy to do."
The Republicans control the Senate with 52 votes, so they can only afford to lose two votes on any legislation to overhaul health care. Several GOP senators have already expressed opposition or are on the fence.
Trump has long advocated repealing and replacing the Affordable Care Act. But earlier Monday, the president pressed Republicans take a first step to "just REPEAL failing ObamaCare now & work on a new Healthcare Plan that will start from a clean slate."
The president has said he believed Democrats would join that process, despite deriding them for what he deemed partisanship and obstruction on the issue.
Last week, Trump told reporters it was the time to let Obamacare fail and that he and Republicans would take no blame for any fallout.
"We're not going to own it," Trump said last week. "I'm not going to own it. I can tell you, the Republicans are not going to own it."
Senate Majority Leader Mitch McConnell told reporters outside the White House last week that a vote would be brought up this week, but it remains unclear whether Republicans were going to vote on a simple repeal or a repeal with a replacement plan.
"We're going to vote on a motion to proceed to the bill next week," he said, allowing that "it's pretty obvious we've had difficulty in getting 50 votes to proceed but what I want to disabuse any of you of is the notion that we will not have a vote next week."