WASHINGTON — President Donald Trump would be willing to invite Russian President Vladimir Putin to the White House "at the right time," he told reporters aboard Air Force One Wednesday night.
"I don't think this is the right time," the president said of the hypothetical White House invitation, "but the answer is yes, I would. Look, it's very easy for me to say absolutely, I won't. That's the easy thing for me to do, but that's the stupid thing to do. Let's be the smart people, not the stupid people."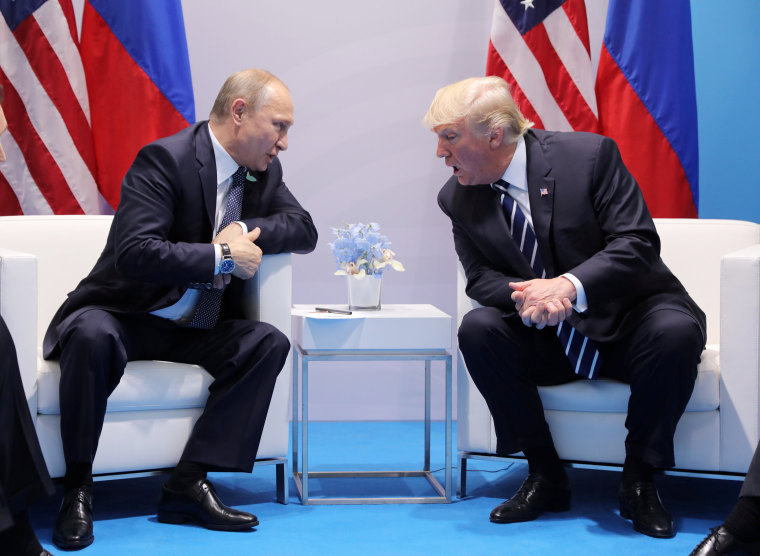 The remarks were released for publication by the White House on Thursday afternoon.
As he has in the past, Trump said that the two superpowers should have an open dialogue, despite Russia's meddling in the U.S. 2016 election — a topic Trump discussed with Putin in their meeting last week at the G-20 Summit.
After a bilateral meeting in Hamburg that lasted more than two hours, Russian officials said Trump accepted Putin's denials about Russian interference. Since then, White House officials have declined repeated opportunities to push back on that account on the record.
Trump himself recounted the meeting Wednesday night, saying he asked Putin "very simply ... were you involved with the meddling in the election? He said, absolutely not. I was not involved. He was very strong on it. I then said to him again, in a totally different way, were you involved with the meddling? He said I was not — absolutely not."
When Putin denied the allegations twice, Trump "very shortly there afterwards" brought up Syria. "What do you do?" Trump said, explaining why he moved on. "End up in a fistfight with somebody, okay?"
Asked Thursday if he was mad that Putin lied when he said Trump accepted that Moscow didn't meddle in the 2016 election, Trump clarified on behalf of the Russian President: "He didn't say that. No. He said, I think he accepted it, but you'd have to ask him. That's a big difference."
Trump has repeatedly hedged on whether or not he believes Russia hacked the election, again casting a wide net of blame Wednesday night when he introduced the possibility of other actors interfering. "I'm not saying it wasn't Russia," he said, adding that instead "we have to protect ourselves no matter who it is." He pointed out: "You know, China is very good at this. I hate to say it, North Korea is very good at this."
There is one question Trump didn't get to ask Putin that he says he will ask next time.
"I'm going to ask him: who were you really for? Because I can't believe that he would have been for me."
When Trump spoke with reporters on Air Force One en route to Paris Wednesday night, the comments were thought by reporters to be off the record. The White House decided Thursday to release parts of the conversation after Trump asked a print pool reporter why she didn't use what he said last night. The White House released a partial transcript of the discussion on Thursday afternoon.
Trump also spoke about the "tough" health care battle raging on Capitol Hill. "I'd say the only thing more difficult than peace between Israel and the Palestinians is healthcare," Trump said, delving into the politics of rounding up votes for the Senate bill.
"It's like this narrow road about a quarter of an inch wide. You get a couple here and you say, 'Great', and then you find out you just lost four over here. Health care is tough."
The president said he remained committed to a solar border wall, telling reporters the suggestion wasn't a joke and that "we have major companies looking at that."
"We are seriously looking at a solar wall," he said.
Few of the president's comments are complete without some reference to the 2016 race, and Wednesday night's remarks were no different. He took the opportunity to remind reporters of Hillary Clinton's high spending on campaign ads — many of them aimed at him.
"When Hillary Clinton spent her ads — you know, she spent almost 100 percent of her ads on anti-Donald Trump ads," the president said. "You know that. Every ad was an anti ad. When the election came, nobody knew what she stood for."